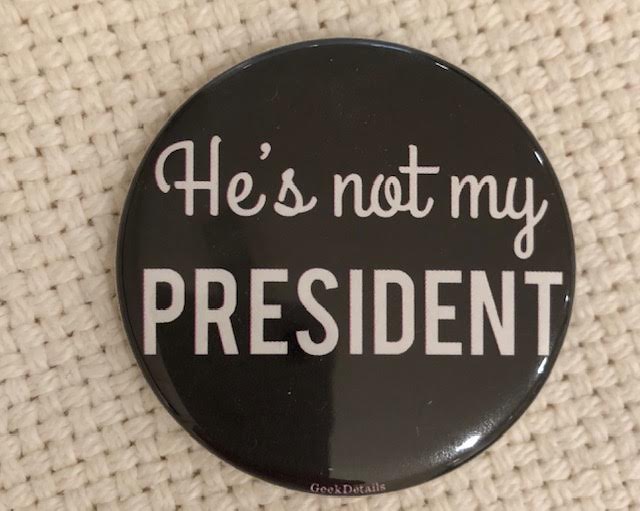 I have never worn my "heart on my sleeve". We've given a LOT of money in this campaign cycle, more than at any time in the past. We truly believe this IS the most important election of our lifetime. I have the date early voting starts for Massachusetts marked in my calendar, though my mail-in ballot arrived on October 5. I went to the Public Library on October 19 in person and voted early (they noted that I had requested an absentee ballot and made me swear that I would shred it, which I did when I got home). I made my plan. It felt joyous to finally cast that vote this year. Everyone in line that day seemed to feel the same way. But we have not bought any campaign buttons, placards or swag. That's just not who I am.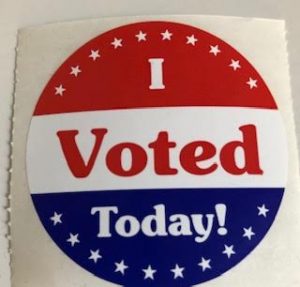 The button in my Featured photo, which I ABSOLUTELY believe, was a gift from a fellow choir soprano in the aftermath of 2016. I wore it out to lunch with a friend on Election Day, 2018, the day we retook the House of Representatives. Our waiter was so excited with my button that he went into the back and gave me his "No Trump" hat – a kindred spirit. I thought that was a great, kind gesture and wore it proudly out of the restaurant.
We hope we have cause for celebration on November 4 (or whenever all the ballots are counted), 2020! Here's hoping for a blue sweep!
After the market crash of 2008, Brandeis got hit by a double whammy. Not only were all of their donors' portfolios decimated;  their own endowment was depleted by a huge amount. And on December 11 of that year, Bernie Madoff's Ponzi scheme collapsed, he was arrested and sent to jail. While Brandeis' endowment had not invested with Bernie, Carl Shapiro, one of Bernie's early and largest investors, was also one of Brandeis' largest donors. One of Shapiro's daughters was a trustee. And one of his sons-in-laws ran a feeder fund shoveling money to Bernie, so almost every trustee at Brandeis had been pulled in and lost a heap of money, compounding Brandeis' woes. Brandeis' sources of fundraising just vanished. Then-president, Jehuda Reinharz, scrambled for a way to keep Brandeis afloat.
Shortly before that market crash, then-Director of the Rose Art Museum, Michael Rush, had Christie's Auction House come in to assess the value of our truly fabulous post-war contemporary art collection. There was a move to auction a few redundant works to add to the acquisition budget, which is legal and often done. The valuation of the entire collection was huge. Our Warhol and Lichtenstein alone were worth millions, along with several other works. Michael moved to ensure everything was properly insured, but also bragged about the value to the Board of Trustees. He didn't realize it, but he had put a target on our back.
As Jehuda desperately looked for ways to cover Brandeis' budget shortfall, his gaze landed on the valuable Rose collection. He consulted a lawyer who gave him some truly awful advise: turn the museum into a study center, then it would be possible to sell off the most valuable paintings with no bad repercussions. And that is what was announced on January 26, 2009. Those of us on the Board of the Rose went crazy, along with the whole of the art world around the world. Articles were written, it was discussed on NPR. The blowback was immense. Jehuda had no idea it was coming, but dug in his heels, along with the Trustees, who all thought this was the right way out of their financial dilemma.
Michael Rush mounted a formidable challenge. He held protest seminars. He brought in distinguished Brandeis alumni, now is senior museum positions around the country, to talk about the academic value of the Rose's collection and what it had meant to them in their school days, at the beginning of their now lofty careers. He staged "die-ins" with mock coffins parading in front of the Rose. A clever public artist put up signs around campus: CFYW; "Cash for your Warhol". That moniker still exists.
A few of the Rose Board members, whose family members had donated named galleries, filed a law suit against Brandeis, claiming this broke the agreements, established when the funds were originally given. It got ugly and received a lot of notoriety. I went to court one day with my good friend Francine, classmate of Dan's, a PhD in art history, to hear the arguments. She wrote a book about the entire, sordid story entitled "Cashing in on Culture". She gave me a shoutout in the end credits.
Doubts crept in for Jehuda, sale of the artwork was postponed. Brandeis got really ugly press and was now tied up in litigation.
Finally, Jehuda ordered Provost Marty Krauss to set up a task force called "The Future of the Rose Committee". Marty asked me to represent the Board of Overseers. I was not a popular choice, since I am an alum and the Rose Board Chair thought I wouldn't fight hard enough to save the collection. He tried to kick me off the Board. He didn't have the right to do that, as I was appointed by the President of the University, but most Board members stopped speaking to me, held meetings without me (I had one friend who filled me in on the proceedings. We sought advice from other rebellious faculty members including the one who eventually won the Nobel Prize a few years ago. They belonged to the same supper club).
The day I went to court with Francine, I was shunned by my fellow Board members, people I had worked with for years, been friendly with, had dinner and drinks with countless times. I felt like I was back in 6th grade, being taunted by the "mean girls" for not wearing the right clothing. The hurt ran deep but I held my head high. I know what I am about.
The Board Chair didn't understand me very well. I may be quiet, but I always take my responsibilities seriously, love the Rose without question and was there to do a job. I interviewed former directors, donors, members of the Board who would speak with me. I brought THEIR voices into the room. One person on the committee tried to shout me down and overpower me when I gave my presentations. It became so uncomfortable that I asked to meet with our chair outside the meeting space. It turned out, he lived a few blocks from me, so I'd give him my reports at a local Starbucks or his home (his lovely wife would feed us). We became good friends and he valued my input.
After one particularly searing telephone conversation with a former curator, she said, "Betsy, your committee has no legitimacy. You have no museum professional on it." I ruminated for a bit and took her comment to heart. I called the Provost and quit the committee. She was frantic. I lent her committee credibility. Aside from the one remaining Rose staff member, who represented the Rose itself (he was the Preparator, not on the curatorial staff – they had all been dismissed), I was the only other "art" person on the committee.
I got a call from the Trustee on the committee, a truly nice man, an alum from the '50s. He tried to cajole me back. I expressed my objections and held fast. The Provost invited me out for a drink. "If we invite a museum professional onto the committee, will that satisfy you?" Yes, it would, and it did.
Kimerly Rorschach, Brandeis, '78, director of the Nasher Museum at Duke, joined our committee and helped guide our thinking tremendously, though she resigned before the final report came out, since we were "not allowed" (by the Provost) to condemn the sale of artwork to fund anything besides enhancing the collection, which was a basic principle of the Association of Art Museum Directors (AAMD).  She was an officer of that organization and held strong views on that subject. Kim went on to lead the Seattle Art Museum, has just retired and is now on our Board; a welcome addition.
We sent a long final report that was an amalgam of our thoughts. It pleased no one, but did get us back on track. The main take-away was that the Rose should work more closely with the academy and that has been implemented, to the good of all parties involved. It can never be forgotten that the museum sits on a university campus and is not an independent entity.
The Rose re-opened, no artwork was sold, Jehuda stepped down and immediately soft-landed at the Mandel Foundation, one of Brandeis' largest donors. The new president settled the lawsuit and the Rose has been trying to recover from its near-death experience ever since. Our collection grows bigger and stronger, our shows are fantastic, we just need to get a membership program going again. The pandemic set us back. But we are here and glorious. We saved the Rose.
Yet just a week ago, while attending a virtual "Culture Club" led by the wife of a Brandeis trustee from New York, about the Rose, the final question, 11 years after the events just described was: "Was any artwork sold?" We still have a way to go to get the word out that the Rose is alive, well and not a single piece of art was sold; in fact, we are better than ever.
Those of you who have followed me for a while, know that I am a devoted Kennedy freak. I belong to the Kennedy Library in Boston, where I could easily purchase a replica of this button, but this one is an original from 1960. I presume it was my mother's because we could never get my father to tell us for whom he voted. He grew up in a Republican family, but he became more liberal as he grew older, and I'm sure voted blue as the years progressed. I love having an original campaign button from 1960. I've never worn it. I cherish it. I brought it from my mother's house in my box of special childhood stuff after her divorce and have kept it there ever since. It is in good shape and I intend to keep it that way.
VOTE BLUE! Let's restore sanity and decency.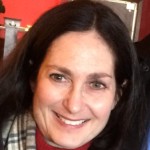 Betsy Pfau
Retired from software sales long ago, two grown children. Theater major in college. Singer still, arts lover, involved in art museums locally (Greater Boston area). Originally from Detroit area.
Characterizations: moving, right on!, well written