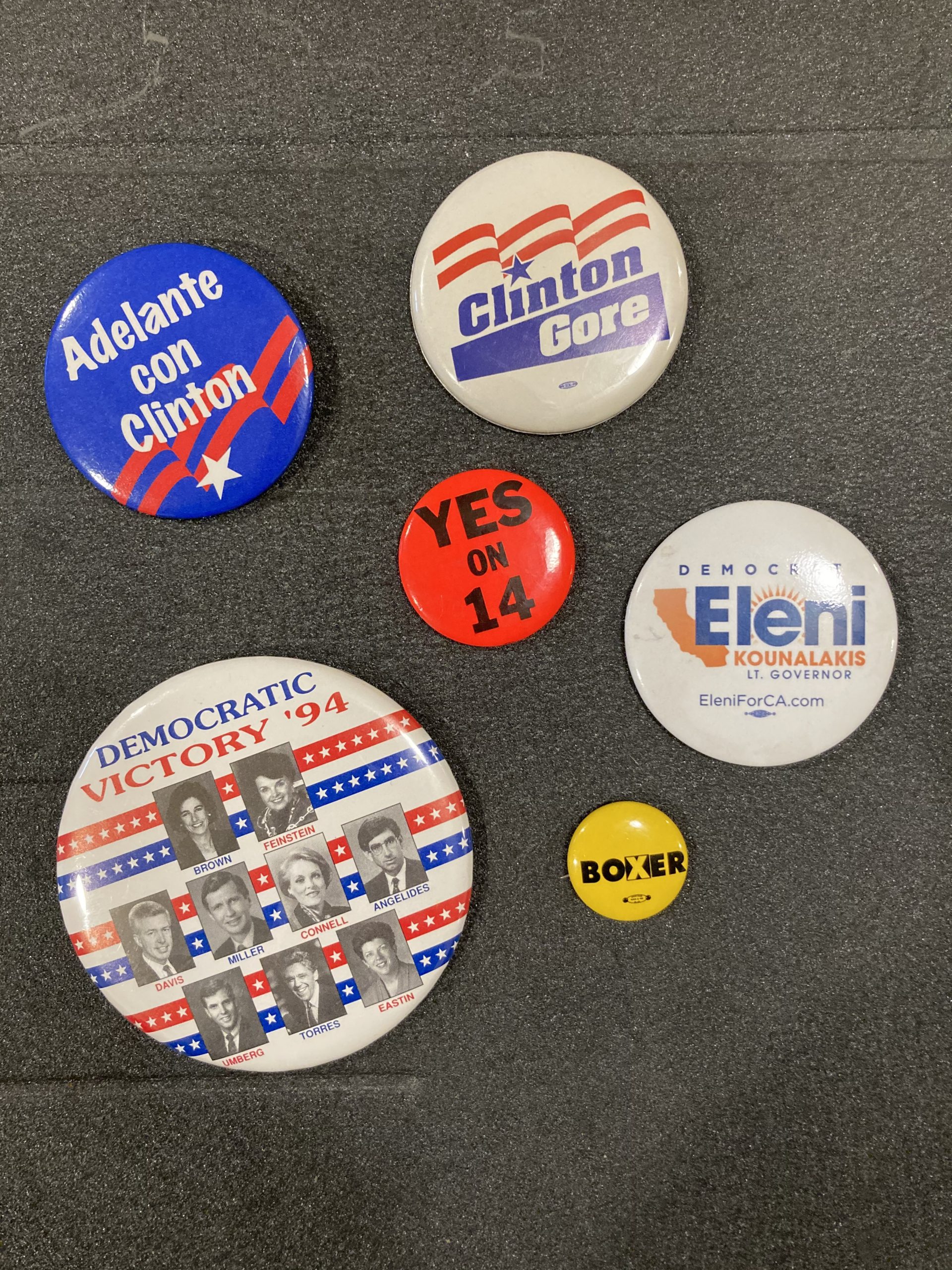 Buttons and badges are a way of preserving memories. They may not be the most important memories, for who knows why we kept them. But memories they contain, and through these buttons, and otherwise useless objects, we revisit them. It helps us remember and reconstruct our past, although in a discontinuous and incomplete manner.
For me, this week's prompt led me, initially, to think of political buttons and badges, and I've got a few. Why did I save them? I wish I'd saved more of them.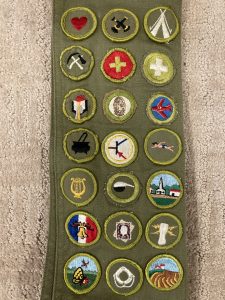 Of course, badges are more than politics. Maybe I should talk about my Boy Scout Badges – I saved a bunch of them, too. All 21 of my merit badges are sewn on a sash – sewn by me because I was unsatisfied with how my mother attached them, having far less free time than I ever gave her credit for. Each badge was a work of miniature art, and each with a story to remember: the bridge six of us lashed together over a small ravine to earn the pioneering badge; the camp meals for the cooking badge; building and flying the gas-engine model planes for the aviation badge; and the strict oversight by the music teacher, who required me to learn an arcane clarinet piece for the music merit badge. I still remember his good-natured chuckling when I played the original "composition" I had to prepare as well.
My badges from politics are eclectic, and fairly recent. But they also tell some stories. One "relic" (it's now over 50 years old) isn't a badge or a button; it's a crinkled bumper sticker with the message, "Target 70: Oust Reagan."

The bumper sticker was probably brought home by my father, who, as a state college professor and president of the local AFL-CIO chapter, went to battle against then-Governor Reagan's policies and those he appointed to implement them. Later, I collected badges for candidates I supported, and sometimes worked for, in elections long after Reagan left California. Oddly enough, I have no Jerry Brown buttons. I have one that says, "Si Se Puede Brown 1994" but that's supporting Jerry's sister Kathleen, backed by the United Farm Workers. It was their slogan,  "Si Se Puede" — (yes we can); but Kathleen, as it turned out, couldn't, or didn't, exemplify "Yes I can,"  losing what many thought would be the triumphant arrival of the third member of the Brown family to the Governor's mansion.
When I look at this button, I see, not her loss, but a long-run victory against bigotry.  I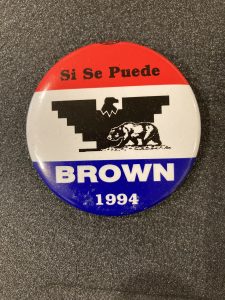 see Kathleen's "Si se puede" badge as an ironic foreshadowing of the vicious anti-immigration stance championed by the man who beat her, Pete Wilson. Wilson's triumph at the polls was momentarily good for him, but in the next quarter century, a generation of Hispanic voters with painful memories has been the difference in relegating Wilson's party to almost an afterthought in California politics. And with the ascent of the Democratic Party, it led to some interesting and personally rewarding Gubernatorial appointments.
I walked precincts for Bill Clinton in two elections (1992 and 1996) and have some nice buttons from those efforts. And I have a great t-shirt of Bill playing the saxophone. I thought it would be a collector's item – it isn't, but it does exemplify the youth and energy that he brought to the campaign, and reminds me of the good time I had in that effort.

I've also kept a genuine badge and a bumper sticker related to Gray Davis, who appointed me to head an environmental department (Toxic Substances Control), and for which I got an actual "badge" because we had peace officers who investigated environmental crimes and arrested polluters as part of their work. My badge, although visually impressive, was in reality little more than a souvenir. It did get me out of the public line on the occasions I appeared in court, however.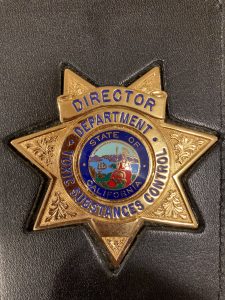 Finally, I have done poll watching work in the last four presidential elections, first in Florida (2004) and then in Ohio (Columbus 2008), and Cleveland in 2012 and 2016. I can't say I brought good luck to my favored candidates more than half the time, but, in line with this week's prompt, I've got some nice memorabilia: a baseball  hat from Florida identifying me as a "voter protection worker" which never fit and I can't now find, and some interesting credentials to be worn around the neck from Ohio.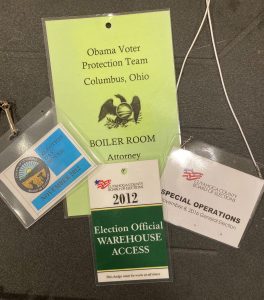 The credentials come from the Cuyahoga County Board of Elections, which has reached out to lawyers across the country to give non-partisan advice to those working in the polls on election day, when tricky situations, primarily related to voter eligibility, occur. Although the work is "non-partisan", it's no secret who wants to ensure that everyone who's eligible isn't turned away, and, conversely, those who would rather make it as difficult as possible to vote. I think I can do more good in this role than outside the voting area. I remember in particular, in 2008, assisting a disabled man who wanted only to vote for Obama. Had I not been there to legally assist him, I'm not sure if the harried regular staff would have been able to help.
If I made scrapbooks, which I don't, the buttons, bumper stickers, badges and pins would be there. So this story, and a few pictures will, for now, have to suffice.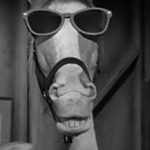 Mister Ed
Characterizations: been there, funny, moving, well written