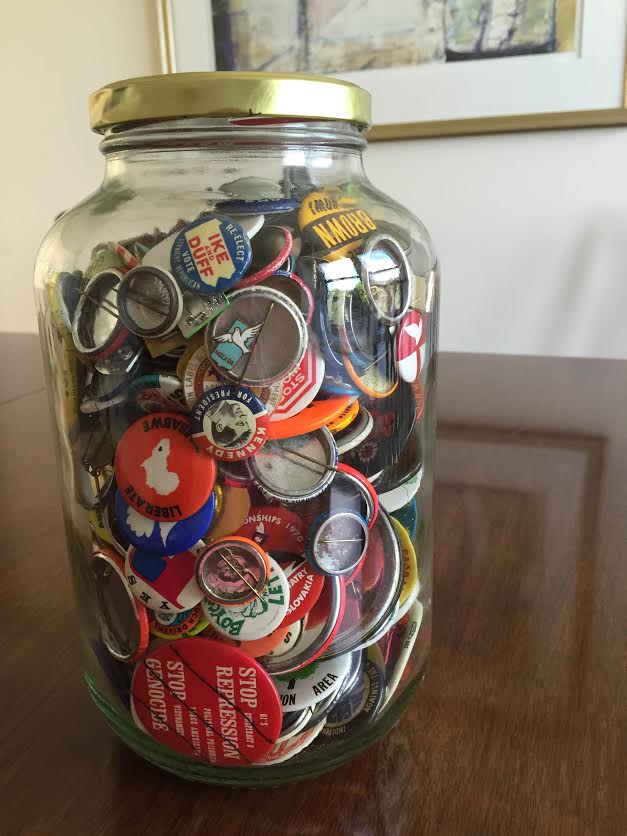 And the winner is: My aunt Ruth!
 I dumped them all out on my dining room table and took about half an hour to sort through them all. What an impressive collection!
The accompanying pictures are only the tip of the iceberg, but I wanted to share some of my favorites, sorted into some loosely defined (by me) categories.
We have the political and the presidential (and I know what button she would be wearing today if she was still with us) going way back to Roosevelt. Where else will you see Pat Paulsen, Dizzy Gillespie, Allen Ginsberg, and Snoopy alongside some more familiar names? Just a small example of this category.
Some of the buttons fall under the category of miscellaneous. I had a few of these myself. Not sure why the poor penguin is singled out here.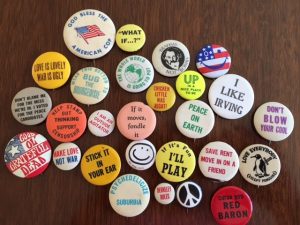 And then there is the "not sure how to categorize" category. This is just a small sample of buttons from all corners, including music, protest marches and boycotts, and anti-war demonstrations. I admit that there are some extremely unlikely bedfellows in this group. Again, just a small representation of this category. My aunt went to a lot of protest marches and participated in many boycotts, and she always supported unions.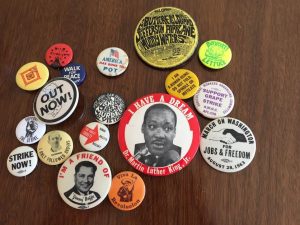 I admit, I had to look him up. Don't know the occasion when my aunt might have worn these, but it's possible she wore them to the San Francisco Museum of Modern Art when Conner had a show there.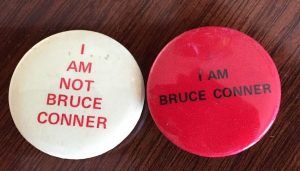 And this last one: as a symbol of the times when so much seems to be wrong with the world.
This one is a tribute to a writer friend and mentor, the amazing Anne Fox. Anne was a writer and an eagle-eyed editor. I was fortunate to meet her at a gathering of the local California Writers Club, Berkeley branch, well over a decade ago. A fellow writer and I decided to start a spin-off group and we both knew we had to have Anne as a member. At that time, she was in her eighties. She offered her passionate and insightful feedback on our work, and after a while we all heard her voice in our heads when we had gone overboard with the adjectives, adverbs, commas, or–god forbid–cliches. Our meetings were full of good-natured kidding around and serious discussions over the years.  During one of our monthly sessions when we were taking a scalpel to someone's writing, Anne said what is now memorialized on this button we had made: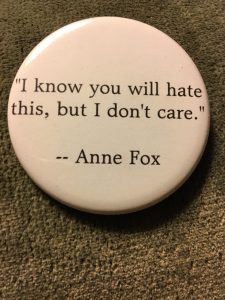 We all showed up wearing them at our next meeting and she loved it!
This year, due to the fact that Anne lived in a senior facility that went on serious lockdown and stayed that way, our group had to give up our meetings. Anne just passed away at age 95. She continued to edit and write until her final days. I would wear this button to a celebration of her life when and if her family arranges one.(I almost wrote, "I would proudly wear this button," and then I thought better of it.) RIP Anne. You were one of a kind.
Risa Nye
Characterizations: right on!, well written