Woodstock, the original, and re-created
From top to bottom: (1) Sally in the farmer's pond at Woodstock. She is the standing girl with the tan lines. Even though her back is turned, her mother was still able to recognize her when the photo appeared on the cover of LIFE. (2) Sally is the girl on the right in front. (3) She sent me this photo to give you a sense of the Woodstock crowd. (4) My daughter and her "Woodstock" rock band, 2018. (5) The kids pretending to be the Beatles, whose music they all still love, even though they were born after the millennium.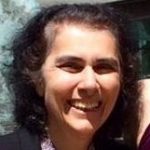 Joan Matthews
Characterizations: been there, right on!