I never attended the original Woodstock festival. At the time, I knew vaguely that it involved hippies, free love, harsh electrified music, public nakedness, and probably marijuana, none of which I was interested in. However, last fall, my daughter's high school marching band half-time show was "Woodstock: Summer of Love," and she would be part of an on-the-field rock band while the marchers and the color guard were their fans. As we looked at old photos to figure out her costume (which was a challenge in that few women were onstage, and many of the attendees were naked), I realized that I had overlooked something profound.
A Woodstock participant reflects on the experience.
Synchronistically, my 50th high school reunion occurred during marching band season, and I happened to be in a car with two classmates when I brought up the subject of the half-time show. Immediately, Sally, one of the passengers, handed me her phone and showed me a photo of naked bathers in a lake being photographed by a fully dressed photographer who had waded into the water. "That was me at Woodstock!" she said proudly. "That photo was on the COVER of Life Magazine. Floyd H— and I snuck there without telling our parents, but my mom recognized me and grounded me until I was fifty." Here is what she wrote for this prompt:
"I remember it being the best 4 days of my life although all the posters say 3 days of peace love and music I was there on Monday morning when Jimi sang the national anthem and the other.memories I have are of course dancing naked in the mud and of course all the wonderful people giving away food to those who would (without them) would have gone hungry the hog farm was responsible for the free food. But my strongest memory is when Country Joe said DO NOT TAKE THE BROWN ACID AND I THOUGHT TO MYSELF OOPS. And of course, with the music, we changed the world as it had been."
Sally has sent me a number of photos of herself at Woodstock, thanks to Internet searches, and I will submit them to you, as soon as I can figure out how. (So far, I haven't figure out the link on my own. I need a teenager to walk me through it.) A part of me is sad that I basically missed the Woodstock era altogether, but it has been fun to learn about it from an eyewitness, as well as to see it through the eyes of a seventeen-year-old, who thinks Mom's generation was bizarre and in some ways naive, since the current high school generation has worries (climate change, mass shooters, the mass extinction of countless species, crushing student loan debit, to name a few) unknown to those young people innocently bathing in the farmer's pond.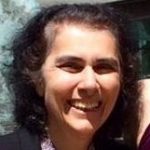 Joan Matthews
Characterizations: right on!