Like most people I know, I never answer my phone unless the caller ID shows it is from someone I know. That means I am left with the periodic chore of going through my voice mail messages on the remote chance that one of them is from someone I actually want to talk to. Since most scammers now have fairly sophisticated technology and can detect answering devices, most of the messages are hangups, interspersed with random offers to raise my credit limit or congratulate me on winning a free cruise. My landline provider recently started offering a robocall detection service, which has really cut down on the number of messages.
The best story I ever heard came from a friend.
But the most interesting calls I received were several years ago. They came first as a message on my voice mail – someone telling me I owed them several hundred dollars and if I didn't call them back in 24 hours they would get a warrant for my arrest. The thing was, they called me by name in the message and it wasn't my name. Same last name, different first name. I assumed it was a wrong number and ignored it. Then they started calling several times a day, day and night. Once I picked up the phone when I saw their number and told them they had the wrong person. I even got the woman on the other end to give me the address of the person they were looking for and it was someone in Ohio (I live in Maryland). (I was very careful not to give her my full name or my address, just in case that was really what they were looking for.) But the calls didn't stop. I finally spoke to a friend who is an attorney and she suggested I contact my local office of consumer protection. I was just about to do that when the calls stopped. I still don't know if it was actually a scam, or just a collection agency with the wrong number.
But the best story I ever heard came from a friend. She told me she got a call from someone claiming to be from the IRS. They told her she owed a large sum in back taxes and if she didn't make arrangements to pay them with gift cards, she would be subject to a federal warrant. She played dumb for a minute, asking them questions. Then she said she was confused and she wanted them to talk to her visiting son, who was an FBI agent. (Her son wasn't there and he is not an FBI agent.) The caller hung up immediately. I have been tempted to follow her lead if I ever have the misfortune to be on the phone with one of those scammers.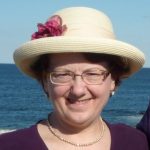 Kathy Porter
Characterizations: been there, right on!, well written