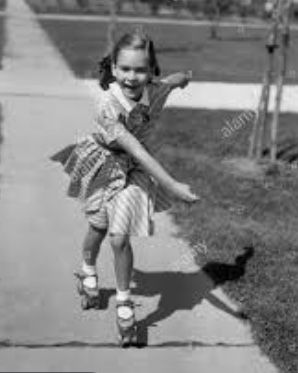 Home from school,  a hurried snack,  bread with both sides buttered,  chocolate milk,  an apple offered but rudely refused.   ("Don't be fresh, young lady!")
Skates strapped over shoes,  no purse,  no house key,  no hanky,  just a skate key on a ribbon around her neck,  then out the door.  ("Be careful!")
Down the block,  wind in her hair to Susy's house,  a snack offered,  now politely refused,  and out again.  ("Be careful girls!")
Now two wild skaters with wind in their hair.
Did they know those strapped-on skates had wings,  taking them to magic places just around the block?
– RetroFlash / 100 Words 
Dana Susan Lehrman 
Dana Susan Lehrman
This retired librarian loves big city bustle and cozy country weekends, friends and family, good books and theatre, movies and jazz, travel, tennis, Yankee baseball, and writing about life as she sees it on her blog World Thru Brown Eyes!
www.WorldThruBrownEyes.com
Tags: Roller skating, Childhood, RetroFlash