I had met someone who seemed like the love of my life a couple of years earlier, and it hadn't worked out (although it would when the time was right). On the rebound from him, I started dating the handsomest guy in the entire Attorney General's Office, who had already slept with every other attractive single woman who worked there. He was smart, he was smooth, and he was definitely a playuh! And did I mention that he was handsome? He looked as if he had just stepped out of the pages of Esquire Magazine. My friend Janet knew he was no good for me, and tried to get me to break up with him, to no avail. She realized that her only recourse was to introduce me to somebody else who was more appealing.
She called me up one day and said that she was having drinks after work with this guy named Barry. "You two have so much in common," she said. "You're both lawyers, you're both tall, and you both sing. Why don't you just happen to come by the bar where I am meeting him, and I'll invite you to join us." So I did. He had just come back from a Grand Canyon rafting trip, and was showing her the pictures. In some of them nobody had clothes on, so I got to check out his bod. I was intrigued. It turned out we both had sportscar convertibles, his was a Sunbeam Tiger, mine was an Alfa Romeo Spider. Also, he played the guitar. I thought this guy was interesting.
He apparently thought I was interesting too, but he was so gullible that he really believed I had just shown up at the bar by chance. Since he didn't know it was a setup, it never occurred to him to call me. Janet urged me to call him up and invite him to lunch. I was hesitant. Finally I did, and we made plans for the following week. Between the day of the phone call and the day of the lunch, I had the first meeting of the year for a choral group I had just auditioned for and joined, the Sacramento Symphony Chorus. Much to my astonishment, when I got to the Lutheran Church where the rehearsal was held, there was Barry among the tenors. At the break I went over and talked to him, and we laughed about the amazing coincidence.
One thing led to another, and we eventually got married (Nice Day for a White Wedding). Whenever people asked us where we met, I said we met in a bar and he said we met in church.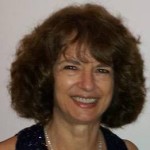 Suzy
Characterizations: funny, right on!, well written