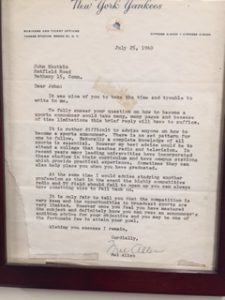 [Being captain] required a steady stream of memos to be circulated around the firm (by uniformed messengers; these were pre-email days), and I did my best to lard them with incredibly stupid puns and many humorous riffs
(First, credit to Suzy for inspiring a title derived from a song title — though I admit that "Softball Wizard" is a pretty bastardized version of "Pinball Wizard.")
The one thing I knew as I began my career as a lawyer in a big NY law firm was that I was going to play softball.  There was a large and very well organized league of law firms, plus the Manhattan US Attorneys and DA's offices, and I had played in it as a summer associate after 2L.  As proof of this, the one thing that I gave myself as a law school graduation present was a new baseball glove. (It was a Jim Palmer model, for those baseball nostalgia fans out there trying to remember what the glove du jour was circa 1974.  Still have it, looking tiny but in good shape and exceedingly well oiled.)
I was a good, but not great, baseball player growing up, and early on knew that my career in the sport, if any, would be in broadcasting, not playing.  Indeed, when I was ten, I wrote to Mel Allen, the "Voice of the Yankees," about such a career, and he sent me back the incredibly nice — and informative — letter that is attached.  It is hanging in my office.
As luck would have it, when I joined my law firm, the long-time captain had gone into alcohol rehab (coincidence, I'm sure), so there was a vacuum that nobody really wanted to fill. I jumped at it, sensing it was a good way not only to get involved with the team, but also to raise my profile a bit at the firm, something that could be tough for a first-year drone.  And, sure enough, one of the benefits of being captain was that you got to fill out the line-up card.  Astonishingly, I always ended up starting at second base and leading off.
But the real job of being captain was more in the order of being a social director. I had to stir up interest at the beginning of every summer, announce the upcoming games, cajole enough players to show up for each game and, perhaps most importantly, arrange our post-game parties and end-of-season awards banquet.  Happily, though my law firm was known for being a very aggressive, take-no-prisoners sweatshop, it never took the softball too seriously.  Or, perhaps more accurately, it valued the partying over the winning.  So the games were very laid back — we were one of the first firms to have women on them and have them play regularly and not to allow ringers  to play — and, to be sure, we partied heartily.  In fact, the prior captain's rehab may not have been so coincidental after all.
In any event, all of this required a great deal of planning and logistics on my part.  I was given what seemed to be a nearly unlimited budget, which I rarely exceeded, and even got to design some very cool jerseys with a series of green stripes on them which mirrored the green stripes that ran through our firm's hallways, ostensibly in homage to its Irish origins.  And this also required a steady stream of memos to be circulated around the firm (by uniformed messengers; these were pre-email days),  and I did my best to lard them with incredibly stupid puns and many humorous riffs.
I dare say that my reputation within the firm was more of the clever smart ass who wrote the softball memos than as a brilliant lawyer.  To this day — more than 35 years after I left the firm — if I meet some young lawyer at the firm, he/she is likely to ask me, "Weren't you the guy who wrote those funny memos?"  There is apparently some sort of an archive of them still at the firm.  (I have kept copies of a few, but they are buried among a lot of my career memorabilia.) Whenever I find such a legacy mildly depressing, I remind myself of the brilliant partner who is still remembered there only as "the guy who lost the TWA hijacking case in the Supreme Court."
Moreover, I recently met with a senior professor at Harvard Law about some possible projects we could do together.  As we shot the breeze, he confided that perhaps the most enjoyable part of his legal career had been — surprise, surprise — being captain of his old firm's softball team in DC. So, if the way to get to Carnegie Hall is to practice, practice, perhaps the way to a rewarding legal career is to be the softball captain.
John Shutkin
Characterizations: been there, funny, well written