Soon after she attended her first meeting of the Boston Area Daycare Workers Union (BADWU), a woman I shall call Melissa invited me to visit the house in Jamaica Plain where she lived with her boyfriend and a few other people. She had a job as a social worker at a large childcare center, part of a nonprofit conglomerate of child care centers located in or near major public housing projects in Roxbury, Jamaica Plain, Chelsea, and other sites.  With our unionizing zeal, we were dying to get a foothold into that organization. It seemed a very good omen that she wanted an opportunity to talk one-on-one after the meeting.
She wanted me to be her instrument; I just wanted to be her fearless union leader.
I was one of two men who had founded BADWU about a year earlier. We were still in the process of building it up as an organization that could really make an impact in expanding funding for childcare and also in improving the pitifully poor wages and benefits offered to people who worked in the field.  (We didn't even make one-third of what public school teachers earned annually, even though most of us worked all summer.)
Johnny worked at Tufts Day Care on the Tufts University campus in Medford, MA, and I worked at Wesley Child Care Center in Dorchester. Someone who knew both of us from the antiwar movement had managed to connect us. It turned out from our first conversation in 1974 that we had each gotten a great deal of satisfaction from the challenges of working with preschool-aged children.  At the same time, we had each cogitated on the ridiculous wages and working conditions in childcare. We saw a need for some kind of grass-roots effort, to make things better economically and to give daycare teachers a voice.
Within a couple of months of our first conversations, we were able to identify and bring together teachers from seven or eight other centers; We agreed on the name, BADWU; and we put out a four-page newsletter with the screaming banner headline, "Daycare Workers Unite!"
Johnny and I were conscious from the start that we would need to bring more women and people of color into the leadership, and eventually, we succeeded at that to some degree. But at the time Melissa came to a meeting, it must have been apparent that if she wanted to talk to someone "in the know" regarding the daycare workers' movement, it would have be Johnny or me. Why she chose me, I had no idea—though that would perhaps become clear in retrospect. In any case, it was unusual to have anyone attending a BADWU meeting for the first time express such a high level of interest in the union.  So I was quite enthusiastic about making a plan to continue the dialogue
After I removed my shoes at the door at her polite request, Melissa gave me a tour of her house—an attractive triple decker of which she and her roommates lived on two floors. It was a bit older and less roomy than the house I similarly shared at the time with six of my peers in Cambridge.  But it was very well kept, and with a kitchen that was superior in design and in appliances to the one in our house. She also introduced me to the roommates that were home and that would be joining in dinner. Her boyfriend Gil, she mentioned in passing, was out at his auto mechanics class and would eat his dinner later. "Am I invited for dinner? "Yes, didn't I make that clear?" "No, but I am happy to accept. I just need to let Claudio know that I won't be home for our dinner."  So I borrowed their phone and called him.
The final stop on the house tour was her bedroom. Melissa invited me in and suggested I take a seat on her queen-sized bed. As she propped herself on a nearby loveseat, I noticed how long-legged, lanky, and athletic she was, with a very expressive way of shaking her hair to keep it off her face each time she laughed. It was winter time, and she was wearing colorful leggings under a short blue-jean skirt.  I realized it was unusual for women in my circle to wear skirts in those days, but then I reasoned that these were her work clothes; being a social worker, she had to dress up a bit more.
I don't recall any of her questions or my answers about the union. But as I nestled onto her bed, I found myself increasingly interested in the comfort and construction of her bed. I even asked if she wouldn't mind if I lay down on it, just for a few seconds.
"Wow," I exclaimed. "This is so comfortable!" Believe it or not, beds and how to make them were a big topic of conversation in my circle in the early 1970s, probably because most of my peers held jobs with salaries that wouldn't be commensurgte with the purchase of commercially made beds and other furniture  Suddenly I was the one asking the questions: What kind of mattress is this? Why is it so firm and comfortable? Where did you get this? Melissa began explaining proudly that she had built the bed herself. It was a piece of three-inch thick foam on a plywood board. There were a few places in the Boston area where you could order the foam, cut to the size you needed. As for the board, it was actually made from two boards, held together with steel braces. She encouraged me to get down on my hands and knees, so I look underneath and see the braces and the screws that held them together.
The boards sat up off the floor on about eight cinderblocks. She commented that Gil had lugged those upstairs for her, but she knew someone else whose bed was designed the same way, but who used plastic milk crates. "Much easier to carry upstairs! And much easier if you end up moving somewhere else with your bed."
I sat and lay on the bed again. So much more comfortable than my twin-sized box springs. I didn't even have room in my current room for a bed of this size, but I was memorizing the design of this bed, so that eventually, I could make one for myself. I said, "I may need to call you for a consultation on this, eventually."  She smiled and said, "Sure, I could even help you build it."
The dinner with the roommates was uneventful. Not as interesting as the one I would have with a woman named Martha who joined BADWU a few months later. In her group house lived a guy named Steve. But not just any Steve; this was the founder of "Steve's Ice Cream." Their first store opened in Davis Square, Somerville, and customers waited in line for hours for the privilege of paying double what they were used to spending at Brigham's or Bailey's. It was the very beginning of the "Homemade Ice Cream" trend. The night Martha invited me for dinner, it was Steve's turn to cook.  For decades, I've been telling friends that "you may have tried Steve's ice cream. But I've tried Steve's chicken."  Regrettably, I didn't end up with any stories like that from the dinner at Melissa's house.
But I did end up feeling like I owed Melissa a return invitation. So a few weeks later, it was my turn to give her the house tour, and my turn to bring her to my bedroom, where I showed her a bed that was neither capacious in size nor as comfortable as hers. I did think my bedspread was attractive, and I offered her a seat on it, as I propped myself on a nearby chair.
There, before my roommate Elmo called us to dinner, Melissa announced that she had something important she was eager to tell me in private. My ears perked up, as I imagined she had reached out to other staff at her daycare center—possibly even to people at some of the other childcare sites within her agency. How exciting would that be, if we could penetrate those fertile fields; there must be 150 people working for that agency, counting cooks, bus drivers, and other support staff, in addition to the teachers.
To my surprise, she asked me to seat myself next to her on the bed. "I'm a little nervous to say this, and I would rather have you beside me than sitting across from me."  I took a seat and tapped her on the shoulder. "It's OK, Melissa. Whatever it is." Maybe she was leaving her job? It was true that she had expressed some dissatisfaction when we talked a few weeks ago, In my enthusiasm to have her become active in BADWU and help us organize the people in her agency, perhaps I had tuned out some important signals. Well, if she was leaving her position, that's one foothold we weren't going to have any time soon.
The message, it turned out, wasn't about her job or about the union at all, but it did convey that I may have overlooked some signals. She and Gil had been living together for two years now and were getting to the point of making a long-term–or even lifetime commitment.  Gil felt strongly that they needed to test their relationship, to make sure it was strong and enduring enough, even to survive either of them having an affair.  She had recently assented to a plan—that each of them should recruit a lover, just to have a one-shot fling. Would I be her lover? Would I help her test the strength of her bond with Gil? Could she sleep with me and have sex with me? Not right now, not tonight, but after I had a chance to mull it over?
In retrospect, I really wish I had been better prepared for such an offer. I could have thanked Melissa and told her what a tantalizing proposition this was, and declared that I would take time to think about it. I wish I had put myself in her shoes and realized how vulnerable she must have felt, to pose such a question to me. I wish it had occurred to me even to acknowledge what a profound compliment she was bestowing: I was apparently a man she felt she could entrust with her body, her mind, her spirit.
I guess I was just so wrapped up in organizing the union. I was slow to accept that this whole tete-a-tete–me going to her house and then her coming to mine–was more about an agenda that she and Gil had worked out. She wanted me to be her instrument; I just wanted to be her fearless union leader.
Maybe I thanked her for the gracious offer, but I don't remember doing that. I think I gave her a quick friendly hug, and said, "No, sorry, I am not thinking about you that way, Melissa."  She didn't try to convince me otherwise nor ask me to explain myself any further. Fortunately, it was time for dinner. I have no memories of the dinner or even of saying good-bye to her when she left after dinner.
I never told any of my roommates or any of my BADWU colleagues about this interaction. Melissa did not leave her job, and she did stay involved in BADWU.
I don't know if Melissa enlisted someone else to test her relationship with Gil, but she and he broke up within the year. A couple years later, she "tied the knot" with a different man. Instead of a marriage, they organized a "commitment ceremony" in their backyard. I was invited and attended the festivities.  Eventually, they would marry and raise a daughter.
Later in the 1970s, I rented a second-floor apartment from a plumber and his family.  I finally had room to build a queen-sized bed. I ordered the foam from one venue, plywood boards from another, and from a hardware store I picked up the steel braces and the nuts and bolts to match them, and borrowed a power drill to make the holes. I was able to find milk crates for free—some orange, some green, some purple—at a few different daycare centers where I had connections, thanks to BADWU.  The bed was as comfortable as a I ever dreamed it would be. I moved with that bed numerous times disassembling and reassembling it each time. It accompanied me into two marriages and proved a comfortable foundation in venues, from Dorchester, Allston, and Jamaica Plain (all neighborhoods of Boston), to Champaign, Illinois, and Williamstown, Massachusetts.
The last time we communicated was at that Commitment ceremony in the late1970s. If Melissa hasn't blocked this episode from her memory, I can only guess with what attitude or emotion she might look back on it. If she knew how much pleasure I got for so many years from my bed, I hope she would look back not with sheepishness, but with a wry smile of satisfaction.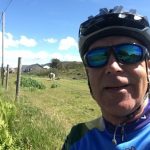 Dale Borman Fink
Dale Borman Fink retired in 2020 from Massachusetts College of Liberal Arts in North Adams, MA, where he taught courses related to research methods, early childhood education, special education, and children's literature. Prior to that he was involved in childcare, after-school care, and support for the families of children with disabilities. Among his books are Making a Place for Kids with Disabilities (2000) Control the Climate, Not the Children: Discipline in School Age Care (1995), and a children's book, Mr. Silver and Mrs. Gold (1980). In 2018, he edited a volume of his father's recollections, called SHOPKEEPER'S SON.
Characterizations: funny, right on!, well written