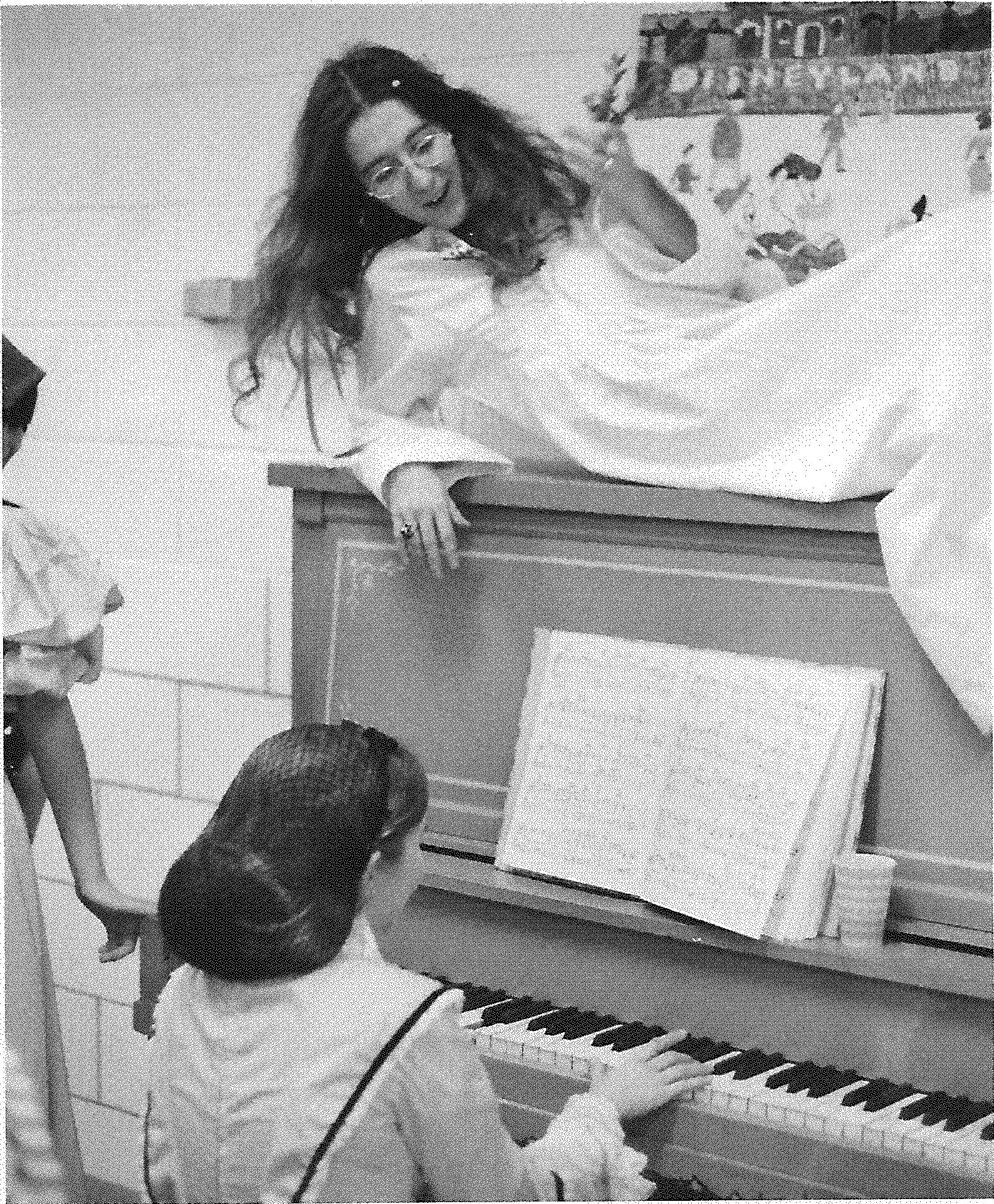 Where do I start and where do I end the answer to What did you sing? That's hard. I've picked four singing experiences from my late teens and early twenties.
Singing Shakespeare
This is Ophelia's first song. It's not the mad one where she hands out flowers and says that all will be well. I knew that nothing would be well.
This picture of my singing memories was taken at a high school French Club Mardi Gras party when I was in my 20s. It was a costume party, but French costumes were not required. Amy March (Diane Dunkley, the French teacher) is accompanying Ophelia (me, Hamlet's girlfriend and friend of the French teacher) as she sings Ophelia's sad song. This is Ophelia's first song. It's not the mad one where she hands out flowers and says that all will be well.
I knew that nothing would be well. I read Hamlet in college in one of my Shakespeare classes. At the time of the party, I had taught Hamlet sixteen times. Ophelia drowns in a stream. She is lovely in the Mallais painting, because her robes have not become soaked and pulled her under the water. She sings about young man who has treated her badly. Later in the play, he feels guilty. And later in the play he dies, too.
Yes, I sang the whole song. This was a French Club party. Most of the attendees were not listening, but those who did laughed at me and some understood the story. Worldly bunch. Diane and I went to France with them over spring break. They were worldlier when got back, and we were sleep-deprived. We told the principal they had been model travelers, and that all went well. (We brought them home.) Bringing them home, all of them, physically undamaged was an accomplishment. I will not tell you about the rules they bent or broke. I love those people. Three are Facebook friends.
I've included all of the song, because some of you have not read or heard it, and I think you should.
How should I your true love know
      From another one?
   By his cockle hat and staff,
      And his sandal shoon.
He is dead and gone, lady,
      He is dead and gone,
   At his head a grass-green turf,
      At his heels a stone.
Tomorrow is Saint Valentine's day,
      All in the morning betime,
   And I a maid at your window,
      To be your Valentine.
   Then up he rose, and donned his clothes,
      And dupped the chamber door.
   Let in the maid that out a maid
     Never departed more.
By Gis and by Saint Charity,
      Alack, and fie, for shame!
   Young men will do 't, if they come to 't.
      By Cock, they are to blame.
   Quoth she, "Before you tumbled me,
      You promised me to wed."
   He answers,
   "So would I ha' done, by yonder sun,
      An thou hadst not come to my bed."
Singing a Kitty Wells Song
Most of my friend Diane's uncles and cousins and her brother played blue grass. Her cousin, Jimmy, won the Best Fiddler at a Galax Fiddlers Convention in Virginia. Believe me, that is an accomplishment. Her brother, Michael, was part of band called Coup de Grass. You can still buy their albums. I learned "It Wasn't God Who Made Honky-tonk Angels" at one of her family's singing evenings.
Diane and I sang our song in cars and at parties. We sang other songs, but "Honky-tonk Angels" was our best. She remembers our singing it while dancing on a table in a bar. I do not remember. Our friend, Pam, agrees with Diane. This happened somewhere in Eden, North Carolina at Shiloh's Finest Supper Club.
These are the words and the chords. Maybe you can play it. I can't. Google Kitty Wells to hear it sung properly.
G                                   C
As I sit here tonight the jukebox's playing
D7                         G
A tune about the wild side of life
C
As I listen to the words you are saying
D7                           G
It brings memories when I was trusting wife
C
It wasn't God who made honky-tonk angels
D7                             G
As you wrote in the words of your song
C
Too many times married men think they're still single
D7                           G
That has caused many a good girl to go wrong
C
It's a shame that all the blame is on us women
D7                                 G
It's not true that only you men feel the same
C
From the start most every heart that's ever broken
D7                               G
Was because there always was a man to blame
D7                           G
That has caused many a good girl to go wrong
C
It's a shame that all the blame is on us women
D7                                 G
It's not true that only you men feel the same
C
From the start most every heart that's ever broken
D7                               G
Was because there always was a man to blame
Singing Mostly Folk Songs
I started singing along with Joan Baez in high school. I knew all the songs on Joan Baez Volume 1. "Mary Hamilton" was my favorite. I still know the words. Google it. This article is getting long. I love Diamonds and Rust, too.
I sang Peter, Paul, and Mary songs, especially their versions of Dylan's "Blowing in the Wind" and their "Puff the Magic Dragon." A friend tried to learn how to play guitar using "Puff the Magic Dragon," but he was not successful. I always hear, "Puff the magic drag…shit" when anyone sings that song. I still have the 1962 Peter, Paul, and Mary album.
I sang Leonard Cohen's "Suzanne," but I learned it the way The Sandpipers sang it. I read his poetry, but I didn't own a Cohen album until I earned money at my first job after college graduation. That year I learned every song on his Greatest Hits. From that album I still sing "Sisters of Mercy." I played that album almost every night in my little apartment in Roanoke, Virginia in 1969 and part of 1970. Then I moved in with roommates. Didn't want to drive them nuts.
My first Dylan album was Nashville Skyland. A Roanoke, Virginia radio station played "Lay Lady Lay" every day when I drove home from work. The Joan Baez album "Any Day Now" (songs by Bob Dylan) was a treasure that I did not own until a few years into the 70s, but I knew some of the songs earlier and sang "I Shall Be Released" and "Sad Eyed Lady of the Low Lands" alone in my car on long drives across Virginia or to North Carolina.
I sang other songs in the early 70s. Songs by the Beatles, Neil Diamond, Simon and Garfunkel, Fleetwood Mac, Marvin Gaye, The Temptations, Janis Joplin, but I loved/love my folk music period.
Singing in College Choir
I joined the King College choir in 1966. My friend Martitia wanted to audition, and she wanted me to audition with her. Both of us made the waiting list, but we were told to go to weekly practice, and there might be places for us later. After a month, we were in the Second Soprano Section. This was an acapella choir. I memorized all the music, but I was still in over my head that first year. I loved choir, and if Lorraine sang into my left ear, I was secure.
The choir went on tour during spring break. We sang mostly in churches in Virginia and Tennessee. A performance I remember well was in Washington National Cathedral. My visual memory is very strong. I can put myself in my place as we sang there. I've toured the cathedral three times since then, and I've stood and remembered that experience.
We sang accompanied only twice in my three years in the King College choir. The first was a cantata by Hienrich Schutz in English. I don't know which one. We sang in the college chapel accompanied by organ and with a score. The second was Vivaldia's "Gloria" in Latin with the Kingsport, Tennessee Orchestra, again with the score. About half way through a performance, a storm cut the lights. The orchestra faded out. We kept singing to the end of the movement. I still sing along with the opening section when it is on a Christmas CD. I sing bits of the other sections when I'm by myself.
When Martin Luther King died in April 1968, the choir sang at his memorial service in Bristol, Tennessee in the largest African-American church. We sang "Darkness Was Over the Earth" by Haydn and two other pieces I can't remember. I don't know why, but we second sopranos were in the front row. I managed not to cry when people seated in front of me did.
gsbate
Characterizations: been there, moving