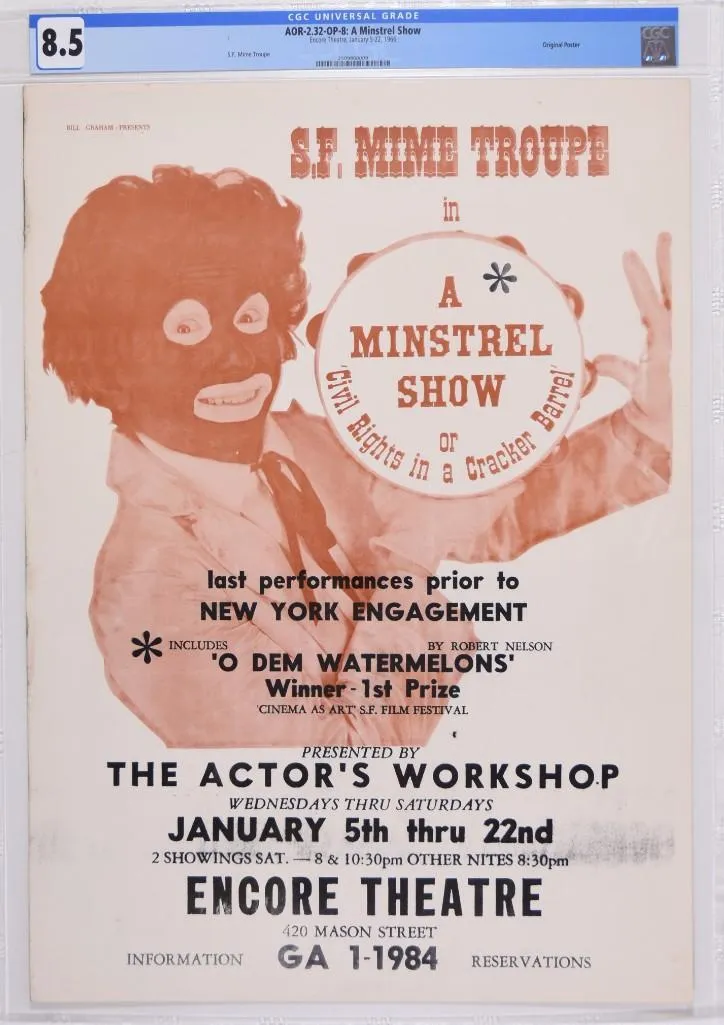 Summer, 1966. My cousin and I finished a landscaping job overlooking the San Francisco Bay. I'd made cash for the school year but returning to Cambridge had no place on my event horizon. The San Francisco Mime Troupe was performing the Minstrel Show around Berkeley and Oakland and I was a part of it.
The world shook beneath my feet and I loved it.
I wasn't acting in the Minstrel Show, but they put me to work playing banjo and singing on the sidelines. I learned to play old Stephen Foster tunes to give the show a racist, doo-dah background. We also did freedom songs and a tune by Nina Simone called "Mississippi Goddam," with only voices, a banjo, with Vinny on trumpet, and Richard playing snare drum with a high hat.
They put a sketch into the show based on my audition piece, a concentration camp improv. I had gotten the idea from a nightmare scenario James Baldwin had created in The Fire Next Time.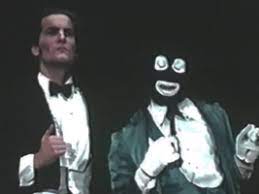 Paul, a black man, played a white cop. Richard and Erroll smeared on minstrel blackface and played two black street guys. Paul didn't play the cop as a cracker. He played him stiff, humorless, an executive delivering the news to the two black-faced white guys. "You're not going to be murdered helter-skelter no more," he'd say. "You people will have the honor of joining your brothers and sisters in the vanguard of Ne-ger-oes in the labor camps." He finished with "Work will set you free."
Richard and Erroll began the scene acting jive but pivoted to solemnity once the reality of this black-in-America Final Solution sunk in. They were marched off singing "Work will set you free," while we chanted "Arbeit macht frei" to banjo and snare drum.
At first, only white people came. Then black people showed up, first in mixed crowds of activists. Add a few pioneering black-and-white couples, gay and straight, and you've got a Mime Troupe Minstrel Show audience.
The crowd split in their response. People didn't know whether to laugh or sit in silent shock. Every night, the actors walked a razor's edge. Good satire doesn't reach out to coax you along. It jars you with its sarcasm and cruelty. White people affecting Negro accents and jiving with Negroes onstage caught the audience in a crossfire. They could either stand up and walk out or stick around and try to figure it out.
We did a long finale with music by Steve Reich to accompany a film full of watermelons — people eating watermelons, lying on and in watermelons, chasing water- melons down the street. Blowing up watermelons, stabbing watermelons, taking the guts out of watermelons, rubbing them on naked bodies, dropping them from great heights. The plan was to take the icons of racism to their extremes; the watermelon finale delivered the final note, Reich's music writhing in and out of Stephen Foster melodies.
We wanted to deal body blows to the system. I felt the power but also the bone-deep abuse that the Man heaps on us all. This little country boy from white New England felt himself internalize what he was creating onstage, like an adolescent who tries to make it real, but compared to what? In the black-and-white fantasy of the Minstrel Show, the world shook beneath my feet, and I loved it.
Vinny and Olivia were booking a tour of the Northwest with the Minstrel Show and a commedia show. After that, they were headed for New York to perform at Town Hall with Dick Gregory! I didn't dare hope, but Vinny might cast me in the commedia. And with my music chops, I was good for the Minstrel Show. But I hadn't told Vinny I had another year to finish back at the Cambridge brickyard. When he found out, Vinny dragged me into the office. "Go finish school," he said.
I found it weird that this radical anarchist was so adamant about a college degree. "Isn't this the thing to do?" I said. "You know… turn on, tune in, and drop out?"
"Bullshit," Vinny said. "That's Tim Leary crap. Drop out and you disappear. That's for fucking pop stars, and they don't drop out. They plug in and sell out. Turning on is irrelevant. Get high, don't get high, I don't care, just be on time, know why you're here, and don't forget the ammunition."
He walked me to the bottom of the stairs. Nobody else was around. "We commit," he said. "We engage. We breathe the fresh air of the parks and put on free shows. We take the path. No. We make the path of most resistance. We fight the system."
"I know," I said. "That's why I want to work with you guys. Didn't you give me a part in the Minstrel Show? You know I can play the music! You know I can act. What good is a diploma from the belly of the beast? It'll just give me gas."
"It's a weapon," he said. "You run a candy store, you're a part of capitalism. You run a theater company, you run a candy store. We swim in a capitalist sea. Like it or not, we breathe the air of your beast's belly. You learn how to think, you can tell the difference between what is and what can be."
"Even you guys?" I asked. "You're not capitalists, for chrissakes. You're political artists."
"We own the means of production. We don't own the housing, we don't own the food, we don't make clothing, and we drive vehicles and burn gas."
I'd never thought of it that way.
"And most important," Vinny said, "We don't own the means of distribution. We've got to hustle our own theater from whatever raggedy-assed network the Left has cobbled together." He paused and grinned. "Got a solution to that?"
"No," I said. "But I'm gonna burn a lot of gas humping it back to Cambridge."
He opened the studio door. "Drop out and you'll be good for nothing but smoking dope and playing guitars. We got plenty of that. We need certified, bona fide smarties with a license to think. You're already a smarty. Bordering on a smart-ass. Get your diploma, and you'll have your papers in order."
Vinny pulled me out the door, past the bums, past the roar of the Chronicle's presses rolling out the evening edition. He shoved me into my station wagon and put an arm on my shoulder. "You're good at this. But for now…" He stepped away from the car. "…beat it. Maybe we'll see you next year."
#  #  #
*Excerpted from my novel Rocked in Time, but close enough to the truth.
Charles Degelman
Writer, editor, and educator based in Los Angeles. He's also played a lot of music. Degelman teaches writing at California State University, Los Angeles. 
Degelman lives in the hills of Hollywood with his companion on the road of life, four cats, assorted dogs, and a coterie of communard brothers and sisters.
Characterizations: right on!, well written