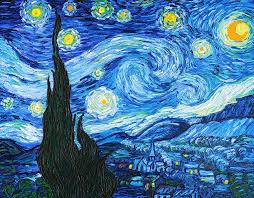 Instead of "thinking back" to my youth, here is a potpourri of some of my favorite museums visited in the last dozen years.
I took art lessons briefly as a kid, but I had no artistic talent. And I imagine that my parents took me to art museums when I was young, but I haven't been able to bring up any memories of that. So instead of "thinking back" to my youth, here is a potpourri of some of my favorite museums visited in the last dozen years.
Paris
Musee de l'Orangerie – Monet's Water Lilies take up an entire floor of the museum, and are so much more breathtaking than one could imagine just looking at a picture of them. There are eight panels, each one 6 ½ feet tall, with a total width of almost three hundred feet. Here I am standing in front of one of the panels. I wish we had gotten the entire panel in the frame. I think the photographer was more interested in getting a picture of me.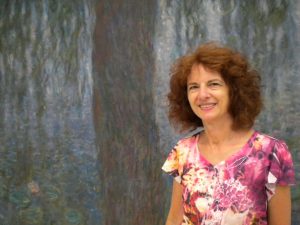 The Louvre is so big and overwhelming, I actually like the smaller museums in Paris (of which there are many) much better. But of course one has to go there at least once, even if only to race through and see as many masterpieces as possible. Here is the one and only picture I took at the Louvre on a family trip in 2011. This was as close as Molly could get to Mona, and, while it's not great of either one of them, I took it to show they were in the same room together.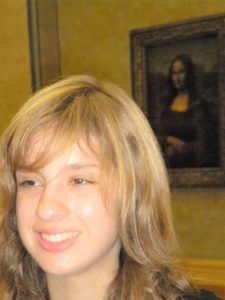 Reina Sofía Museum, Madrid
There are three wonderful art museums in Madrid, and I only had time to visit one of them on my most recent trip to Spain. I chose the Reina Sofía because Picasso's Guernica is there, and I wanted to see it in person. It is vast, measuring 11 ½ feet high by 25 ½ feet wide, and has a room all to itself. Unfortunately, photography is prohibited in that room, but a photograph could not begin to capture the enormity of it anyway. In other parts of the museum photography is allowed, so I snapped this Picasso, "Seated Woman Resting on Elbows" just to have something from that museum by Picasso.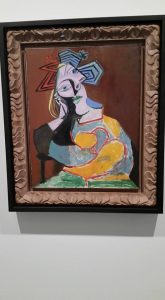 I also liked this giant sculpture by Roy Lichtenstein in the interior courtyard of the Reina Sofia. Molly thought it looked like a strip of bacon, Ed thought it was a mountain goat. Its title is "Brushstroke." If you look carefully (or if you click to enlarge it), you can see Molly in the lower left of the picture, which gives you an idea of how big the sculpture is.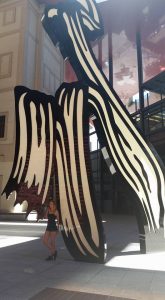 Two Guggenheims
Apparently there are four Guggenheim Museums scattered around the world (with another one planned in Abu Dhabi), and I have been to two of them, the one in Bilbao, Spain, and the one in New York, which are totally different and both delightful.
Here is a picture in Bilbao, inside the lobby of the museum, looking out. They generally don't allow photography inside the galleries, and as a result, I don't remember much about the art, except that it was modern / contemporary.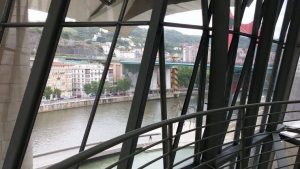 However, there was an Andy Warhol exhibit when we were there that not only allowed photography, they encouraged it, with signs in three different languages (Basque, Spanish, and English) saying "Share your photos of the exhibition on #WarholGuggenheimByYou." Here is my photo, which I may or may not have shared with that hashtag, I can't remember. I do remember that I didn't realize how well my shirt matched the purple panel until I saw the photo. (Click to enlarge for the full effect.)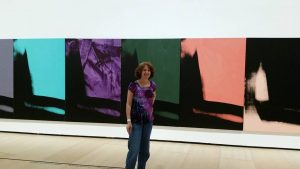 The New York Guggenheim Museum is a favorite of mine for the architecture more than the art. The museum is one long continuous spiral ramp, with galleries branching off periodically, and I find that the best way to approach it is to take the elevator up to the top, and then slowly walk around and around until you get to the bottom, stopping in the various galleries on the way down.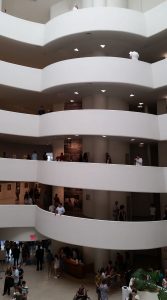 Three Dalí Museums
I have been to three different Dalí museums in three different countries. Here is the Dalí Theatre and Museum in Figueres, Spain, which is a wonderfully whimsical building designed by the artist himself. He is buried in a crypt beneath the stage of the theatre (which isn't a functioning theatre; the museum was built around the town theatre that Dalí knew as a child). Figueres was his hometown, and he created the museum himself, saying that his goal was that "people who come to see it will leave with the sensation of having had a theatrical dream." It was an amazing experience to spend several hours there, and I wish I had taken more pictures.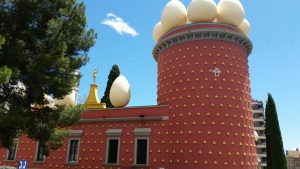 In contrast, the Dalí Museum in Paris was small and a little disappointing. In fact, the reason we decided to go there was because we had bought museum passes that were good for four consecutive days, and this was our fifth day. We would not have wanted to pay a separate admission for a museum that was free on the pass, but this museum was so small and insignificant that it was not included.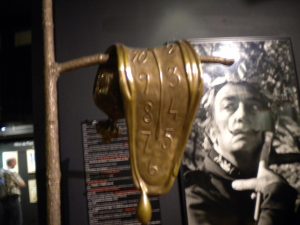 The Dalí Museum in St. Petersburg, Florida actually has the best collection of his work, in my opinion. All of it was acquired by an Ohio couple who started collecting his art in the 1940s, and were patrons and friends of Dalí's for forty years. They at first displayed their growing collection at home in Ohio, but moved it to Florida in 1982 after a national search for a new location. The current museum was opened in 2011. Its collection of Dalí's works is second only to the museum in Figueres, and to me it seems much larger and more impressive.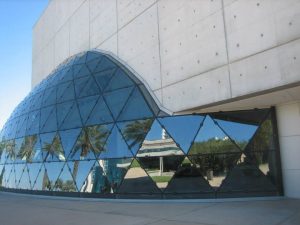 The grounds are lovely too, and filled with Dali-esque touches. Here is a bench outside the museum, with the melting clock motif from one of his most famous paintings, "The Persistence of Memory." It is somewhat tricky to sit on it, although my daughters managed (well, I guess Molly, on the right, is leaning more than sitting).
Thiebaud and the Manetti Shrem Museum
I would be remiss if I didn't include our fabulous Sacramento artist Wayne Thiebaud (who just celebrated his 100th birthday), who is known for his colorful paintings depicting commonplace objects, especially food, and the Jan Shrem and Maria Manetti Shrem Museum of Art at UC Davis. Thiebaud donated 72 of his own works and 300 works by other artists to the permanent collection of the Manetti Shrem. This museum opened in 2016 on the campus of the university, and while used for some college art classes, it is open to the public and entirely free. The building itself is a work of art.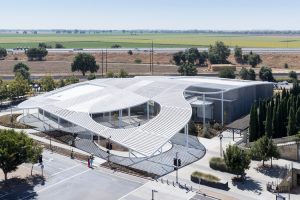 Here is a photo I took of one of my favorite Thiebaud paintings hanging at the museum, although it's not a good idea to look at it when you are hungry!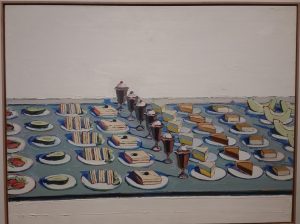 ---
** I know that I omitted any discussion of The Starry Night, and the Museum of Modern Art where it resides, but as those who know me might suspect, my story title is in homage to Don McLean, not Vincent Van Gogh.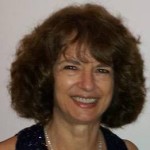 Suzy
Characterizations: moving, right on!, well written