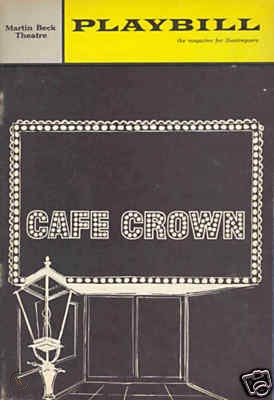 This is a family story that I don't think my kids know, so I am writing it for them, in case they ever happen to read my stories on this site.
Our cousin Betty, before she became a celebrity to the pre-school set, was in a Broadway musical called Cafe Crown.
Our cousin Betty, before she became a celebrity to the pre-school set via the 33 years she spent in Mr. Rogers' Neighborhood, was in a Broadway musical called Cafe Crown. It was based on an earlier play of the same name which had been produced on Broadway back in the Forties, and told the story of a collection of characters involved in the old Yiddish theater on New York's Lower East Side, and the cafe on Second Avenue where they gathered. This was the first Jewish musical on the mainstream American stage, and we just knew it was going to make her a star. Theodore Bikel and Sam Levene, two well-known Jewish actors, led the cast. Surely all the Jews in the New York metropolitan area would come to see it, at the very least, and it would be a big hit! Betty had just graduated from college the previous year, so it was an amazing break to be cast in this show on Broadway. The whole family was so excited to see her career taking off.
Unfortunately, the show bombed. It had thirty preview performances between March 21 and April 16, 1964, then officially opened on Friday, April 17th. Alas, it got terrible reviews and closed on Saturday, April 18th, after three performances (including the Saturday matinee).
My whole family went to see it, of course. I don't know if we saw one of the previews or one of the "official" performances. We thought it was wonderful, although I have to admit I don't remember much about the plot, the characters, or even the songs. I think Betty played the part of a bride in a play within the play, but that's as much as I can tell you. I was twelve years old at the time.
What I do remember vividly was that we went to a fancy French restaurant afterwards. (Does that mean we went to a matinee? That just occurred to me as I was typing the last sentence.) Our handsome French waiter was flirting with me the whole time we were there. He told me he wanted to marry me. I told him I was twelve. He said, okay come back when you're eighteen and I'll marry you then. He also told me that one must never use a knife when eating fish. That rule has stuck with me to this day. I didn't go back to find him when I was eighteen, but I have never used a knife on fish. I have taught that rule to my husband and children as well, although I may not have told them where I learned it.
The irony? Broadway really was ready for a Jewish musical, it just wasn't that musical. Five months later, on September 22, 1964, Fiddler on the Roof opened, and of course was a smash hit. And while Zero Mostel originated the main character of Tevye, he was later replaced by none other than Theodore Bikel.
And in some sense our family has come full circle, because a mere 54 years later my nephew Bobby was cast in the Yiddish production of Fiddler, which played for a year and a half off-Broadway, from July 2018 to January 2020. Wouldn't it have been fun if Betty had been in it too!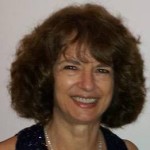 Suzy
Characterizations: funny, well written