My house is across the street from a park with several baseball diamonds, and around the corner from a school whose baseball field and snack shack are the headquarters for the local Little League. Every year on opening day there is a parade that goes past my house, with pickup trucks full of screaming little boys in their uniforms, the trucks decorated with signs and streamers. First come the tiny t-ball teams, then the farm teams, the minors, and finally the majors, big boys in 6th and 7th grades, waving and yelling and throwing candy from the trucks for our little neighbor kids to retrieve.
I enjoyed this parade the most during the years that my son Ben played Little League. His first two years he was on the Cubs, followed by the Pirates, Blue Jays, and Mets. It was so cute to watch him and his teammates riding by on the truck, then follow them to the field for opening day ceremonies, including a pancake breakfast, and go to their first game of the season a little later in the day. Even after he aged out of Little League, I knew kids who played for the next several years, so it was fun to watch them go by.
I still watch the parade, because it is impossible not to. The noise of the kids assembling in the park generally wakes us up around 7:00. We have time to take showers and make coffee before the parade actually starts, and then we go out onto the front steps with our coffee mugs to watch. This year I noticed that there were one or two girls on almost every team, each one with her ponytail sticking out through the hole in the back of her cap. Neither of my daughters had any interest in playing baseball, since they both eschew any sport that involves balls flying at them, so it didn't occur to me to be annoyed that Little League was only for boys. But almost twenty years later, it's certainly nice to see that progress has been made and girls are an accepted part of all the teams.
When Ben was playing, I was baseball's biggest fan. I went to all the games and screamed myself hoarse. I worked in the Snack Shack, selling drinks and dogs and the best french fries anywhere. I even paid attention to Major League baseball because it was important to Ben. His favorite player was Ken Griffey Junior, so we followed his team, the Seattle Mariners. In 1998, Ben's third year playing Little League, there was the exciting home run race to beat Roger Maris' record, with Griffey, Mark McGwire, and Sammy Sosa all in contention. Griffey fell behind in August, much to Ben's disappointment, but the other two actually did break the record, with McGwire ending the season at 70 home runs to Sosa's 66.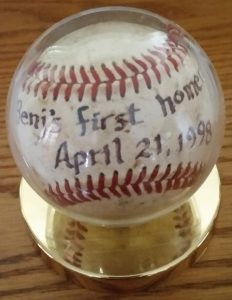 While looking through Ben's closet to check out his old baseball caps (and verify which teams he was on), I came across the ball from his first home run, hit that same year of 1998, which was ensconced in a little case to preserve it for posterity. I wonder if he even knows it is there.
In recent years I have not followed baseball at all, but I have to admit I got pretty excited by the 2016 World Series, not only because the Cubs had not won a Series for 108 years, but because I felt a loyalty to the team that Ben had been on for his first two years of Little League.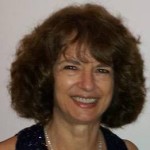 Suzy
Characterizations: right on!, well written