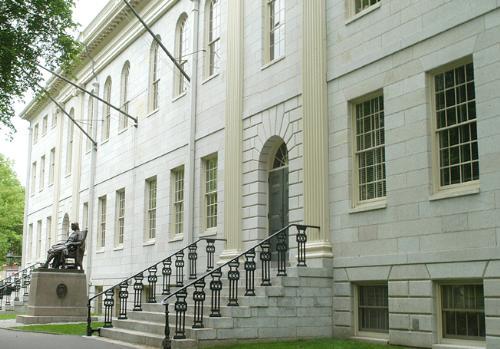 Originally published on December 21, 2017, for the prompt That Night.
A companion piece to Khati's story entitled 1969.
When I started college in September 1968, I was fresh from the McCarthy presidential campaign and still somewhat idealistic, yet also radicalized as a result of being tear-gassed in the streets of Chicago. I went to SDS meetings that fall, but I was still wearing McCarthy campaign buttons every day. I had dozens of different buttons, in every imaginable color, so I could coordinate my button with my outfit. That might have been one reason the SDS guys didn't make me feel terribly welcome. Another reason might have been that they were male chauvinists. Anyway, I stopped going to their meetings after a while, and got involved with other activities instead.
For that reason, I was not in on the decision to occupy University Hall as a tactic in the fight to get ROTC kicked off campus. I was out of the loop, and did not know ahead of time that it was going to happen. At noon on Wednesday, April 9, 1969, I went to my Nat Sci 5 class as usual. I hated that class and regretted ever having decided to take it. If my freshman adviser had been halfway decent, he would have told me to take a different class to satisfy my Nat Sci requirement. But he wasn't, and he didn't. However, I did have a lot of friends who were also in that class, which made going to the lectures fun, because we all sat together in the enormous lecture hall where the class was given. I don't remember who told me that students from SDS were occupying University Hall, but of course as soon as I found out, I decided to join them.
Much of that day is a blur to me now. Did I leave to get meals and come back? I think I may have, but I have read that the doors were chained shut, so I don't know. The details escape me. What I do remember best is that night. We stayed in the building all night. It was kind of exciting to be in there, just a bunch of college kids, no grown-ups. The deans and administrative staff had all been forcibly ejected at the beginning of the takeover, before I got there. So there we were, more than one hundred of us. We went through all the files with impunity. I would love to say that I discovered something momentous in those file cabinets, but I don't think any of it was all that interesting. I do remember people looking up what their PRLs were — Projected Rank List numbers, which were assigned to students when they were admitted, and were a prediction of how well the Admissions Office (or someone) thought they were going to do academically. I didn't look for mine, I guess it didn't matter to me what my PRL was.
At some time in the early hours of the morning, Harvard President Nathan Pusey decided to bring in the police. They arrived at dawn to arrest everyone in University Hall and cart them off to jail. This was a shockingly bad decision on his part, and ended up radicalizing a lot of moderate students who hadn't necessarily approved of the occupation to begin with. It led to the student body voting to go out on strike.
Here is one of the posters that the students at the Design School created after the strike was called.** I still have a t-shirt with this silkscreened on the back as well, although sadly the t-shirt doesn't fit me any more.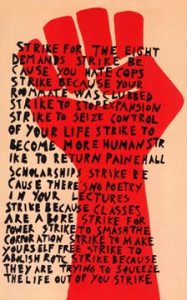 But before that all happened, around 3 or 4 a.m. on the night of the occupation, I learned that a guy I had a crush on was out on the steps of University Hall, with a bunch of other students who were not radical enough to go in, but wanted to show their support for the students inside. So I went out to the steps to talk (flirt?) with him for a while. We spent an hour or so together, sitting on the steps, and I was reluctant to leave him to go back inside. I tried to talk him into coming inside with me, but he didn't want to. Then, just as it was getting light, the Cambridge police showed up and stormed up the steps right past us and into the building. They started pulling people out of the building and arresting them. They had billy clubs and mace, and they were beating people up. It was terrifying. Since I was outside, I didn't get arrested or beaten or maced. All because of this boy I liked.
I went back to Comstock, took a little nap, and went to breakfast. By that time, the word had traveled up to Radcliffe about the bust. Everyone was surprised to see me, and wanted to know why I hadn't been arrested. I was the dorm radical, what was the story? I was a little bit embarrassed to admit the truth of why I wasn't arrested. But I think they all knew I liked this boy, so it actually made sense to them.
As to the aftermath of that night, ROTC was kicked off campus as a result of the strike that followed the bust, so it was a success for SDS. I went out with the guy from the steps a few times, but he wasn't as interested in me as I was in him. So I would have to say it was a more productive night politically than socially. But unforgettable nevertheless.
**P.S. In case you have trouble reading the poster, here's what it says:
Strike for the eight demands.
Strike because you hate cops.
Strike because your roommate was clubbed.
Strike to stop expansion.
Strike to seize control of your life.
Strike to become more human.
Strike to return Paine Hall scholarships.
Strike because there's no poetry in your lectures.
Strike because classes are a bore.
Strike for power.
Strike to smash the corporation.
Strike to make yourself free.
Strike to abolish ROTC.
Strike because they are trying to squeeze the life out of you.
Strike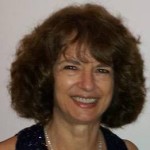 Suzy
Characterizations: been there, moving, right on!, well written