Cheating has had little place in my life, whether by me or on me. With one notable exception.
That August, Veronica walked out on me.
By the summer of 1986, my first marriage to Veronica was a mere shell, a golem, a corpse without the decency to stop moving around. I felt alone as I had never felt alone before. For more than four years, she had deliberately isolated me (or I'd isolated myself) from friends and family. People who knew me before and after tell me that, during this relationship, I was another person, angry, mean-spirited, someone they didn't recognize and couldn't talk to. This period was my personal bottoming out, the end of the nearly decade-long descent into the abyss that began in college. It was the most perilous time I have ever experienced. (Egrets in Morning Sunlight).
That August, Veronica walked out on me. She had started having an affair with her considerably older doctoral dissertation advisor.
The oddest thing about those days in late 1986 was having to explain to people, when they learned what had happened, that I was not at all sad about the end of my marriage. I was on the rebound, for certain, but not from the breakup. I needed to recover from Veronica, and even more, from the previous nine years.
Cheating was the best thing she ever did for me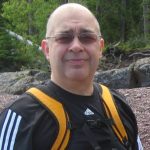 Dave Ventre
A hyper-annuated wannabee scientist with a lovely wife and a mountain biking problem.
Tags: marriage, divorce, cheating
Characterizations: been there, moving, right on!, well written