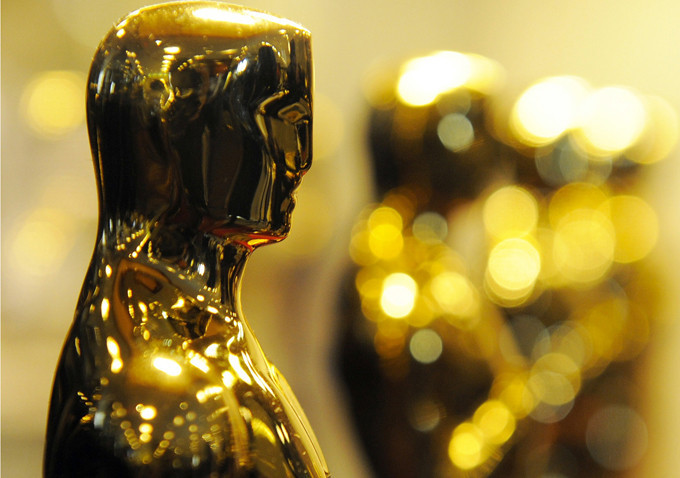 OK, I confess: I'm an Oscar geek. A card-carrying, hopelessly obsessed fan of the Academy Awards. Have been for decades.
I was starstruck from a very young age, and I think it was the combination of a) seeing the stars at their most glamorous, nervous and exposed; and b) experiencing vicariously the thrill of worldwide recognition that made the Oscars so irresistible.
Along the way I also became, not exactly by design, a walking repository of Oscar trivia. Ask me who won the best supporting actor award in 1937, the best picture statuette in 1981 or the names of every two-time best actress winner and I'll give you an answer in a Hollywood Boulevard instant.
It all started in the fifth grade, the year The Apartment won best picture and a post-tracheotomy Elizabeth Taylor won a sympathy vote for playing a hooker in Butterfield 8. That was the first year I watched the Oscars, on a fuzzy picture on our family's clunky black-and-white TV console. For me, the living room was enchanted that night, the air heady. For the next several years, until I learned of the studio machinations and pricey publicity campaigns that aggressively manipulate Oscar voters, I was an unquestioning enthusiast.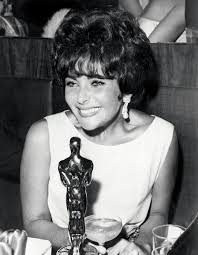 The Oscars were the highlight of my year. I was starstruck from a very young age, and I think the combination of a) seeing the stars at their most glamorous, nervous and exposed; and b) experiencing vicariously the thrill of worldwide validation made the Oscars so irresistible.
I also acquired a partner-in-crime when my brother Dave joined me in an annual Oscars predictions challenge. Out of scrap paper we'd create ballots for each category, ranking nominees according to their likelihood of winning (5 points for your first choice, 4 points for your second…). I usually won, but Dave cleaned up the year Peter Ustinov got best supporting actor for "Topkapi"  (1964). I'd ranked Ustinov the least likely winner, and Dave had him as #1.
My love affair continued through high school, but once I entered college – at the height of the anti-war, student protest era – I felt the need to downplay my movie madness. It wasn't cool in late-sixties/early-seventies student culture to be strung out on Hollywood, especially the vintage movies I grew up watching on television.
But when I graduated and moved to San Francisco, the most movie-centric American city next to Los Angeles and New York, I could indulge my interest and be myself. I got invited to Oscar parties where the wine flowed along with bitchy asides and gossip about the stars. I shared a flat on the Panhandle near Golden Gate Park and discovered that my roommate Rob Jerome was also fascinated with Oscar history. At his friend Bob Hale's brick-lined South of Market apartment we watched Robert Opel, a San Francisco gallery owner, ran buck naked across the Dorothy Chandler Pavilion stage behind the amused co-host David Niven. The most famous "streaker" of all time.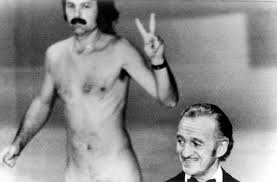 Eventually, I made money from my Oscars expertise. During my  career at the San Francisco Chronicle, I was the in-house Academy Awards guy and each year compiled a list of Oscar predictions. When I started, TV programs like "Access Hollywood" didn't exist and the Internet, still an infant, hadn't brought us Goldderby, Indiewire and hordes of Oscar prognosticators. We weren't inundated by Oscar hype.
For a few unhappy years at the Chronicle, I had to sacrifice my Oscar-night get-together with friends when an editor decided I should watch the Oscarcast in the Chronicle offices, construct my story as the ceremony unfolded, and file my copy ten minutes after the show went off the air. Oy!
Today, 57 years into my Oscars habit, I've scaled down and watch the show at home with a small number of friends, a shaker of martinis and take-out pizza. I thought about putting together an Oscar-themed dinner one year, each course suggested by a best-picture nominee, but nixed that idea as too much trouble. Instead, I requested that guests wear an Oscar-specific outfit. Charlize Theron won that year for playing serial murderer Aileen Wuornos, and my friend JD Beltran arrived in grubby prison garb, her baby son Sebastien in a matching orange jumpsuit. Fabulous.
My favorite Oscar shows are the ones with the biggest surprises. I kvelled when Daniel Day-Lewis won best actor for My Left Foot instead of the predicted winner Tom Cruise for Born on the Fourth of July. Loved it when Linda Hunt came out of nowhere to win best supporting actress for playing a male Asian photographer in The Year of Living Dangerously. When one of my all-time favorites Alan Arkin won for Little Miss Sunshine or when Jane Fonda's fantastic performance in Klute was recognized — despite the fact that Nixon's White House had vilified her for opposing the war in Vietnam.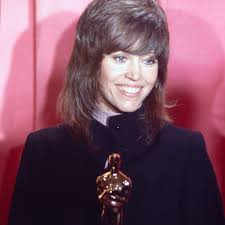 My least favorite Oscar nights are the ones when something sappy like Terms of Endearment or Forrest Gump takes the top prize, when a Raging Bull loses to an Ordinary People, or a Brokeback Mountain gets beaten by a mush-headed mess like Crash. Or when Nicole Kidman wins best actress for The Hours simply because her prosthetic nose was so brilliantly constructed that you couldn't recognize her. That ain't acting, people – that's cosmetics!
As I write this, it's one day before the 90th annual Academy Awards and while I'm not nearly as excited as I was as a pre-teen movie nut, I'm looking forward to the show and rooting for my favorite movies from last year, Call Me By Your Name and The Shape of Water, to win some gold. I'm also hoping that Three Billboards Outside Ebbing, Missouri, a movie I found disturbingly misanthropic and corrosive, doesn't win the best picture award as many are predicting.
If it does, I'll probably curse the TV screen and declare, as I have in the past, that I can't bear the tackiness and wrongheadedness of the Oscars one more time. Of course I'll be back next year, wishing for that beautiful surprise, hoping my choices are vindicated.
It's all part of the Oscars game.
Edward Guthmann
Characterizations: been there, funny, well written