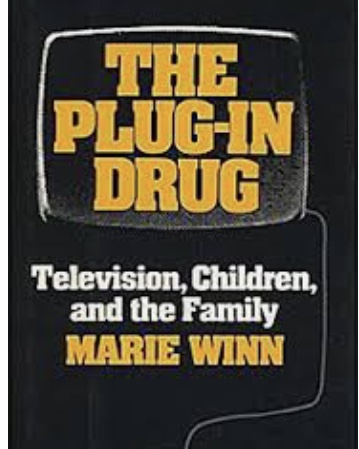 Most of my friends tell me they've been TV bingeing for years,  and now during lockdown it's certainly the activity of choice.  So if that's your guilty pleasure,  binge away.
But I've never been much of a TV watcher,  and I couldn't agree more with Marie Winn when in the 1970s she wrote about the problems inherent in watching  too much TV in her book The Plug-In- Drug.  She was concerned about TV's effect on children,  especially the violence in those early kids' cartoons and in all the shoot-em-ups.
I'm sure with the growing awareness of those concerns and the advent of the Childrens Television Workshop,  and wonderful shows like Sesame Street,  The Electric Company and Mr Rogers,  her fears were somewhat assuaged.   But her point was that for both children and adults,  watching so much of the fare on TV is a passive,  sometimes even numbing experience.
On the other hand reading good,  well-written books is not a passive activity but an active one.   Reading makes us think and emote –  biography can inspire,  non-fiction can teach,   and good fiction can help us understand the human condition,  and,  to quote the wonderful novelist Anne Tyler,  reading allows us to "live in different places and in different times."
Of course over the years I've watched my share of TV,  and in fact recently binged on the reruns of Downton Abby and My Brilliant Friend.   But – believe it or not – we don't even have Netflix .
Yet don't assume my husband is a TV snob like me,  on the contrary he's a TV addict.   First of all he's a news junkie,  but that's excusable and lately I'm glued to MSNBC myself as they preach to the choir.   But he also watches sports a helluva lot.   And he loves to watch old movies on Turner Classics,  and he'll watch whatever's on the History Channel and every single animal or nature show he can find.
Of course that's all good stuff,  but at times when there just isn't anything good on he'll keep switching channels until he finds the least objectionable program.   That's known in our house as the LOP,  as in,  "I see you're watching the LOP,   I thought you were fairly intelligent,  how can you watch that crap?"
But so much for my TV rant,   he just told me it's time for Jeopardy and I really hate to miss that show!
Dana Susan Lehtman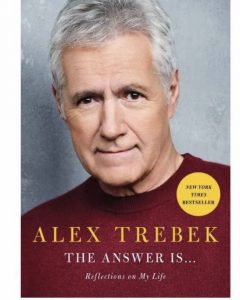 Dana Susan Lehrman
This retired librarian loves big city bustle and cozy country weekends, friends and family, good books and theatre, movies and jazz, travel, tennis, Yankee baseball, and writing about life as she sees it on her blog World Thru Brown Eyes!
www.WorldThruBrownEyes.com
Tags: Television