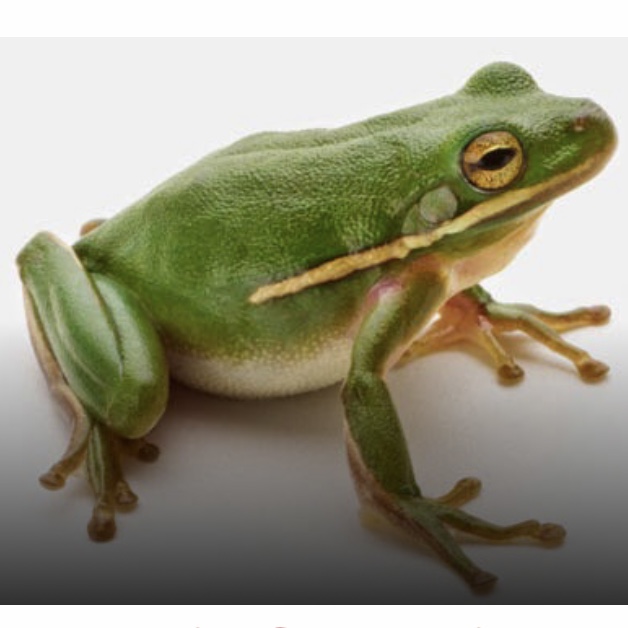 Although it can be time-consuming and a hassle,  I conscientiously recycle and I try to support organizations and legislation that advocate for environmental action to fight pollution and clean up the planet.
I've been haunted by images of polar bears on melting ice caps;   and dead whales washing up on beaches with stomachs full of plastic;   endangered Monarch butterflies;  and collapsing bee colonies.    And awhile ago I watched a show called The Thin Green Line on the PBS series Nature,  and found out that frogs are in trouble too.
It seems frog populations all around the world are dying out as we humans encroach on their natural habitats,  continue to pollute,  and contribute to the climate change that's throwing the earth's ecosystems out of whack.
Frogs are at the center of the food chain I learned,  and their disappearance would have a devastating affect on other species as well.  Frogs are also vitally important to current medical research as chemical compounds in their skin have been found to help mitigate pain,  block infection,  and may be used to treat other human diseases.
On the show we met an international team of amazingly dedicated animal scientists working to save these frogs from extinction,  the die-off is as serious as that.  And adding to the disaster is a newly identified amphibian fungus deadly to frogs.  As this infection spreads,  the scientist work against the clock to eradicate this threat,  even hoping to breed a new generation of frogs who are resistant to it.
I've written about the childhood summers I spent at my grandmother's Catskill hotel.   (See My Heart Remembers My Grandmother's Hotel,  The Troubadour)
There as a kid I caught dozens of frogs in the lake,  and would amuse myself by singing aloud to them,   "Lucky froggies in the pool,  You don't have to go to school!"
It was innocent fun then,  but those frogs need our help now.  So my friends,  please recycle and do everything else you can to turn the tide,   there is no Planet B.
Dana Susan Lehrman
Dana Susan Lehrman
This retired librarian loves big city bustle and cozy country weekends, friends and family, good books and theatre, movies and jazz, travel, tennis, Yankee baseball, and writing about life as she sees it on her blog World Thru Brown Eyes!
www.WorldThruBrownEyes.com
Tags: Pollution, Frogs, Environment