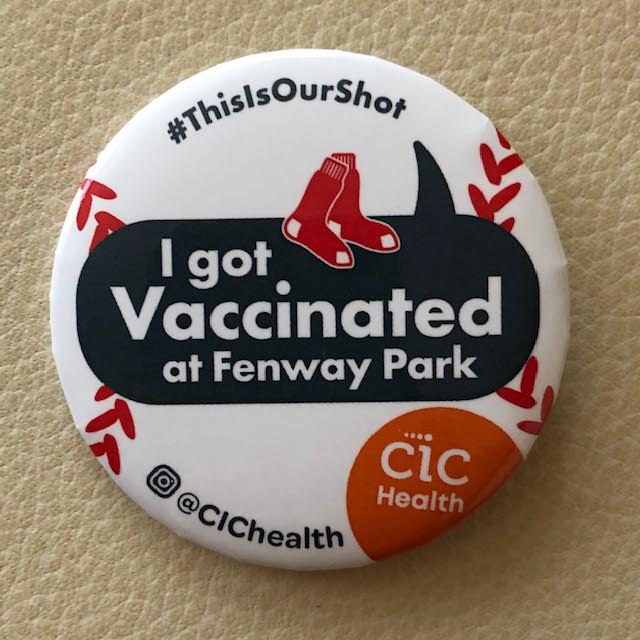 At his mid-afternoon press briefing on Wednesday, February 17, Governor Baker announced that anyone over the age of 65 would be eligible for vaccination the next day. The roll-out had gone badly so far, with only health care workers, first responders and those over the age of 75 being eligible to receive vaccinations and many of those had difficulty navigating the sign-up website. Most other states allowed many other groups, including all senior citizens and pressure was intense to extend the vaccine to this age group. The announcement caught everyone off-guard, but mostly the poorly designed web portal for making appointments.
Dan and I decided on a strategy. We would get on a bit before 8am, when new appointments open up, only look at mass vaccinations sites; those at Gillette Stadium or Fenway Park, and keep trying, hoping for success.
8am came and the system spectacularly crashed. The new appointments weren't even loaded in for about two hours. We tried and tried to no avail. The software had been developed by some third party in some other state and was not prepared for the one million new people eligible who began logging in on February 18. It took us about 6 hours, but through persistence and strategy, we both got appointments for the following week. It felt like a miracle.
I showed up at Fenway Park on Tuesday, February 23 for my first Pfizer shot.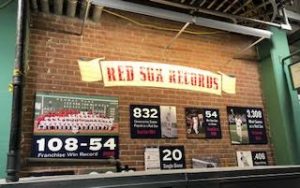 I confess, I was SO excited that I teared up a bit. The pleasant man who checked me in seemed to understand. We could see our way out of this darkness. I had no issues and breezed through, signed up for my second appointment on my iPhone during my 15 minute observation period after the shot. By Tuesday, March 30, I reached "full" immunity. Dan went to Gillette a few days after me, but got the Moderna vaccine, so his shots were four weeks apart. He reached full immunity on April 6.
I had posted my vaccination button to social media and heard from a good friend about going to lunch. But that was the day of my first shot (as a doctor's wife, she was fully vaccinated already). I demurred…I wouldn't go out for several more weeks, but did meet her for lunch the day after I reached immunity. We tried to go to our favorite lunch spot, only to discover it currently isn't open for lunch. Like so many other restaurants, they still have limited hours. Instead we went to Legal Seafood. Neither of us relished the idea of eating inside, but it was a warm day and they had large windows open along one whole wall. We sat in a large booth, away from anyone else and all went well.
Other than going to Martha's Vineyard (Dan much sooner than I), we have no immediate plans. We have two nephews who postponed last year's weddings to this year. We will travel to Cincinnati in late June and Kansas City in September.
We asked Vicki if we could visit her in April, but she declined, as she has now had one shot and has a friend coming to visit the first week of May, staying through her May 8 birthday.
David, in London, is a whole other kettle of fish. Museums are closed, he works (still from home) during the week, so there just wouldn't be much for us to do when we couldn't visit with the kids. And we still need negative COVID tests to come and go internationally, even fully vaccinated. The UK is still on the CDC forbidden list. We hope they might visit us and stay a while, since they can work from anywhere.
Life will open up a bit, maybe going to a restaurant and eating outside as the weather improves, and we can visit with vaccinated friends. We've had dinner with two sets of friends, once at our house, once at theirs. It was heaven. It almost felt normal. Yet, we still must continue to be cautious and wear masks. Cases seem to be under control in Massachusetts, but not in other parts of the country.
We aren't out of the woods yet, but are cautiously optimistic. Our governor released new guidelines this week. Increased capacity everywhere, no more mask mandate outdoors, and the whole state will be fully open on August 1. I hope everything goes as planned. Right now people aren't showing up for their second shots and vaccines are going begging. Keep your fingers crossed.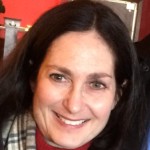 Betsy Pfau
Retired from software sales long ago, two grown children. Theater major in college. Singer still, arts lover, involved in art museums locally (Greater Boston area). Originally from Detroit area.
Characterizations: right on!, well written