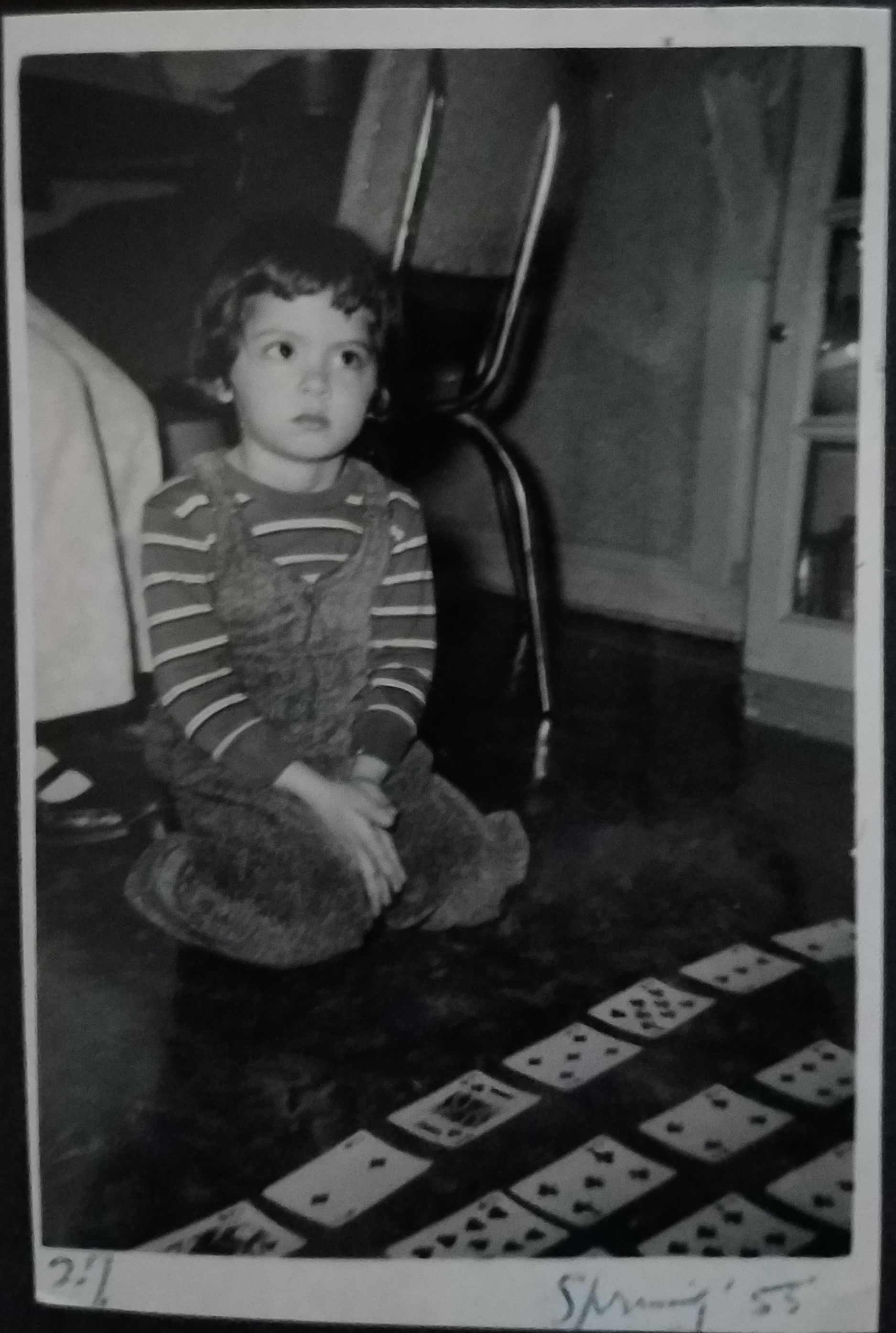 This seems like a risky prompt; is anyone going to admit it if they cheated? Whether academically, athletically, romantically, or some other way, why would anyone write about it in a story that is published online? We shall see.
I will admit to cheating at cards when I was young, but it was solitaire, so I wasn't cheating anyone else.
Games
I will admit to cheating at cards when I was young. (Well, maybe not as young as in the featured image, where I was only three. Not sure what card game I was playing there.) I played solitaire a lot as a child, with real cards obviously, since there was no "online" back then. Towards the end of the game, I would often cheat by turning over the cards in a different order because otherwise the crucial card would never come up and the game would never end. Since, by definition, solitaire is a game that you play by yourself, I wasn't cheating anyone else. Decades later when I played online Solitaire, I realized there was no way to cheat. That took some of the fun out of it, and I soon abandoned the game. (It had been installed on our work computers as a way to give us practice using a mouse. That made it less fun too, knowing you were playing it because the bosses wanted you to.)
I know that there are ways to cheat at other card games, such as by dealing from the bottom of the deck, but I don't actually know how it's done, and I wouldn't do it even if I knew how.
Mah jongg is a game I play regularly, as mentioned in previous stories, and I have often tried to figure out if it is possible to cheat at that game. Not because I want to cheat, but because I think it is so cleverly set up to prevent it, that I consider it an intellectual challenge to try to figure out how it could be done. At the beginning of the game the tiles are equally divided into four "walls" which are placed in front of each of the players' racks. The person who is East (equivalent to the dealer) rolls the dice to determine where the first wall will be broken (like cutting the deck in cards). Then she pushes out the number of tiles determined by the dice, and that's where the picking starts. Each person takes 13 tiles, in three groups of four and one final tile, going in order around the table and around the walls. So even if you placed some desirable tiles, such as jokers, in certain places in the wall when you were building the walls, you would have no way to control the picking to make sure you got those tiles. I admire the inventors of the game for making it seemingly uncheatable, and yet I suspect that someone somewhere has figured out a way to cheat.
Academics
My daughter Molly did her last two years of high school at an online school called Laurel Springs, graduating in 2015. She was doing distance learning long before the pandemic made it a common experience. When she wrote papers, she had to submit them to a site called Turnitin, which examined them for possible plagiarism. They compared phrases against a huge bank of other papers to see if the same sentences or phrases appeared. You were allowed to have a certain percentage of matches (15% as I recall) before it was considered plagiarism. In general this made a lot of sense, but it was scary waiting for the results to come back, even though she knew she hadn't copied anyone else's paper. Once when she was writing a paper about Martin Luther King, it came back with a high percentage of matches. But looking at them, it was things like the names of his four children (which everyone always wrote in the same order), or his educational background. Facts that everyone would be likely to set forth in the same way. We had to point this out to the history teacher so that she would accept the paper without Molly having to rewrite it.
While I was contemplating this story, I saw a news article about a professor at Chapman University who is suing his students for copyright violation after they uploaded portions of his exams onto a site called Course Hero. He doesn't know who the students are, so he just named five John Does and Jane Does. The fact that he copyrighted his exams and is seeking damages for the violation seems like the wrong approach. After all, he wasn't damaged, it was the students who didn't get the tests on Course Hero who were damaged, if they did not do as well as the ones who did. Looking at the Course Hero website, it says "Taking advantage of Course Hero's resources to supplement your studies, enhance your understanding of a topic, or expand your resume skills is not cheating. Taking the initiative to get the help you need or explore new topics is important and critical for future success." The site charges an annual fee of $83.40 or a monthly fee of $19.95. Seems like a bargain, as long as you don't get caught! While I wouldn't advise any student I knew to subscribe to Course Hero, it does seem unfair that being honest would cause you to get a lower grade than the people who cheated. I'm not sure what the solution is. It will be interesting to see what happens with the Chapman professor's lawsuit.
Romance
Finally we get to romantic cheating! It's possible that when I was single I had some relationships with men who were married. But is it cheating for the person who is single, or only for the person who is married? That is a question, dear reader, that you can decide for yourself but not for others.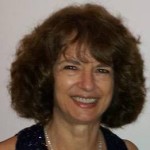 Suzy
Characterizations: been there, funny, moving, well written