I vaguely remember my grandmother watching this amazingly sad (and to me, rather sick) game show called "Queen For a Day." Even then, the idea of competing for the title of "Most Screwed By Life" seemed bizarre.
The problem with Jeopardy was that it ended at 12:30 PM
But for me, growing up, my obsession was "Jeopardy." The problem with Jeopardy was that it ended at 12:30 PM, and that is exactly when I was expected to be back at school. I developed a routine of standing in the open doorway of our living room as Art Fleming read the Final Jeopardy question and the theme music counted down the time. As soon as the answer was revealed (I didn't care who won) I'd be out the door, down the hall and dashing the three blocks to PS #4.
I wasn't very late, but I was late, an affront to order and discipline. So after a couple of days of this, I was reported to my parents. My Mom went to talk to them. I wasn't there, and don't know what was said, but from then on, my being two minutes past the bell because of Jeopardy was never mentioned again.
In 1970 I started high school, and that was the end of my Jeopardy habit.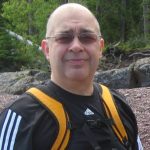 Dave Ventre
A lot of things have happened in my life, but now I am mainly in it for Gina and the mountain biking.
Tags: jeopardy, "game show", "Art Fleming"
Characterizations: funny, well written