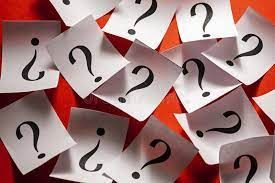 Who was Harold Mendelson?
He's a guy who grew up in the Fillmore District of San Francisco and went on to become a famous actor and game show host. He was also a lifelong buddy of my father's. You never heard of Harold? But does the name Hal March ring a bell?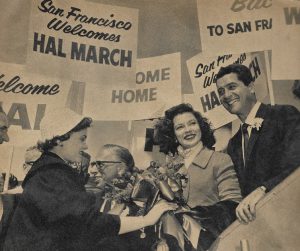 Even though he went on to appear with George and Gracie and Jack Benny, he never forgot his San Francisco roots. I used to have a yellowed copy of a Screen magazine that featured photos of Hal and the old gang from the City. My dad is in one of those pictures, along with other guys they went to Hebrew school with.
I do have another picture of my dad and his pal Hal, this one taken at The Golden Gate International Exhibition of 1939, on Treasure Island in the San Francisco Bay. A couple of good looking dudes. My dad  would have been twenty years old here.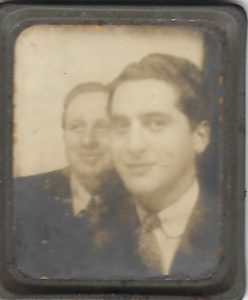 According to Wikipedia: When it first aired in 1955, The $64,000 Question "almost immediately beat every other program on Tuesday nights in ratings. Broadcast historian Robert Metz, in CBS: Reflections in a Bloodshot Eye, claimed U.S. President Dwight D. Eisenhower himself did not want to be disturbed while the show was on and that the nation's crime rate, movie theater, and restaurant patronage dropped dramatically when the show aired. It earned the #1 rating spot for the 1955–56 season, holding the distinction of being the only television show to knock I Love Lucy out of the #1 spot…."   The show had a good run, before the game show scandals changed everything. One other interesting side note about the show: Dr. Joyce Brothers also had a good run on The $64,000 Question. Her area of expertise was…boxing!
But while I'm on the subject of game shows, I must include this photo of my son when he appeared on Jeopardy! earlier this year. That's another story for another time…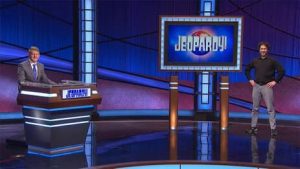 Risa Nye
Characterizations: funny, well written