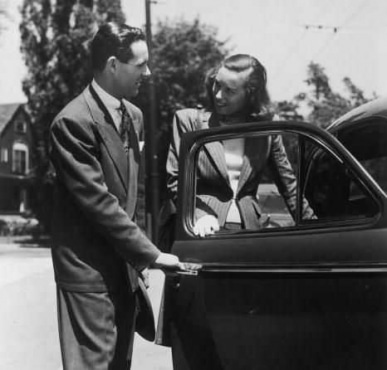 I was first introduced to the idea of dating dos and don'ts when I was eight years old and my two older sisters, aged thirteen and fifteen, started dating. Apparently the biggest "don't" was don't be ready when your date arrives to pick you up, because you will look too eager. (Corollary: don't answer the telephone on the first ring, for the same reason.) So it was my job to answer the door and then entertain the guys for anywhere between ten minutes and half an hour, til the sister being picked up decided she had kept him waiting long enough, and came downstairs. I actually enjoyed this a lot. I don't know if the guys did or not, but it was probably much less intimidating for them to make conversation with me than it would have been with one or both of my parents.
I was first introduced to dating dos and don'ts when I was eight years old and my two older sisters started dating.
When I was twelve, my oldest sister got engaged to a guy who was going to law school in New Jersey, although she was at college in Cambridge. He was at loose ends while she was gone, and he would often come over and hang out at my house. He and my mother got along famously, as did he and I. A couple of times he took me to the movies. I felt very sophisticated being out with him, and wanted people to think it was a date. But since I was twelve and he was twenty-two, he wanted to be sure people knew it wasn't. It hurt my feelings when he made a point of telling people I was his fiancée's little sister.
I finally had my first real boyfriend my senior year of high school, when I was sixteen. (I'm not counting Vicente, whom you met in last week's story, because dating in Mexico is a whole different thing.) Of course he did all the asking out, and all the paying for things. Mostly we just went to the movies, which wasn't very expensive in those days, but I would never have dreamed of offering to pay. He drove everywhere we went, and he was expected to open the car door for me to get in and to get out. I can remember at least once when he got out of the car and started walking down the street, and I just sat there, not getting out of the car, until he came back and opened the door. That was the rule, so I was not going to open the door myself. I know it seems silly now, but that's what everyone did.
After we had been dating for a while, he was no longer satisfied with a little kissing after the movie, and he started trying to touch various parts of my body. I would say "no" and take his hand away, he would say "why not," and I would say "because." He would keep trying every week, and every week we would go through the same routine. I knew the rule was that if I let him do something once, I had to keep letting him. You couldn't go backwards. So it seems like we spent a lot of time tussling. When I graduated from high school and left for the summer, it was a relief to stop seeing him.
In college, dating was a lot less structured. For one thing, there were no cars involved, because we all lived on campus and walked everyplace. If we ate dinner with a date, it was in the college dining halls, so nobody had to pay. Other than going to parties, the main dating activity was going to the movies. And the guy was still expected to pay. However, at some point they expected to get something in return for spending money on a girl. And eventually it seemed to be the case that "dating" was just a euphemism for "going to bed with". . . .
After I graduated, for the next ten years, from 1972 to 1982, I had some combination of respectful dates, where you went to an event and did NOT have sex, and casual dates, which were mainly about sex. Almost all of these dates, of both types, were with guys I met at law school or else through work at the Department of Transportation before law school, and the Attorney General's Office afterwards. On two different occasions I was fixed up with guys by women who were mutual friends. With the first fix-up, we dated for a while (but didn't go to bed) and then he broke up with me because he had met the woman he wanted to marry (and is still married to, 43 years later). With the second fix-up, I married the guy. (See So Much in Common.)
Since 1983 I have always been in committed relationships or marriages, so I haven't needed to worry about dating any more. I have known a few people my age, widows or divorcées, who have found new partners through online dating sites, but I'm happy that I don't have to learn to navigate that world.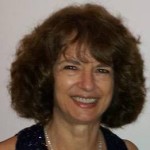 Suzy
Characterizations: funny, well written