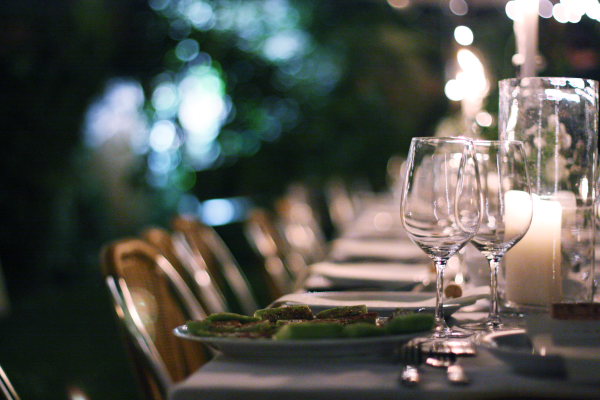 One evening while on holiday in Newport Beach with my in-laws and family we were seated at a large table in a restaurant overlooking the beautiful Newport Marina. This well known restaurant with Polynesian theme had all the usual palm trees and Pacific Islander Tiki gods not to mention the scantily dressed waitress and waiters. I was seated at the head of our table in a very large, high-backed rattan weaved Polynesian style chair, the type you would expect to see at some Hawaiian 5 star hotel or villa and each table throughout the restaurant had one as well. Seated at the opposite end of our large table was my father in law.
"Will someone tell that guy we're trying to eat and that I'll buy him a drink if he'll shut the hell up!"

As the waiter lead us to our table I couldn't help but notice numerous photos of John Wayne hanging on the walls obviously from frequent visits. I remember very well what had to be the best abalone steak I had ever eaten not to mention the whole evening's dining experience was a very pleasant one.
As the evening stretched out I began having a little fun with our meal servers and waiter by using what I thought was a pretty good rendition of John Wayne and our head waiter was having a good time kidding me back in kind. Each time I would say something like, "Well alright Pilgrim, we'd like to see yer dessert menu and be quick about it will ya!" I noticed everyone else in the restaurant was getting a big chuckle about the whole back and forth banter. Since I was having such a great time getting laughs, I began milking the opportunity for all it was worth. The more the waiter and I clowned around the heartier the laughter from the other patrons in the restaurant became. But little did I know the real joke was going to be on me.
What I wasn't aware of, nor could any of us at our table see as a result of my larger high-backed Polynesian chair, was that I was seated directly behind, of all the people in the world, let alone be imitating, was in fact The Duke himself and THAT is why everyone was laughing since it was rather apparent those seated at our table and myself were the only ones unaware of his presence.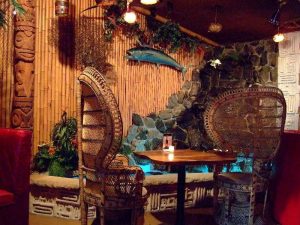 Just about the time I started doing my John Wayne imitation again everyone in the restaurant and myself included heard a voice… or should I say THE voice of none other than John Wayne. Loud enough for everyone to hear he said, "Will someone tell that guy we're trying to eat and I'll buy him a drink if he'll shut the hell up!" I couldn't believe my ears and to say everyone at our table was shocked, would be putting it mildly. There was no mistaking that voice as the entire restaurant erupted into laughter and applause including my own table and even John Wayne and his lovely wife.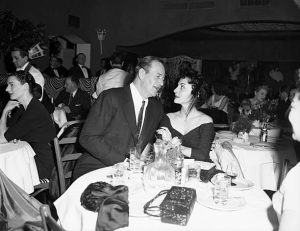 As soon as it hit me as to what had just taken place I leaned over to look around my chair in the direction of the voice only to see John Wayne standing right beside my chair looking down at me with a huge smile on his face. As soon as everyone settled down he walked over to my father in law, a distinguished gentleman in his own right and asked. "Is this bronc riding with your herd?" After my father in law admitted I did indeed belong with him, he shook my father in law's hand then did the sign of the cross and said. "Well, go ahead and enjoy your dinner and hey, if you can keep him (pointing at me) quiet until we're finished with our dinner I would like to invite your table to do my wife and myself the honor of allowing me to buy you a round of drinks in the cocktail lounge after dinner."
Sure enough afterwards we all took a seat at adjoining tables in the lounge right in front of a small stage and enjoyed friendly banter amongst ourselves. It was an evening I would never forget. In the meantime, there was a young lady seated on the stage tuning her guitar while preparing to entertain us and what I really liked about her was how she warmed up to our small crowd, making us all feel as if we had known her for years. As she began to sing one thing that we couldn't help but notice about her was the fact that she had a cast on her leg that reached all the way from her toes up to her thigh. Between a couple songs she began telling a story about her recent trip with some friends to Switzerland on a skiing trip and how on her very first day she fell breaking her leg thus explaining the cast. Each day while her friends went up the mountain skiing she would hang out at the ski lodge with a guitar working on a few songs. She went on to explain how she met someone there from Switzerland that knew how to yodel and so she took advantage of her misfortune to learn how to yodel. With that she began yodeling a song which all of us just loved. As the evening wore on all of us had a lot of fun talking back and forth not only amongst ourselves but with her as well.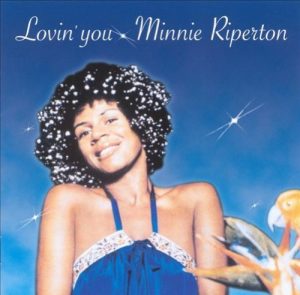 Later in the evening she began telling us she had a little something special she wanted to announce and with a lot of excitement in her voice she told us about a new recording she had recently made that was due to be released that very week. That was when she asked John Wayne if he would be so kind at to give her his autograph. After he gave her an autograph on one her own cassette cases he asked her, "Well little lady, what's your name?" She replied, "My name is Minnie Riperton and my new single is "Lovin You" which she then performed for us.
If you've ever heard Minnie Riperton sing "Lovin You" you know she's truly special but on that particular night little did we know how special that performance really was or how great she or that song was destine to become but I do vividly remember the laughter and camaraderie we all shared during that exclusive evening.
Speaking of destinies, both Minnie Riperton and John Wayne passed away a short time later in 1979 as a result of cancer. Both left a legacy and both are missed.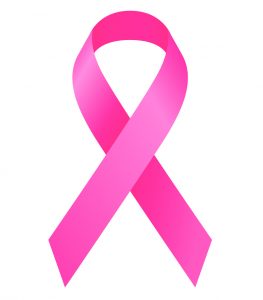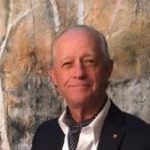 Gary Faules
Gary Faules is a former Oregonian who still holds records as a former Olympic skeet shooter, racecar driver and team owner and competed in the world famous 2007 La Carrera Panamericana. He has traveled the world as both a big-game hunter and angler and has been a freelance writer for both racing and automotive as well as sport shooting publications not to mention his latest book I Slept In Africa made The Forbes Book List. Seeking adventure is only second nature as he continues his dream of living life to the max since almost being left blind as a child due to a freak accident. Gary has been the recipient of numerous awards, several being congressional recognition awards for helping others. A once retired CEO of his own corporation, Gary continues to work and lives near San Francisco, California, where he spends much of his time enjoying the love of his life and waiting for the next adventure so that he can continue the journey.
Characterizations: right on!