Some people are foodies. I'm a wordy. Scrabble, crossword puzzles, word jumble—you get the picture.
This time I was prepared. I knew what they wanted: not only smarts, but big energy, personality plus.
When it first went on the air in the early 70s, I religiously tuned in to the $10,000 Pyramid hosted by Dick Clark, a word association game show in which, essentially, two contestants were each teamed with a celebrity, and one teammate tried to get their fellow teammate to guess a word or phrase by providing clues. In the 80s it became the $25,000 Pyramid. By then I was single mom barely making ends meet, so when my own mom called to tell me they were holding auditions in an office right down the hall from where she worked, I rushed right over.
My memory is a little fuzzy because, well, I'm a baby boomer, but I do remember sitting in a waiting room with other hopefuls and filling out a questionnaire. There was a culling process, and I made the first cut. Then came what I later realized was the personality portion of the process. Alas, I didn't make the cut this time but was told I could try again in a year, and try again I would.
But, I'd caught the bug and decided to try out for another game show in the meantime. The only one holding auditions in the L.A. area right then was called Match Game Hollywood Squares and it was just plain stupid, but I thought what the hell and of course, wouldn't you know, I was chosen to be a contestant.
In case you never watched it—and cheers to you if that's the case!—the premise was that the host would posit an inane phrase leaving off the last word, then each member of the bank of nine celebrities was to fill in the blank by writing their answer on a hidden card. Then the contestant—in this case, me—gave her answer out loud and got points for each match…hence, "match game." Well, I didn't get very far. In fact, I didn't get one match. Because the celebrities were more interested in being funny than in answering logically. Which, for the sake of the audience, was really the point of the show. And which I had somehow failed to grok. The phrase that got me knocked me off was something like "Silly Tilly was so paranoid about getting robbed (at which point the studio audience parrots in unison, 'How paranoid was she?') she hid her money in the…" . Well, I chose "freezer" to fill in the blank, which made sense, right, and pretty much every celebrity chose "toilet" which was just oh so funny. BUZZZ, and off I went.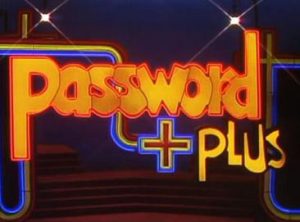 Not long after that I tried out for Password Plus, a more dignified game show. I was paired with the adorable comedienne Vicki Laurence who, although she had a twinkle in her eye, took this seriously and we did really well together. I actually amazed myself when I came up with an answer I didn't know I knew: Caspian Sea. To this day I can't remember the question, but I know NOTHING about the Caspian Sea. In any event, I won $6,000 and went on to play another round.
This time I was paired with Bert Convy (before he became the host of Super Password, and a real doll, RIP). He was supposed to get me to say "Charmin," as in the toilet paper brand. (What is it about toilets and game shows anyway?) Well, ol' Bert didn't know what Charmin was. As he very charmingly admitted later, he thought they had mistakenly left off the 'g' at the end and so the only clue he could think of was "Prince." Get it? But that was it, BUZZZ, and off I went, although not before I could gush almost tearfully (and in retrospect, embarrassingly) about what a wonderful experience it had been, the most fun I'd ever had, the highlight of my life.
I'm not sure if this is still the case, but back then you were only permitted three game show appearances in your lifetime. Now I was only eligible for one more. Over a year had gone by and I was ready to audition for The Pyramid again.
This time I was prepared. I knew what they wanted: not only smarts, but big energy, personality plus. After acing the questionnaire portion again, in the second round I was probably a lot like Horschack on Welcome Back Kotter: "Ooh, ooh!" I beamed so brightly the glare must have been blinding. But, I made it to the next round.
This time it was just me and the interviewer. Her job was to feed me a word, and my job as "clue giver" was to provide a stream of one-word clues to get a potential "clue receiver" to guess that word. Things went well for the first few words. Then came "PROWL." Uh-oh. I couldn't think of a single clue. Silence. The kiss of death! Nothing, NOTHING, is worse than dead air, not even bad clues. So BUZZZ, and off I went.
Okay, your turn, and no cheating! PROWL. Oops, BUZZZ, time's up.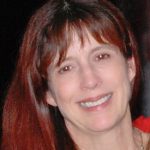 Barbara Buckles
Artist, writer, storyteller, spy. Okay, not a spy…I was just going for the rhythm.
I call myself "an inveterate dabbler." (And my husband calls me "an invertebrate babbler.") I just love to create one way or another. My latest passion is telling true stories live, on stage. Because it scares the hell out of me.
As a memoirist, I focus on the undercurrents. Drawing from memory, diaries, notes, letters and photographs, I never ever lie, but I do claim creative license when fleshing out actual events in order to enhance the literary quality, i.e., what I might have been wearing, what might have been on the table, what season it might have been. By virtue of its genre, memoir also adds a patina of introspection and insight that most probably did not exist in real time.
Tags: word games, crossword puzzles, Scrabble
Characterizations: funny, right on!, well written