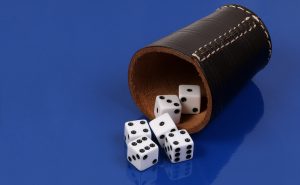 December 4
th
is National Dice Day. Many games incorporate these six-sided cubes, and some, such as craps, consist entirely of throwing dice and betting on the outcome.
Think back 
… did you ever play dice games, or board games that used dice? Have you solved probability problems using dice? Hung fuzzy dice from your rear-view mirror? Been in a situation where you thought the dice were - literally or figuratively - loaded against you? 
Share your dice stories forward.
Start Writing