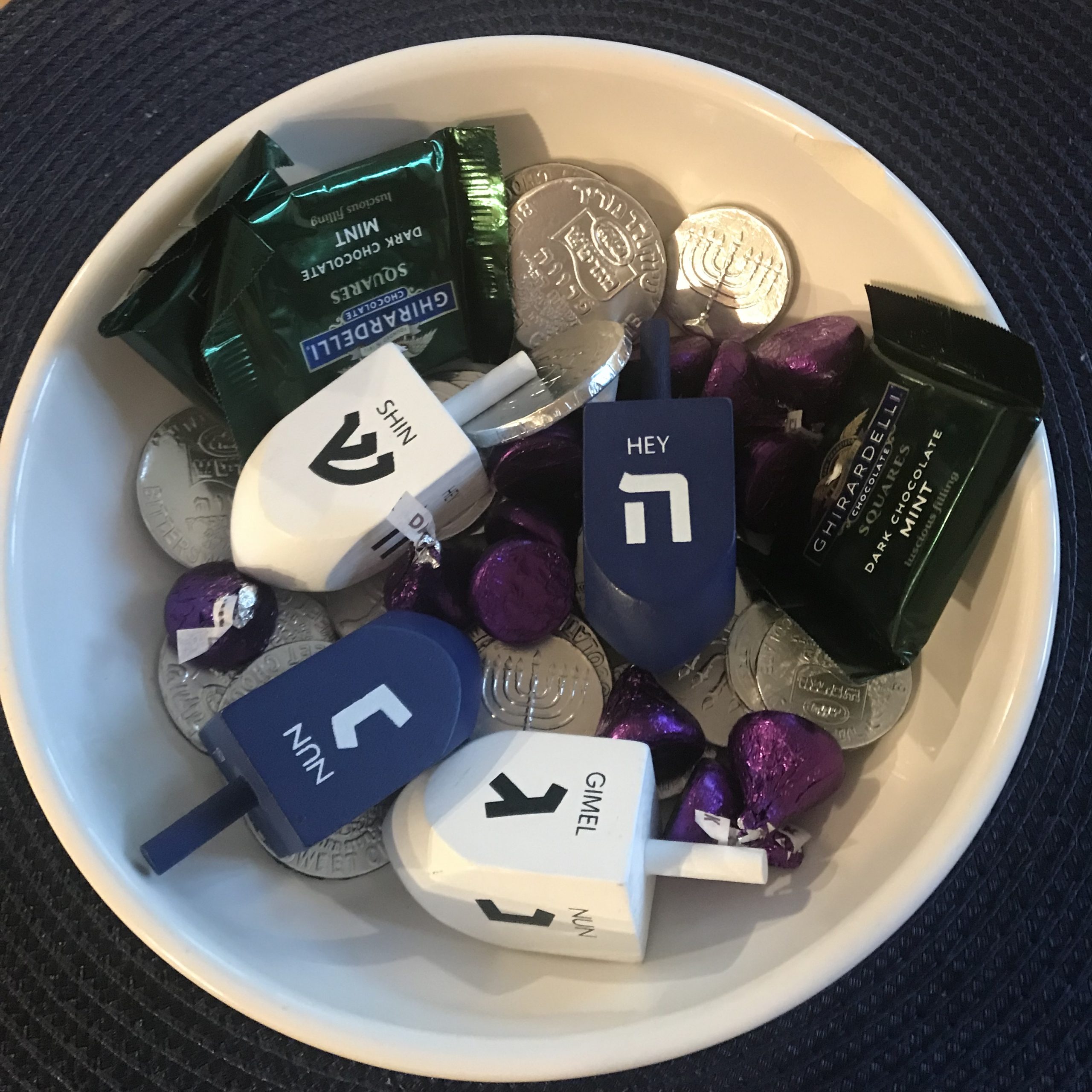 You probably don't have to be Jewish to know about the Hanukkah game called Dreidel.
It's a betting game where each player antes up and then, depending on the spin of the dreidel  –  the four-sided spinning top that serves as the dice –  they take nothing from the pot (NUN),  half the pot (HEY),   or all (GIMMEL the big pay-off).   However a player who throws SHIN must add to the pot.
And In most Hanukkah-celebrating homes the "chips" are actually chocolate coins wrapped in foil –  gold foil for milk chocolate and silver foil for dark chocolate – and each player piles up their loot like gamblers do at more serious gaming tables.
In the Hanukkah song  I Have a Little Dreidel the spinning top is made of clay,  as dreidels may have been homemade by kids centuries ago.  But today at holiday time plastic dreidels in all sizes can be bought most anywhere,  although the nicer ones are made of wood.   I admit I'm a sucker for the latter and have a small collection!
Years ago we sent our very young son to a summer day camp where they were obviously teaching the kids Native American lore.  One day he came home to tell us he had learned the Indian word for "money".
"Ah yes,"  I said,  "I think I know it too – is it WAMPUM?"
The kid looked puzzled.  "No, " he said,  "it's GELT!"
("Gelt" you may know is Yiddish for money – I get the feeling that camp director was Jewish.)
HAPPY HANUKKAH!
Dana Susan Lehrman
Dana Susan Lehrman
This retired librarian loves big city bustle and cozy country weekends, friends and family, good books and theatre, movies and jazz, travel, tennis, Yankee baseball, and writing about life as she sees it on her blog World Thru Brown Eyes!
www.WorldThruBrownEyes.com
Tags: Hanukkah, Dreidels