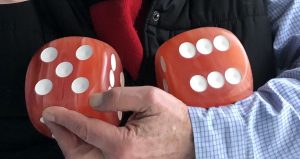 The red cubes glow like fox eyes.
I am rushing to squeeze another post into the Dice prompt before the window closes.   I am the newbie, excited to play with my newfound toy.  I do not claim to grasp the site vibe.  By way of backword, when Suzy, having been told by a mutual friend that I have an interest in Dice, first invited me to join, I received her invite in the dark of the East Coast night.  Like winter closing in.  Wind banging on the windows.  Me hunkered in for hibernation.  But my fingers sprang into action, and I concocted the following brief entry as my application for admission:
RED CUBES
The red cubes glow like fox eyes.  They will be good or bad when they roll to a stop.  Or they might carry over the side of the table, into a player at the far end.  Unfortunate when a die bounces off a player at the far end and lands back onto the table, being a 7.  Which counts. Dealers sweep away my chips even though with a little luck, an iota of luck, the die would not have returned to the table, would have been lost in the décolletage of the player at the far end, or simply disappeared into the surrounding darkness, giving me a reprieve from the death they dealt.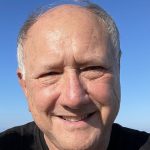 jonathancanter
Tags: Craps
Characterizations: right on!, well written