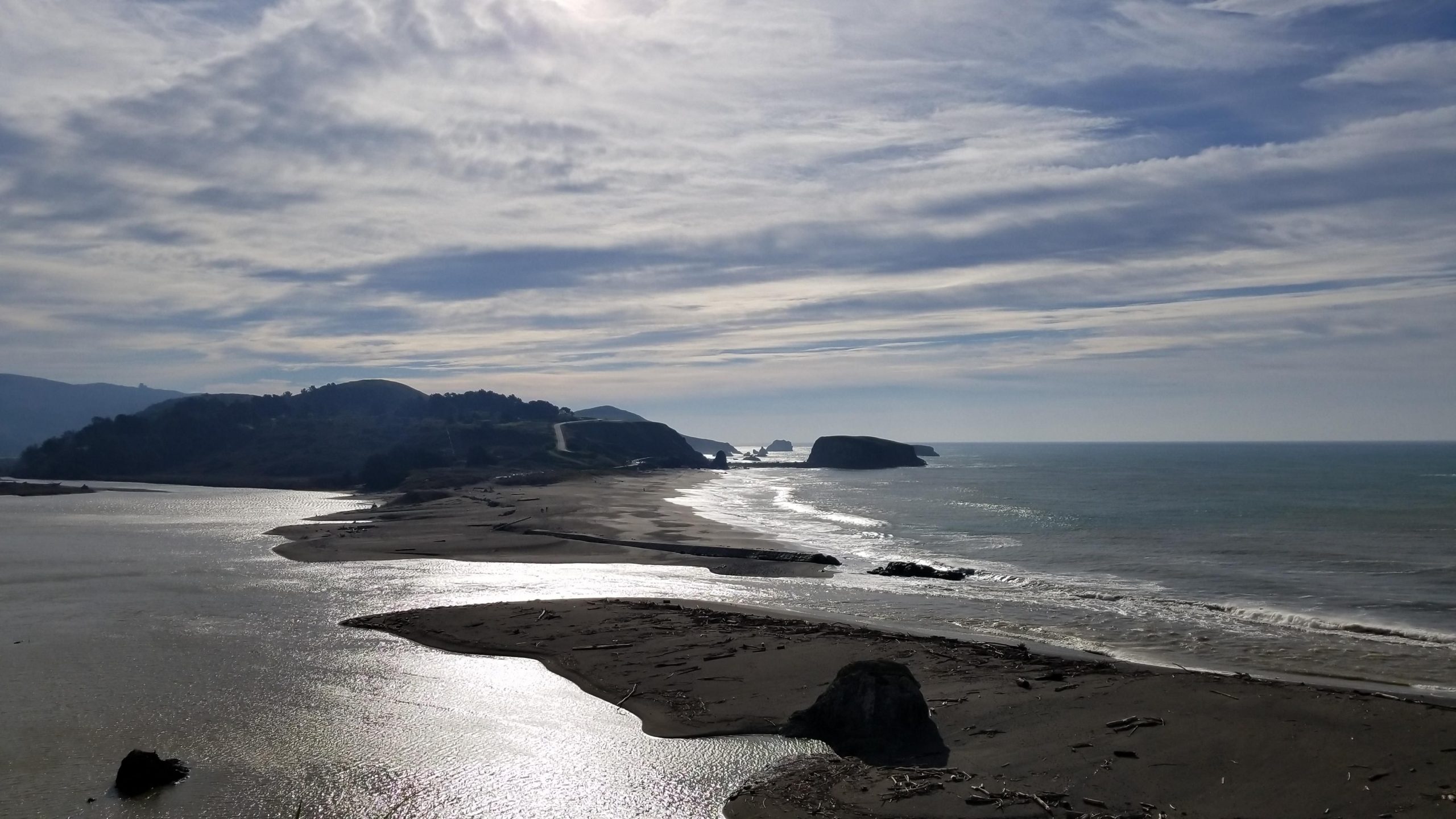 Two hours north of San Francisco, the Russian River flows into the Pacific. At its mouth, the river broadens into a lagoon, the forest gives away to a broad estuary, and the riverbank gives way to ocean beach. Seals and sea lions gather at the river's mouth, the seals busy surfing for fish in the strong tidal currents, while the sea lions bathe in the sunlight, lined up like round, gargantuan holiday vacationers.
Maybe male chauvinism had forced Lily and Carmelita to become the better monopolists.
A row of cabins perch on the south bank of the lagoon. In early fall, we would often rent the Johnson cabin, a family-made, hand-hewn job, rustic and comfortable, and take advantage of the coast's October weather, foggy in the morning but warm and sunny once the fog had burnt off.
My partner, Lily and I formed half of the core of a cabaret theater that worked in San Francisco during the fall and winter. Bob and Carmelita, the other half of the company's core had discovered the cabin years before and this thespian gang of four would occasionally spend part of our vacation together, bedded down in the cabin, hiking on the beach, driving up and down the picturesque northern California coast, cooking, drinking, sleeping and doing whatever else came naturally. Favorite evening pastimes included playing Monopoly.
As we all know, Monopoly uses dice to motivate the players around this salute to do capitalism. Dice and money make the Monopoly world go around. One player would also perform the banker's duties, distributing houses and hotels to players in their efforts to purchase as much property as possible. The winners were — as could be expected — those who accumulated the most property and money. As is the way with money and property in the free-wheeling monopoly market, things could get a bit — if you'll pardon the expression — dicey.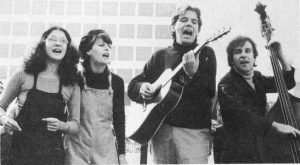 But we were a wholesome lot, one for all, and all for one and Monopoly, after all, was just a game played with dice, a game board featuring famous metropolitan avenues like Broadway, Marvin Gardens, several railroads and utilities, a pile of funny little house and hotel tokens, and play money. No harm in that, even though it we were playing with two major foes — private property and capital.
During one vacation, we decided to form consortiums. Truthfully, Lily and Carmelita suggested that Bob and I team up "to combine resources" and the two women would do the same. They would even take on the hassle of banking. All was well for a while, but then, after several games in which the women seemed to win game after game, Bob and I grew suspicious. The women were winning every game.
We objected as our opponents won another game. Wide-eyed and humble, Lily and Carmelita pleaded ignorance and innocence. It was just the luck of the game, they insisted. Or maybe, they suggested, in those early days of second-wave feminism, that women like them, being institutionalized as second-class citizens since Neolithic days, had been forced to develop sharper social skills and more sophisticated bargaining abilities, to compete with long-established male dominance. Maybe, they speculated, entitled male chauvinism had forced them to become the better monopolists.
But we were no dummies, Bob and me. We began to question the inevitability of defeat. We watched the board closely, we threw the dice and counted our way street-by-street around Monopoly's microcosmic, two-dimensional community. We checked the dice. They rolled fine, same dice we had always used. We kept a running list of transactions, to track any unregistered deals that might put more houses and hotels on our opponents' properties. No skullduggery was revealed.
To dull the pain of recurring defeat, I rose to pour another glass of wine. When I turned, cabernet in hand, I watched with amazement as Carmelita smoothly slid one graceful hand across to the bank, swept up a pile of $500s, slipped half the bills to Lily and eased the other half into her humble savings.
"Hey!" I shouted, nearly spilling my wine. "I saw that!" My heart began to pound with shock and disappointment. Lily and Carmelita turned and stared at me with surprised but seductive eyes.
"Saw what?" Carmelita asked.
Seeking reinforcement, I turned to Bob. "Did you see what she did?"
Bob looked up, startled. "Who?" He asked. "Me? Who did what?"
"Her!" I was too shocked to even utter Carmelita's name. I pointed my cabernet at his underhanded partner. "Her!"
Lily frowned. "What on earth are you babbling about?"
I crossed behind the two duplicitous women. "Sh-sh-sshe just stole money… from the bank."
"Whaaat?" Carmelita looked up at me with a contemptuous twist to her lovely lips.
"Why would she do something like that?" Lily said. "We're winning."
Bob was trying to catch up. "Wait a minute," he said. "Stole money?"
"Yeah," I shouted. "Of course you're winning goddammit. You've been robbing the bank."
Bob reared back in his chair. "But… but… you're the banker," he said to Carmelita. "You can't do that!"
"Sure she can," I sputtered. "And she did. I saw her."
"Oh calm down," Lily crooned in her best television sotto voce. "Have a drink. Take a deep breath and sit down. Don't you want to finish the game?" She blinked flirtatiously.
It's amazing how women who can claim the equality of womanhood with force, intelligence, logic, and vigor can turn coquettish in an instant. But I didn't note that in the heat of the moment.
But across the table, Bob and I realized we had been boondoggled in one game after another for days, ever since our partners had suggested we team up. "We'll even run the bank," Carmelita had suggested, as if they were doing us a favor. Some favor. And they had proceeded to swindle and bamboozle their loving partners by night, while during the daytime we explored and frolicked in the sunshine, mellowed in the beauty of nature, dined and cooked and laughed with one another, all in the gayest of spirits as if nothing clandestine was unfolding beneath our feet.
No," I said. "I do not want to finish the game."
"Me neither," Bob said. "I can't believe it." He shook his head. "I'm sorry, but I just can't go on."
Neither Bob not I could continue. We felt too violated, too swindled, too deeply betrayed by our cheating paramours.
#  #  #
Charles Degelman
Writer, editor, and educator based in Los Angeles. He's also played a lot of music. Degelman teaches writing at California State University, Los Angeles. 
Degelman lives in the hills of Hollywood with his companion on the road of life, four cats, assorted dogs, and a coterie of communard brothers and sisters.
Characterizations: funny