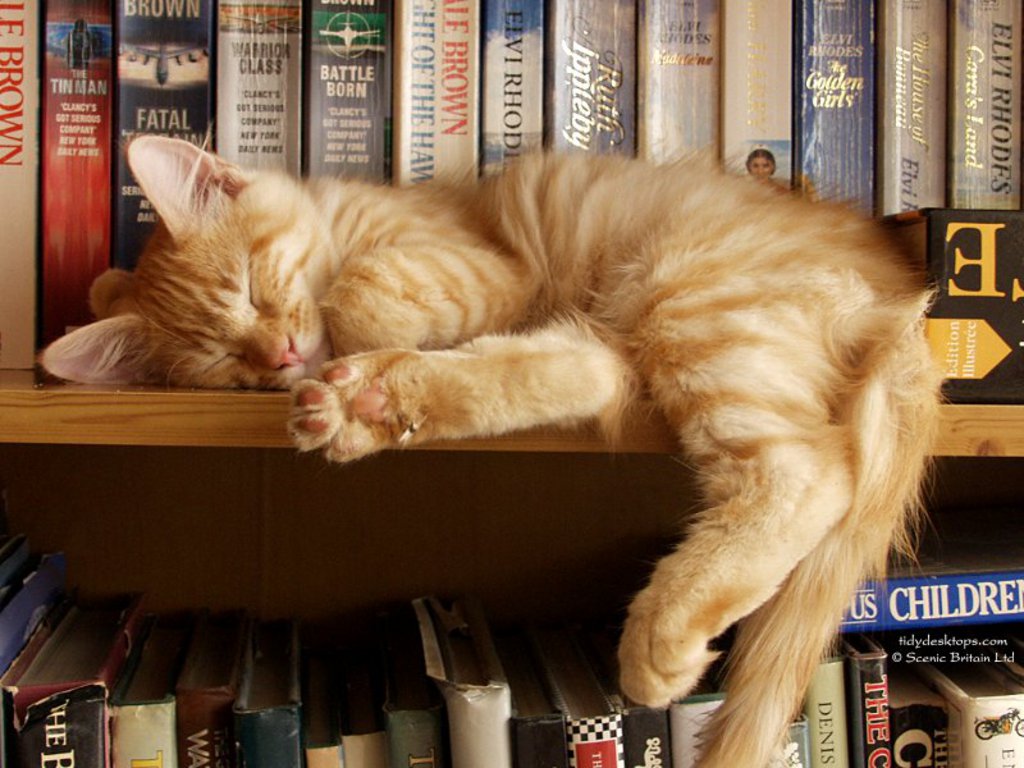 I can still remember when I first began to string letters together into words. Sitting in the backseat of the family car next to my big sister, I would see billboards full of words flash by. A giant neon sign next to the freeway proclaimed "Sherman Williams Paints Cover the Eath" as a bucket of red paint tipped over and covered the globe in red, over and over again. I loved that one. But once I was able to read, I started looking at the funny papers, as we called them, and learning about that little mischief-maker Dennis the Menace, the funny  Nancy and Sluggo, the characters in Prince Valiant, beloved Pogo, and so many more. The natural next step was to start reading books on my own. I got my first library card by the time I was in kindergarten.
The Children's Room became my domain. This is where I first started reading about Beezus and Ramona, Mrs. Piggle Wiggle, Amelia Earhart, Emma Lazarus,The All-of-a-Kind Family, Charlotte, Nancy Drew, and the magic stories of Edward Eager.
The Richmond Public Library in my home town was (and still is) an impressive structure. During the war, Richmond's population boomed because of the shipyards located there. (We had our share of Rosie the Riveters, who now have a  National Historical Park honoring them in Richmond.) The city outgrew the Carnegie Library that was built many years before.  From the library's website:
"Reflecting the phenomenal growth during the World War II years, from 23,000 to 106,000 inhabitants, the City voted a bond issue to build a civic center to meet the needs of such growth and in 1949 the first buildings were completed. The citizens of Richmond had something to be proud of:  Architectural Forum magazine called the new Memorial Civic Center: "a milestone in U.S. civic design; it is the first modern Civic Center built in any American city; and it is one of the most comprehensive centers constructed anywhere in the world." It was a multi-million dollar showplace and symbol of civic pride."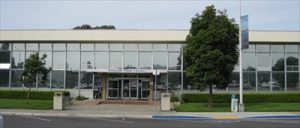 " One of the modern buildings centrally located in the Civic Center was a new Library building, one of the most modern library buildings in California. Coit Coolidge, the City Librarian, and the staff were involved in all aspects of the planning, which took four years and went through twenty-seven revisions before the final plan was adopted. The result was a splendid two-story edifice, the first glass-walled library building in the country, framed in steel and concrete with glazed east facade; inside was a two-story reading room, periodicals and stacks on a mezzanine above work space, a children's room and an adjoining meeting room – auditorium. The total cost of the building, including equipment, when completed in December 1949, was $576,000. Noteworthy was the fact that the main reading room encompassed all library functions, including storage, charging and delivery facilities; the Library had a book capacity of 100,000 volumes. Opened to the public on December 5, 1949, the Library was complete and modern in respect, designed to allow the maximum service at the least cost to the taxpayer."
"The new building, with its glass front, modern lighting, fresh-air system and comfortable furniture, became the envy of the library world on the West Coast and was constantly visited by others planning library buildings for other cities."
"As part of Richmond's award-winning Civic Center, the handsome Library grew in reputation and many considered it to be the best-designed, medium-sized library in the Bay Area and one of the best in the United States."
My library!
The Children's Room became my domain. This is where I first started reading about Beezus and Ramona, Mrs. Piggle Wiggle, Amelia Earhart, Emma Lazarus,The All-of-a-Kind Family, Charlotte, Nancy Drew, and the magic stories of Edward Eager.Here's how it looks today, with computers of course.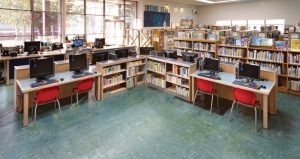 The shelves were packed with so many books it felt like a wonderland to me. I always walked up to the desk with my arms full of books to check out. Those summer reading programs? I was all in, racking up a huge number of books and earning stickers or stars to prove it.
In elementary school, I had a wonderful teacher who encouraged us to "write reports." We could choose our subject and do the research on our own, eventually presenting our reports to the class. Mrs. Brown had a tough job: our school decided, as an experimental program, to have a combined 4th, 5th, and 6th grade classroom–so I had the same teacher for all three years. How she managed a room full of kids at three different levels I'll never know. But I loved doing those reports. Sure, we had a set of encyclopedias in the classroom and it was heavily used (and plagiarized), but I liked going to the library to look for other resources. I did reports on a variety of subjects I was interested in: George Gershwin, Anna Pavlova, certain types of cats, and how fast hair grows. These reports were all over the map, and I can now appreciate what a gift from a teacher to allow that kind of freedom and creativity in her classroom. For all I know, she used our presentation time to grade papers, but I like to think she listened and appreciated those of us who had done some extra amount of research. Writing and presenting those reports made a big impression on me. I credit Mrs. Brown for encouraging at least one young student to keep writing.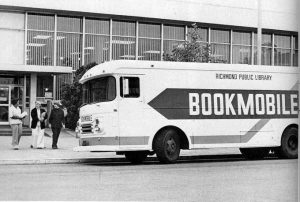 We had a book mobile in our town also. I loved going inside that bus packed with books–but not as much as I loved the Children's Room. As I got older, I moved on. I got too big for the little chairs and the low tables, and too old for the books I had spent so many happy hours reading.
When I went to college at UC Berkeley, I staked out the libraries on campus that had the best couches and chairs. I found a couple that were tucked away in quiet places, far from the frenzied undergrad researchers. And there I would blissfully fall asleep for an hour or so. In those days of burning the candle at both ends (not from partying, but from working at a real job and taking classes on campus), taking advantage of  napping opportunities was critical for maintaining my sanity. Much later, when I attended another state school in a Master's program, I again searched for a library with snoozing possibilities. Because I was also expecting my third child at that point, the naps became unavoidable if I was to function as student, wife and parent. All I had to do was steer away from the noisy areas where the undergrads were having lunch and watching daytime TV.
One of the joys of becoming a grandparent has been sharing a love of reading and being able to experience that sense of wonder and discovery with each grandchild. I've taken them to their local libraries and had the pleasure of lugging home a bag of books they selected.
Just a couple of years ago, I revisited the library of my youth to do some research. I needed to look up articles from the now defunct local newspaper, The Richmond Independent, for an essay I was writing. Once again I entered the large glass-fronted building and took a look around. With the help of a staff member, I sat in front of the microfilm projector and scrolled through several editions of the paper from 1961.
Although tempted, I didn't peek into the Children's Room. I'd rather remember it the way it used to be when I was small enough to sit in those little chairs and bury my nose in a new book.
Risa Nye
Characterizations: right on!, well written