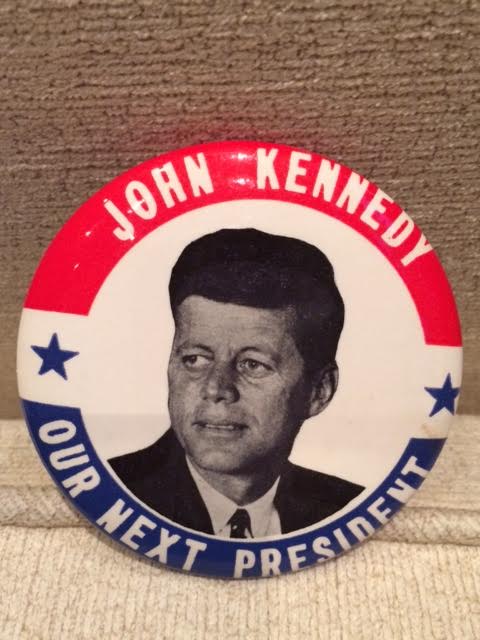 I was raised by a proud FDR Democrat, so it was only natural that I would become a liberal Democrat myself. Even at a young age, before I entirely understood politics, I was a Kennedy fan and supporter. (The title was his campaign slogan.)
In elementary school, we came home for lunch. I remember watching JFK deliver his inaugural address on our black and white TV. I scarfed down a sandwich, leaning attentively against the arm of the couch in our den. I felt the import of the event. Though we didn't subscribe, my mother bought the week's Life magazine from a magazine rack. That, along with my original JFK campaign button in the Featured photo, became the beginning, and most important artifacts in my Kennedy memorabilia collection.
We all watched Jackie lead a tour of the White House as she restored it to its former glory. I greatly admired her style, intelligence and dignity, as I wrote in Jackie.
The events of November, 1963 were devastating for me. Coming at a time of personal and family upheaval, they amplified the grief I felt. My mother was too depressed to let me mourn along with the nation through the televised coverage, so I had no outlet. As soon as I could, I began my collection of Kennedy books, some about the assassination, but many biographies as well. I have dozens now, in two houses, covering many bookshelves. This is a very small sample. I even have a copy of the Warren Commission.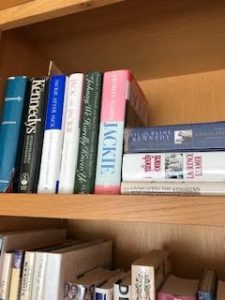 I clipped newspaper articles, filling boxes with them. I bought magazines with Kennedys on the cover.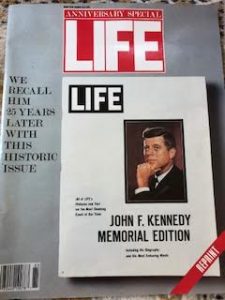 I received a letter "from" John Jr., inviting me to become a member of the JFK Library in Boston. How could I say no to John-John?
Of course I joined and have been a member in good standing for decades, visiting when they have outstanding exhibits, like Jackie's wedding gown and other artifacts from their wedding (the gown is now too fragile to be displayed), the famous display of her clothing from the White House years (the rose-colored suit and outfit she wore to the inauguration are on permanent display). I also went to pay my respects the day after Jackie and Ted died. To mark special occasions, the Library sends memorabilia too.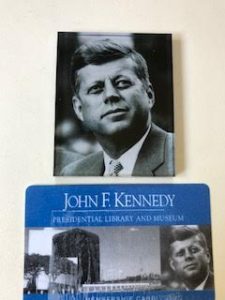 I have first edition Kennedy half dollars, now somewhat tarnished.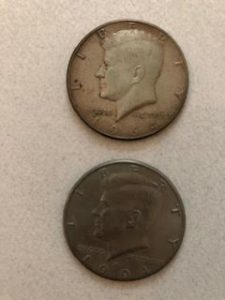 After Jackie passed away, her children staged a huge auction of her jewelry, art, objects, books, "stuff" in 1996. It was a Kennedy collector's dream. I got the auction catalogue and bid on several items: copies of the White House Guide Book, some costume jewelry, tidbits. I bid well above the estimated value, but demand to own a bit of Jackie was wild. I didn't come close to winning anything, but still have the catalogue, bid sheet, and lots of news stories about the auction of the century.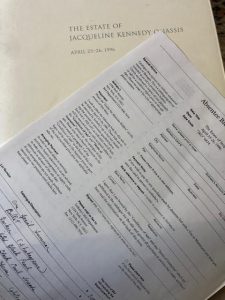 John, Jr. launched a political, human-interest, pop-culture magazine named George (after our first president). It had Cindy Crawford dressed as George Washington on the first cover. It was never a huge success and petered out after his tragic, early death. I was on Martha's Vineyard at the time of the plane crash. Friends and relatives called to see if I would travel to the other end of the island to watch the search and rescue process in person. I did not, but was on the Vineyard ferry, arriving back on the mainland at the exact moment the three bodies came off the USS Briscoe, met by hearses at the dock right next to me. I had my young son in my car with me. He had to witness his mother, crushed by what I was witnessing. I howled with grief, as my car was stopped at the mouth of the ferry so the caskets of John, his wife and her sister could come to shore. It was devastating to watch.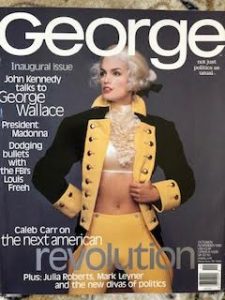 Caroline continued the good work her mother did, as an author, and head of the Kennedy Foundation. Among other books, she put together an anthology of her mother's favorite poems and held a book signing at the JFK Library. I bought two copies, one for myself, one for our niece, and stood on line for hours. By the time Caroline emerged from her Board meeting, it was announced she would only sign one copy per person. I gave my signed copy to my young niece, but enjoy my own copy from time to time. Caroline was gracious to all, though she was tired at the end of a long day. We had a brief conversation as she signed the book.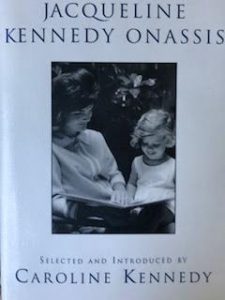 I continue to follow what goes on at the Kennedy Library, occasionally attend shows and lectures. My dues supports their work. I received this certificate long ago in recognition of my continued support of the Kennedy legacy.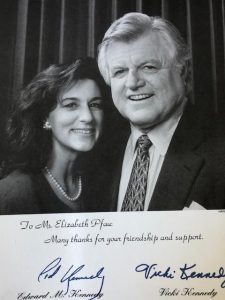 I was a small child when the Camelot myth came into being. I now understand how it was molded and how imperfect these people were. Yet, for all the flaws, the women were strong, smart, accomplished and dignified. The men were by no means perfect, but they seemed to learn from their mistakes and grow in their policy decisions and as human beings. They tried to make this country and the world a better place. These are values and goals that I can still admire.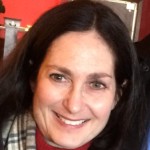 Betsy Pfau
Retired from software sales long ago, two grown children. Theater major in college. Singer still, arts lover, involved in art museums locally (Greater Boston area). Originally from Detroit area.
Tags: JFK, Kennedy family
Characterizations: moving, right on!, well written