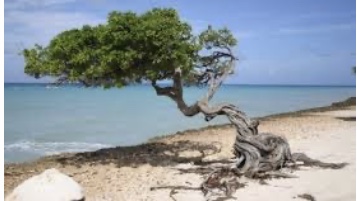 Somewhere among all the art work, photos,  and birthday cards I've saved over the years are a few sheets of drawing paper with crayoned sketches,  fastened together with string to make a little book – a precious  piece of memorabilia from my son's childhood.
Noah must have been about four when we took him on his first plane trip to Aruba.  I remember we had a three-piece set of luggage in black-watch plaid,  and I told Noah the smallest one was his.  Together he and I packed it,  and as we checked in at the airport counter,  he proudly told the agent, "Mine is the little one."
When we landed and were waiting at baggage claim,  out came the biggest suitcase – my husband's.  Then we spotted the middle-sized suitcase – my own.  But Noah's sweet little suitcase was no where in sight and you can imagine his tears!
Thankfully a kindly porter came to the rescue.  He took Noah by the hand,  led him to an area behind the luggage carousel, and when they came out Noah had his little suitcase in tow!  Now our vacation at the Divi Divi Hotel could begin.
One morning during our stay we heard that a mother cat was about to give birth under a bush that by chance was very near our hotel-room patio.  Folks gathered to watch and wait, and many other parents brought their children.
But as the wait dragged on,  the crowd gradually dispersed.  Danny and I went back to our patio,  but Noah refused to leave the spot and watched over that mother cat patiently until her labor ended.  I think he was the only one still there to welcome the newborn kittens.   (Years later Noah had another wondrous experience when he worked at a horse farm on Martha's Vineyard and stayed late into the night to watch a mare deliver her foal!)
But thinking back to that Aruba vacation,  I remember that one day Danny and I decided to get a babysitter and have a romantic dinner.  We had no apprehensions as back home Noah was well used to babysitters.
One of his favorites was his beloved great-aunt Hannah who took him everywhere – to the zoo,  Broadway shows,  museums,  all the wonderful children's activities in the city,  and for many years to the St Patrick's Day parade.
And Noah had other wonderful babysitters as well.  He was born at Cornell University's Lying-In Hospital on the upper eastside,   and Cornell's nursing school,  which is now up at the college's Ithaca campus,  back then was in Manhattan near the hospital.  Nursing students who were available to babysit put their names on a babysitting register,  a list that was taped to our refrigerator for years.
But before you read on I must confess to a habit I had of telling my child a little white lie.  It started once when I said a babysitter was coming and we were both going out.  Noah asked where we were going.  "To the movies",  I said.   " I like movies,  I want to go too!",   he wailed.
After that,  in order to spare his feelings – or so I rationalized – whenever we went out I'd say we were going to a meeting.   He already knew that some nights Danny went out to a business or college alumni meeting,  and some nights  I'd be out at a PTA or board or book meeting.  And surely I thought Noah wouldn't distinguish between those midweek, one-parent-out meetings,  and Saturday night "meetings"  when both of us left and the babysitter came … or would he?  (And by the way,  I may not have been the only parent telling little white lies – I once called my friend Michelle and her eight-year old answered the phone.   "They're not home,",  the kid said.  "they went to another Hadassah meeting.")
So there we were in Aruba in want of a babysitter, and the hotel concierge referred us to a young woman on the housekeeping staff.   When we told Noah that a babysitter was coming and we were going out to a meeting he cocked his head to one side,  put his hands on his hips and said,    "You're going to a meeting  ….. here?"
POSTSCRIPT
Noah's Aruba babysitter was a delight!  She had brought a sketch book and crayons with her,  and when we got back from dinner Noah showed us a wonderful book they had made together.  Tied with string were several sheets of sketch paper with drawings they had both made of parakeets and the iconic divi divi tree and other lovely Aruba sights.
Months later back in New York,  Danny's aunt Graciela came from Luxembourg to visit.  We saw her very seldom and she had never met Noah,  and so to have more time together,  we kept Noah up way past his bedtime.  It was dusk on a  balmy summer evening when we went out to Carl Schurz Park.  We stopped in the playground and Graciela was pushing him on the swings when Noah looked up at us.  "I feel like I'm in Aruba."  he said.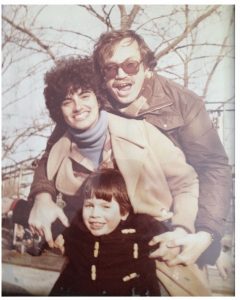 Us in Carl Schurz Park –  circa 1979
Dana Susan Lehrman
Dana Susan Lehrman
This retired librarian loves big city bustle and cozy country weekends, friends and family, good books and theatre, movies and jazz, travel, tennis, Yankee baseball, and writing about life as she sees it on her blog World Thru Brown Eyes!
www.WorldThruBrownEyes.com
Tags: Parenting, Babysittters