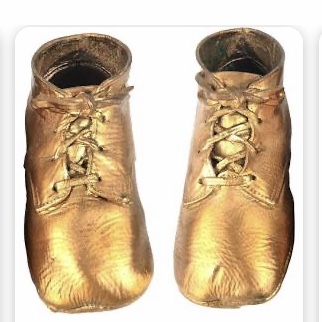 I'm not the sentimental type,  but when our son outgrew his first pair of baby shoes I decided to have them bronzed – separately.
I gave one shoe to my mother-in-law who was then a widow,  and the other shoe to my parents.
Years later when my mother-in-law died we took back her shoe,  and when both my folks were gone we took back it's mate.
And now when I see those two bronze shoes standing together on our bookshelf.  I think about our son when he was a baby and the grandparents who loved him so much!
Dana Susan Lehrman
Dana Susan Lehrman
This retired librarian loves big city bustle and cozy country weekends, friends and family, good books and theatre, movies and jazz, travel, tennis, Yankee baseball, and writing about life as she sees it on her blog World Thru Brown Eyes!
www.WorldThruBrownEyes.com
Tags: Grandparents, Grandchildren