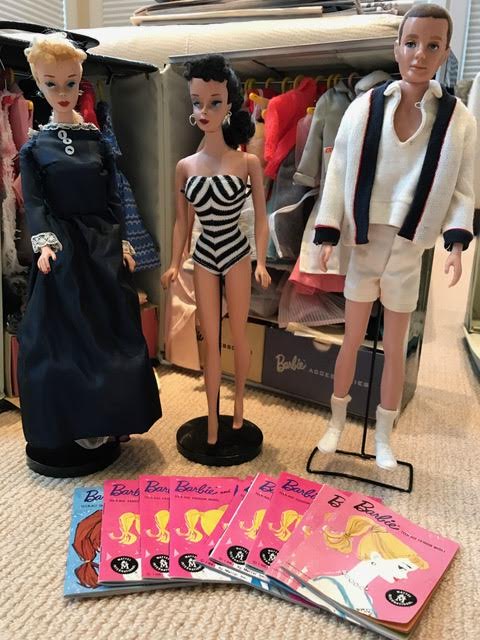 The general store in Charlevoix of 1959 seems so quaint when I think back on it now; the wide floorboards, the glass display cases and large open shelving. I wonder if my Sarason grandfather's store in turn-of-the-century St. Louis was similar. We vacationed in this northern Michigan resort destination for five summers and the morning walk into town while Dad played golf was part of the ritual with my mother.
This particular morning, as I browsed the toy aisle, I discovered a treasure. Barbie was all the rage and there she was on the shelf. I had begged my mother for one. She finally obliged and the blonde bombshell was mine! I was 6 1/2 years old, a shy child, prone to fantasy. I made up stories with my dolls at the center. Now I needed some clothes with which to dress her. Then my best friend, who lived next door, and I met every Saturday and played grown-up games of what life would be like, acting it all out with Barbie.
I didn't care that her dimensions were impossible, that in real life she wouldn't be able to stand. None of that meant anything to my almost 7-year-old self. Birthday and Chanukkah presents were easy for years to come: always more clothes for Barbie. One friend gave me a brunette Barbie and fancy case for my birthday that year, a Ken doll and case the next year.
Her official title was "Barbie, Teen Age Fashion Model". Each outfit came with a booklet describing all available outfits and accompanying accessories. I kept those booklets all over my house – bathroom reading material. I had a prioritzed wishlist of outfits. I knew my parents had bought many and put them aside for various occasions. So when I had teeth pulled under anesthetic, I awoke and was rewarded with the ballerina outfit…very high on my wishlist. I loved dressing her up and making up stories about what she was doing, where she was going, who she was meeting. My parents protested about the number of outfits I wanted; said that I would outgrow the love affair with Barbie at some point, but I protested. I said when I had a real boyfriend, I'd act out my dates with my Barbie doll. I really did live in a fantasy world.
I never had any of the other Mattel add-ons that came after the originals, no Bouffant Barbie. I had no use for the Malibu Dream House. I created my own objects to surround my Barbie. My teacher told my mother that my manual dexterity was poor, so my mother taught me to knit. The little knitting samples became the rugs in her home. Opening her clothing case became her walls. She didn't need a best friend or sister. I was that for her.
Eventually, I did outgrow the desire to play with dolls of any kind. The last time I dressed up the dolls was in 8th grade. We studied the Civil War. I read Gone with the Wind on my own, for pleasure, but for my project at the end of the unit, I went to my sewing machine and created dresses for the two Barbies, representing the North and the South. Of course, the dark-haired Barbie was the South, like Scarlet O'Hara, and I dressed her in an approximation of the dress she wears in the barbecue scene. I used the little bands from my braces to put their pony tails up in a bun. You can see how I dressed Blonde Barbie in the Featured Image, as I put her away all those years ago, still dressed in her Civil War finery.
I still have every piece of my Barbie collection, from shoes, sunglasses, purses, catalogues, even a book published to mark her 40th anniversary. I don't know what it is all worth. I used to joke that I could send my kids to college if I ever sold it. I don't think it's that valuable (I did play with it, after all – no original box, not in mint condition). But the memories for me make it priceless.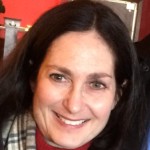 Betsy Pfau
Retired from software sales long ago, two grown children. Theater major in college. Singer still, arts lover, involved in art museums locally (Greater Boston area). Originally from Detroit area.
Characterizations: been there, funny, well written