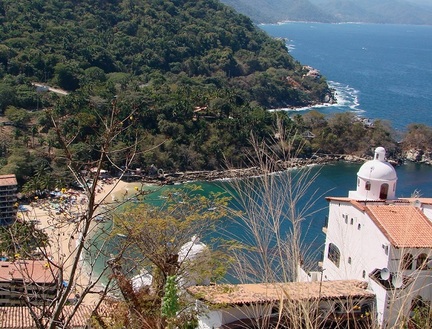 I am not comfortable with group nudity. I've managed to change clothes discreetly in locker rooms and dorm rooms, even while those all around me were letting it all hang out. I have never gone to a nude beach or a nude hot tub party. Sorry, that's just not me.
But there was one time when I did end up nude in a group, and somewhere there is a picture of it. I don't have it, and even if I did, I wouldn't post it here.
It was March 1976, spring break of my second year of law school at Davis. Somebody knew someone who knew a guy who had a place in Puerto Vallarta, Mexico, and they offered it to my friend Bonnie. She asked me to come along, and then we invited two guys we liked, Ron and Doug. She and I both had a crush on Ron, but I was even more interested in Doug. This seemed like it was going to be a hot vacation, in more ways than one. Then Doug asked if another friend of his from LA, Mike, could come too. There was plenty of room, and Bonnie said "sure."
Ron and I drove together from Davis to San Diego, then took a bus across the border to Tijuana where we got a flight to Puerto Vallarta. Flights within Mexico were much cheaper than international flights, which meant we saved a lot of money that way. Bonnie and Doug left Davis earlier, maybe visited family first, and I'm not sure what route they took. In any event, the four of us law students arrived on the same day, and Mike from LA got there a day or so later.
Our villa was spectacular, at the top of a steep hill, requiring a funicular ride to go up and down. We had a fabulous week there, going to the beach, eating amazing food, dancing in the discos at night, and checking out the sights. We saw the hotel where Night of the Iguana had been filmed (built for the movie to look intentionally run-down), on a cliff just south of town. The locals had lots of great stories about Liz Taylor and Richard Burton when they were there for the filming and afterwards.
Yes, but what about the nudity? you're saying. Okay, I'm getting there.
The villa's master bathroom had an enormous circular bathtub/shower in the middle of the room. We would take turns showering there when we came back from the beach, because it was much nicer than the conventional showers in the other bathrooms. One afternoon, Bonnie and I were taking a shower together, I'm not sure why, it just worked out that way. Then the three guys decided to take off their clothes and get in with us so that we could take a group picture. Possibly we were all in a state of altered consciousness at the time. Of course the picture was taken with a camera, and the film had to be developed after we got back to Davis. I remember seeing the picture. Bonnie had managed to position herself artfully so that one arm was in front of her breasts and the other in front of her crotch, which was all the more amazing because she was the one who set the timer on the camera and then raced back into the tub for the shot. The rest of us were all just standing facing the camera with everything showing.
Supposedly all copies of the print, as well as the negative, were destroyed, but I doubt that the people who promised to do it actually did. Somewhere out there that picture exists, but it will probably only turn up if I run for office!
---
Song credit: Blame It On Mexico was a 1981 hit for country singer George Strait.
The salient lyrics are:
Blame it on Mexico if you need a reason
Say too much guitar music, tequila, salt and lime. . . .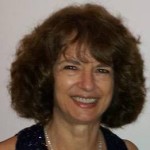 Suzy
Characterizations: been there, funny, well written