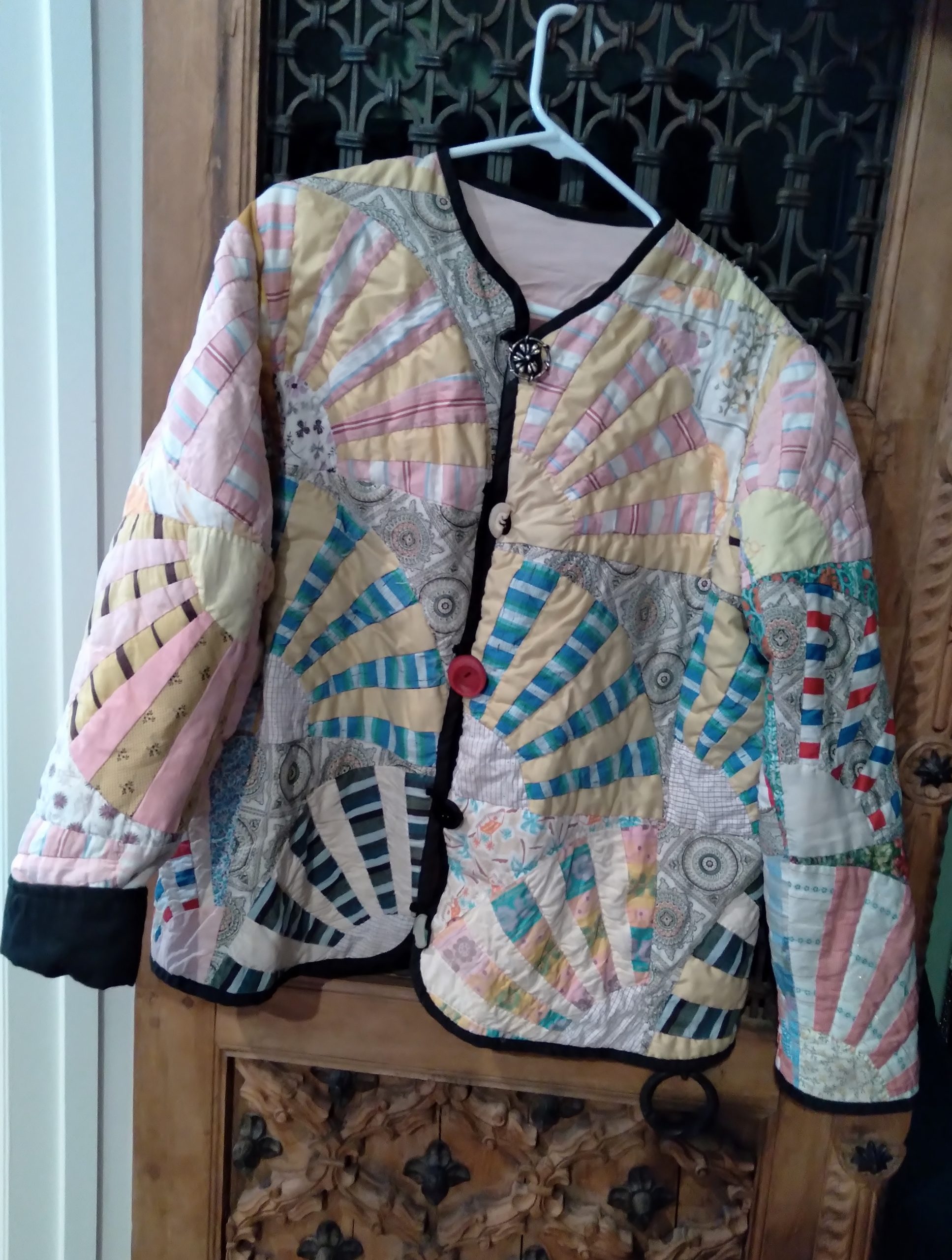 Callie Hollingshead's Door Prize Quilt and It's Fate
A church door prize quilt from the 1950s gets a new life in the 1990s.
My mother won a quilt as a door prize at the church bazaar in the 1950s, but it was tucked away and never used until 40 years later. My parents Stephen W. Stockseth and Emmeline Kay Bittle Stockseth moved to El Monte, California from Inglewood in 1956 where I started my sophomore year at the high school across the street. We lived on Utah Avenue and attended the El Monte Ward of the Church of Jesus Christ of Latter-day Saints right on our corner. I remember Callie Hollingshead being in that ward (congregation) but I didn't really know her, and I remember assuming at the time that she must be a hundred years old.
Then many years later in the 1980s, my parents moved to Orem, Utah. I lived in nearby Provo at the time, and in 1991, I discovered a quilt in the back of my mother's cupboard, a quilt she had never used. It was colorful and with quite a random selection of fabrics. She told me it had been made by Callie Hollingshead in the 1950s. A neighbor Marjorie Ord had worked as a book keeper at a clothing factory in Los Angeles at that time and would bring bags of cut scraps to Callie for her quilt making. They were the wild and crazy prints of the 1960s and 1970s mixed with older fabrics in no real coordinated design. Perhaps it will shock some people that I cut the quilt up and made two jackets from it, one for me and one for my mother. We wanted to give the quilt a life and have it be seen.
I have received compliments wherever I have worn the unique jacket. I lined and bound mine in black and Mother lined and bound hers in pink. We made button loops of bias tape and used random giant buttons from her stash. My mother made a label, typed on white cotton fabric and sealed with clear nail polish that I sewed inside the jacket. The label said,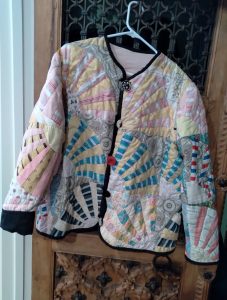 "This jacket was once a quilt all hand-stitched and quilted by Octave Callie Hollingshead in the 1950s. Callie donated it to the El Monte, California Ward Relief Society to be given as a door prize at the Relief Society Anniversary party. Kay Stockseth had the lucky number. The quilt was hidden away in a closet and cherished for almost 40 years. It was cut and made into a jacket by Jean Marshall in 1991."
I looked up Callie Hollingshead on FamilySearch and found her and her husband and children. I learned that she was born in Tennessee in 1879 and grew up there so I suspect she learned to quilt at an early age. I realize now that she was not a hundred years old in the 1950s at all. She would have been in her 70s. I put this story and a photo of the jacket on her memory page on FamilySearch. I hope someday one of her descendants will see a glimpse Callie's quilt.
Jean Marshall February 3, 2022.
babettesfeast
I have played with fabric since I learned at age 8 to sew on my mother's Singer Featherweight, and I have written poems and memories for my own pleasure, as well some pieces for the local newspapers and some magazines. I am very interested in Family History-- tracking my father's Norwegian family tree. I really enjoy the Retrospect site an Sun Magazine as well.
Tags: quilt, door prize, jacket
Characterizations: moving, well written