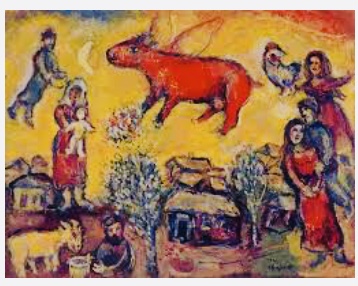 When our son was a toddler many friends began fleeing Manhattan.  They couldn't imagine raising a child amid all the dirt and crime.
"But think of the culture!",  I'd say.
Noah at 5,  wide-eyed at the Mets' Arm & Armor exhibit.   And making Purim masks at the Jewish Museum,  and model dinosaurs at the Natural History.   And later reading the night sky at the Planetarium,  and delighting at Red Grooms at the Whitney.
But my sweetest memory of Noah's museum-going childhood was at a Chagall show at the Guggenheim when he looked up from his stroller to ask incredulously,
"Another cow that's flying?"
Retroflash / 100 words
Dana Susan Lehrman
Dana Susan Lehrman
This retired librarian loves big city bustle and cozy country weekends, friends and family, good books and theatre, movies and jazz, travel, tennis, Yankee baseball, and writing about life as she sees it on her blog World Thru Brown Eyes!
www.WorldThruBrownEyes.com
Tags: Museums, Marc Chagall, Art
Characterizations: funny