It is 1986, and they are casting the original Broadway company of "Les Miserables." I love the story and the music. My agents think I'm right for the role of Javert, but director Trevor Nunn has decided to go with his "Cats" actor Terry Mann. That's okay with me because I want to play Jean Valjean: I love that role.
It is 1986, and they are casting the original Broadway company of "Les Miserables." I want to play Jean Valjean.
Valjean is a tenor and I am a baritone; the tessitura is very high for me. Those auditioning have to prepare "Bring Him Home," a beautiful, tender prayer that sits right at the upper limits of my range and "Who Am I," whose last note is a B natural — which is absolutely outside my range.  (I sound fine on a G and pretty good on an A flat and sometimes even an A natural; beyond that is territory that early cartographers would have labeled "Here Be Dragons.")
So I buy the London recording and start practicing. My wife and I go up to the country for the day to visit Mandy Patinkin and his wife Kathryn Grody. (Mandy and my wife were classmates and buddies at Juilliard, our first-born children are the same age, and they lived in the building behind ours in NYC.) Mandy is busy practicing swordplay (he's about to go off to do "The Princess Bride"), and I'm busy singing Boublil and Schoenberg. Mandy says to me, "Oh yeah, they talked to me about playing Valjean, but the real role is Thenardier."
Sadly, I don't listen to Mandy, and I keep working on Valjean. Comes the day of the audition. I go down to the famous rehearsal studios at 890 Broadway, and I sing "Bring Him Home." I think I sang "Bring Him Home," but maybe I never got to it. All I remember is that I DID sing "Who Am I." As I approached the end of the song, a combination of adrenalin, chutzpah and stupidity told me not to flip up into a head voice falsetto for the high B natural on the "one" of "2-4-6-0-1!" but instead to sing it full voice. I believe there is still an ugly stain on the walls of 890 Broadway from my hideous last note.
Epilogue:  Ten years later, they re-cast the majority of the Broadway company of "Les Miz" for its tenth anniversary.  Once again they already had their Javert and they had no wish to hear me do Valjean again but they did audition me for Thenardier.  I got the role and happily played "the Master of the House" for the last six years of the Broadway run.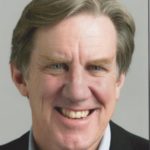 Nick Wyman
Characterizations: funny, well written