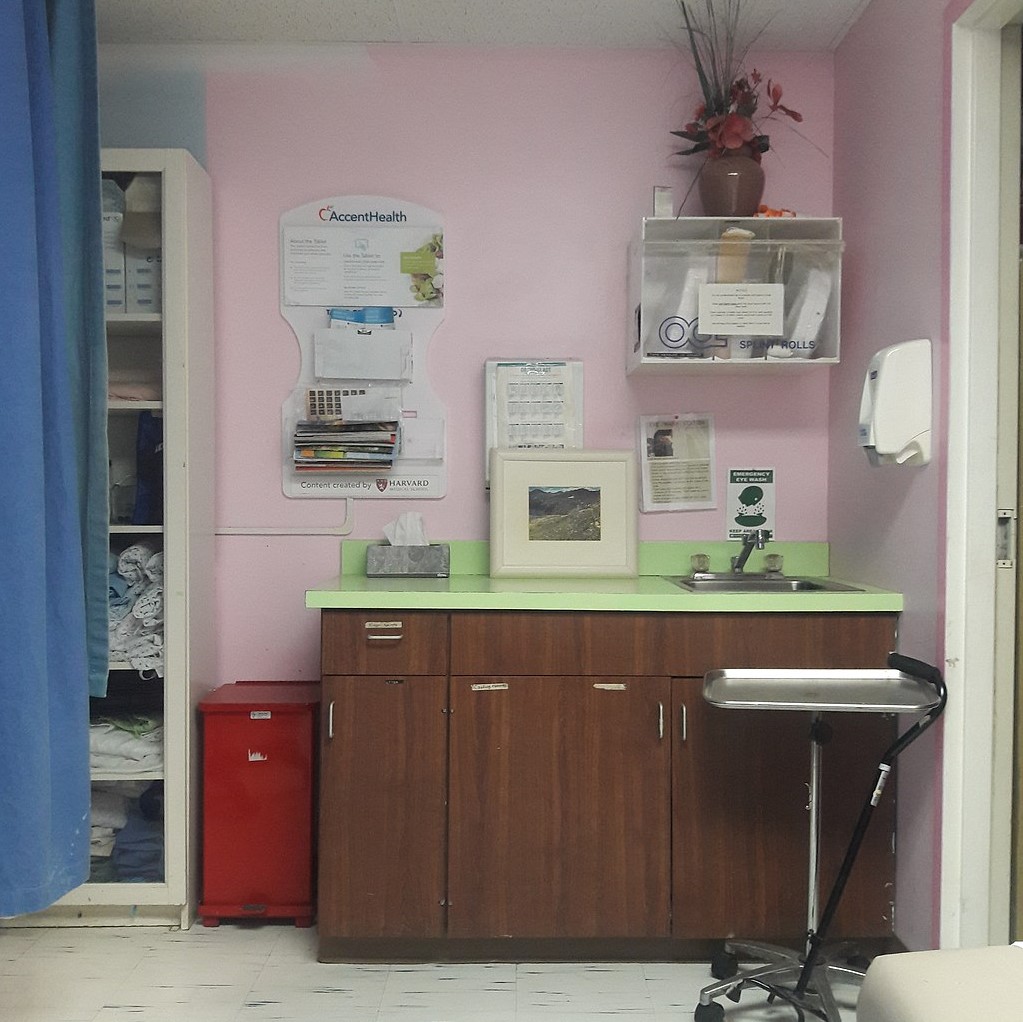 Sixty years ago, the autoimmune condition I have didn't have a name; it wasn't even recognized as a disease. Sixty years ago, my common low thyroid condition, if not first attributed to female hysteria, would have been treated with hormones from pigs. Sixty years ago, my partner would surely have died from his heart attack rather than receiving a triple bypass and first-rate care in a high-tech hospital. I would choose today's amazing medical equipment, procedures, diagnostics, and pharmaceuticals over what was available sixty years ago.
Dr. Byrne's office was in his home in East Orange, New Jersey ... What first struck me whenever I entered was olfactory ...
However, I do miss the hominess and consistency of my old pediatrician's office and having a doctor who knew me and my family. That's what we have given up for the medical advances we have now. If you are very wealthy, or very lucky, you might have access to a doctor who offers continuity and can afford to spend time with you. My terrific endocrinologist spends an hour (a whole hour!) with me twice a year, but I must pay out of pocket, and she is in her mid-70s, so I'm unsure of how much longer I will have this privilege.
More than 60 years ago, my brother and I started seeing our pediatrician, Dr. Byrne, from infancy to well into our teens. Like many doctors at the time, Dr. Byrne's office was in his home in East Orange, New Jersey. There was a separate entrance on the first story of the house. What first struck me whenever I entered was olfactory–a strong aroma that must have been disinfectant of some kind, a distinctive odor that I've never encountered elsewhere.
The waiting room was usually crowded with mothers (no fathers back then) and their kids. The upper parts of the walls were painted a bright yellow, and below was wainscoting in green stripes decorated with red and orange elements. I can't remember what the elements were supposed to represent, but I can't forget the bright colors.
Behind a pass-through was a receptionist/nurse, and in the area to her left was a Dutch door with the upper half open. There must have been children's books on little tables to keep us busy, because waits could be long, certainly from a child's perspective. At some point, my mother and I (and later my younger brother) opened the lower half of the Dutch door, with its brass knob, to be ushered into the exam room.
Dr. Byrne had fair, freckled skin and red, curly hair. He looked huge to me but probably was of average height. While I didn't relish going to the doctor, I wasn't afraid of him, with his reassuring manner, although I didn't like the large, wooden tongue depressor he put in my mouth. My brother Allan, on the other hand, was hostile and terrified, greeting poor Dr. Byrne with a swift kick at the beginning of every exam.
Dr. Byrne was considered progressive for the time, because he discouraged the tonsillectomies that were so much in vogue (I still have my tonsils). Most important, he was able to provide reassurance to my mom, as the parent of a finicky and persnickety child. Later, I learned he told my mom, "her nervous system is very developed for her age, but that means she's extremely bright, and she'll settle down as she gets older."
Like many doctors of the time, Dr. Byrne did make house calls, and he must have done so when I had a very serious case of the measles. I was delirious, so I don't remember him being there. When my brother came down with a much milder case, I remember Dr. Byrne coming up the stairs to the bedroom with his black bag and taking out his stethoscope.
The last time I saw Dr. Byrne, I was 18 and had been sent home from college with a terrible case of mono complicated by strep and hepatitis. Naturally there were prescriptions to be written and advice given, but most important, reassurance, and someone to call whom you knew.
Marian
I have recently retired from a marketing and technical writing and editing career and am thoroughly enjoying writing for myself and others.
Characterizations: moving, well written