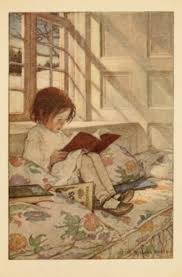 In one of life's ironies we moved to an even nicer part of town when my father fell ill. Our new house, set on a hill, had an enormous backyard and an adjoining wood lot wildly overgrown with flowering shrubs, abandoned rock gardens and a crumbling stone wall. One side was steeply graded and seemed to me a mountain's slope. All was shaded by a thick canopy of towering maples that would dwarf Jack's beanstalk, I was sure. It was here as a little girl I wrote myself into the fairy tales and legends that were the staples of my childhood reading.
In Summer I might climb up into one of the smaller trees and wait for Prince Charming to arrive with my glass slipper, at least until lunchtime. Again in a tree, I might be the dazzling, long-tressed Rapunzel in her tower, saved from the evil witch by a different prince and her/my own wits. There were so many trolls under the bridge, so many Grimm misadventures to survive to a happy ending. My brothers were off somewhere becoming older brothers, and that was O.K. They would not understand.
Some days I might switch sex, jump "ship" (the wall) and, brandishing a tablespoon grabbed from the kitchen drawer, become a pirate digging for gold doubloons in the fragrant dark earth. In yet another scenario I might be on the trail of an Indian brave, searching for arrowheads, my fantasy fulfilled when I found one.
In Fall's waning light I waded rapturously through thigh-high mounds of crisp golden leaves in my own Enchanted Forest. It was a race against time until The Brothers dutifully raked up the gold and broke the spell.
In Winter I gazed out the window upon my frozen kingdom and wished for Spring. Until then I settled in with my storybook favorites and Aesop's morality tales.
It was from a fairy tale, The Fisherman and His Wife, that I came to believe that wishes could come true, if they were noble ones. It was via fairy tales that I worked out my young feelings in dreams both romantic and dark. Hansel and Gretel and The Pied Piper of Hamlin terrified me, but I suspect these stories had their purpose.
This is in fact the premise of child psychologist Bruno Bettelheim's book, The Uses of Enchantment: The Meaning and Importance of Fairy Tales. In it he argues for the importance of fairy tales in a child's journey from immaturity to maturity. The cruelties and cruel characters in these stories, he suggests, serve as a "reflection of a child's necessary "killing off" of successive phases of development and initiation."
Fascinating stuff to consider. But all I can say for certain is how very much I miss that backyard, and the magic it held for me.
Susan Bennet
I'm so happy to have joined the gracious Retro family. The basics:
I have a background in marketing and museums.
I come alive when the leaves turn red.
I regret every tech mistake I have made or will ever make on this site.
I want a dog.
Characterizations: moving, well written