Most American youngsters learned their Fairy Tales from Aesop and the Grimm Brothers and Hans Christian Anderson. Me? I was a 'T. V. Baby' and that electronic device was my friend and baby sitter (and later boy sitter) so I got Rocket J. Squirrel, Bullwinkle The Moose, Boris, Natasha et al for breakfast, some times lunch and most weekday afternoons. (Saturdays was Sci Fi theatre with Major Mudd.
There was Fractured Fairy Tales where stories got mixed up with other stories; mermaids who granted wishes (later updated to I Dream of Genie), two dimensional poems with color and sound, Mister Peabody's Time Travels with Peabody The Dog and Sherman the human boy companion. (How I envied Sherman).
There was Tennessee Tuxedo, Underdog, the unforgettable Flintstones (beloved by religious literalists because it displayed humans and dinosaurs living together.)
Let me not forget to mention Cecil The Seasick Sea Serpent co-starring Beany (a young boy about my age who flew around courtesy of his propeller driven hat. I tried that form of levitation but it did not work for me.) There was also Woody Woodpecker, Popeye, Bugs Bunny and Felix The Cat.
I was not until Junior High School and my intense interest in Ancient History, Roman and Hellenic studies, that I restarted my now lifetime in interest in reading.
It was my grandmother Mary (or was it Doris?) who said 'As the twig is bent so the tree shall grow' meaning that watching so much TV must have had some affect on me but at least succumbing to Reefer Madness was not one of them.
.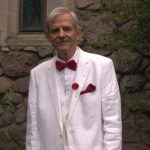 Kevin Driscoll
(Mostly) Vegetarian, Politically Progressive, Daily Runner, Spiritual, Helpful, Friendly, Kind, Warm Hearted and Forgiving. Resident of Braintree MA.
Characterizations: funny, right on!, well written