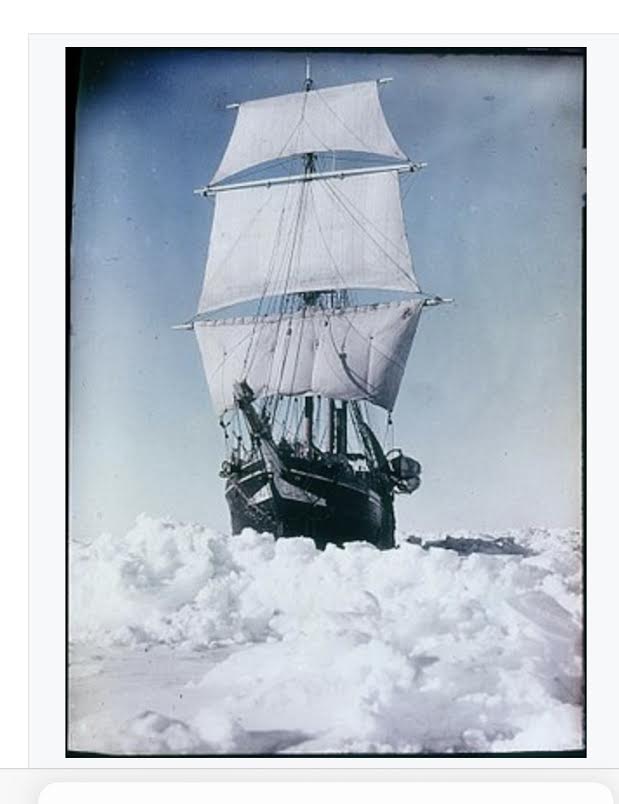 In 1914, Sir Ernest Shackelton and his crew sailed The Endurance to the Antarctic. It was crushed in the ice pack and sank in the Weddell Sea but all of her crew survived. Frank Hurley, the photographer onboard, captured incredible photographs of the entire experience.
My husband is fascinated by this story and has read at length about it, hoping some day to travel to that region. For his 70th birthday last May, our son David gave him a model of the ship to build.
As a middle-schooler, Dan made a wooden salad bowl that his mother used her entire life, and a set of shelves that even now resides in our basement. When David left for graduate school at Columbia, the two went to IKEA in Red Hook and bought the requisite furniture for his apartment, which Dan helped him assemble, but he had never undertaken a task like building this ship model.
This was not a beginner model. It came from Spain with limited instructions and no tools. At every turn, Dan discovered he had to buy more, or he made a mistake and had to try to undo something that was glued in place. He has invested hundreds of dollars in tools, paint, and other random items along the way so far. He keeps digging into my sewing kit for needles, thread and I've taught him the joys of a needle threader. He's broken three so far.
His July 1st accident meant he was too injured to even begin. The basic sawing/sanding motion hurt his broken neck, but here is what the model looked like in early September, as he worked on the hull.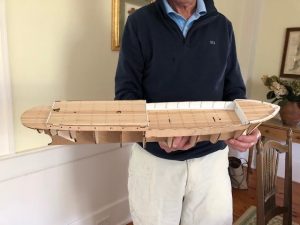 He packed everything up when he returned to Newton in November, set up work space in the basement (very happy this did not wind up on the dining room table – he dripped black paint on the basement carpet). He was obsessed. He would be there, working for hours each day. He set up his iPad so he could run a video of how the next step should look because the written instructions were so poor.
By Thanksgiving, it looked like this.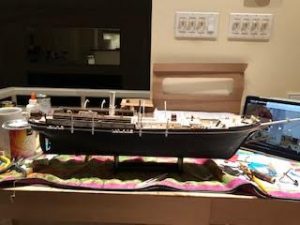 You can see the iPad to the right rear, paint can, glue, good lighting above the model. He estimates that he has 300-400 hours into the model. He continued to work right up until the time we left for London in early December. He wanted to have a good quality photo to show David how far he'd gotten and how much he appreciated the thoughtful gift. It also gave him something to do as his injuries healed. He hadn't built the life boats or rigging, but had completed the rest of the ship by December 6, 2021, the day before we left for London for a month, to celebrate my birthday with our family and await the birth of our granddaughter.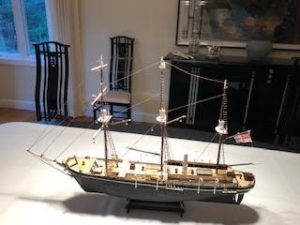 With flags flying, she looks ship-shape. Some small part he ordered, which came from Australia, arrived while we were gone. Since we were not home to sign for the delivery (he had waited weeks for it – supply chain issues), it was returned across the world.
Now, he has hit the doldrums. He needed a few items, but they weren't available at the local craft store. I drove the half hour to a sewing store to pick them up, but he hasn't returned to do more work. It is unclear if he will. The ship looks great as is, and Dan says some people never set up the sails (which is complicated and delicate work).
So the model sits amid the tools, needles, thread, glue, paint and other paraphernalia…waiting for resolution.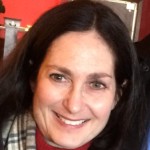 Betsy Pfau
Retired from software sales long ago, two grown children. Theater major in college. Singer still, arts lover, involved in art museums locally (Greater Boston area). Originally from Detroit area.
Characterizations: funny, moving, right on!, well written