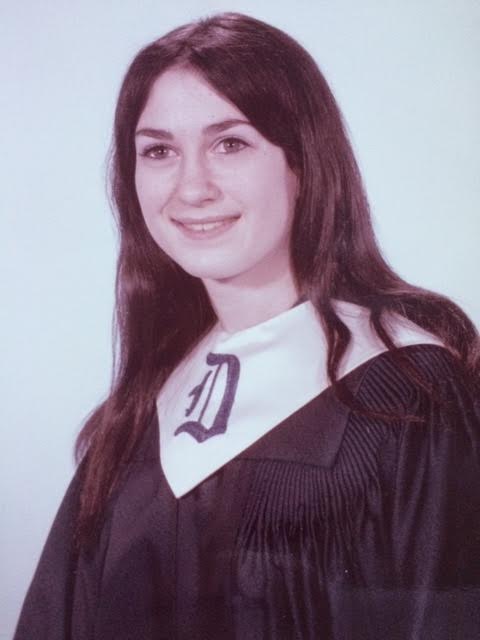 I LOVE TO SING. I have sung as long as I can remember. My mother sang Broadway show tunes to me while she bathed me when I was a little baby. I learned all those songs, mostly Rogers and Hammerstein or Lerner and Lowe and could sing then on command, on pitch and well. One of my earliest memories is singing "I'm in Love With a Wonderful Guy" (I'm as corny as Kansas in August/High as the flag on the 4th of July") from South Pacific on my swing set early in the morning at full volume to let Susie, my best friend next door, know that I was up and outside so she could join me. I was perhaps 4 years old.
Singing fills me with joy and lets me tap into emotions that are otherwise unreachable.
I loved music class in all my schools, always. When we moved from Detroit to the suburbs and I struggled with feelings of self-worth, the music teacher invited me, alone, to sing a solo in the Christmas pageant, as a way to single me out for some praise; show off my talents a bit. I sang "Silver Bells". That was 1963 but I still remember her kindness toward me.
I began attending the National Music Camp in Interlochen, MI the next summer (1964) and there my singing took off. I also was inspired, being surrounded by other very talented musicians and older singers from whom I could learn and emulate. While attending camp, Jessye Norman, the renown opera singer who sang at Jacqueline Kennedy Onassis' funeral, was in attendance and I heard her perform. Tom Hulce, nominated for an Oscar for his performance as Mozart in Amadeus was in my operetta  and choir classes. Others went on to careers in opera and musical theater, including a dear friend who sang at my wedding; we were all together. It was an energizing milieu.
We had choir and operetta class daily. We sang The Mikado, Iolanthe, HMS Pinafore, Trial by Jury, Princess Ida, The Sorcerer. That was just the Gilbert and Sullivan in operetta class. The 8th week concert was Carousel one summer, songs of Irving Berlin our last summer. Here I am in a group singing "There's No Business Like Show Business".
In choir, we started simple for the younger kids, doing arrangements of classic American and folk songs, but as we grew up, we tackled the classics of the choral vocabulary including parts of the Mozart Requiem, Haydn's Lord Nelson Mass, Britten's Rejoice in the Lamb, Faure's Requiem and other great work. I first sang in Latin at age 12, the Credo from Schubert's Mass in G. Festival Choir was a massed choir of High School, University, Faculty and Staff with professionals singing the solos. I sang the Elijah and Verdi's Requiem with that group at a tender ago; fabulous training and experience.
But in the cabins and during our free time something else happened. In 1966 I had my favorite counselor, Marilynn (Grundy) Anderson. She played guitar and taught us folk songs of the day. We all sang the great Peter, Paul and Mary songs (and Pete Seeger and others). I have always loved folk music and do to this day.
Back home, in the 7th and 8th grade talent shows, I sang "Wouldn't It Be Loverly" and "People", respectively. But the "cool" girl played guitar and sang songs from Joan Baez' second album. I loved that music, bought the album and learned all the songs. I still sing "John Riley" and "Silver Dagger", based on classic English folk songs. I tend to go for melancholy music; music that tells of heartbreak or betrayal. It resonates with me.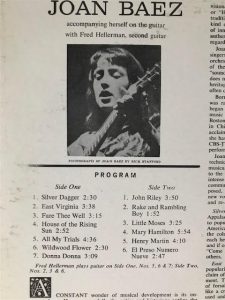 I can't believe Baez is on her "fare thee well" tour. She had a magnificent voice, pure and crystalline. At a Temple conclave, for Shabbat services, I was asked to sing "Both Sides Now" in 10th grade. I loved Judy Collins music, Joni Mitchell, James Taylor. But for auditions, I usually sang "Summertime" or "Far from the Home I Love", both vocally challenging songs.
In 11th and 12th grades, I took private voice lessons. I sang Laurie's song from Oklahoma, coming full-circle from my 4-year-old self with more Rogers and Hammerstein. I sang from standard song books ("56 Songs You Like to Sing", Italian Arias). I sang Ned Rorem's Pippa's Song, a fiendishly difficult song, very high in my range. I met him, many years later, at a CD signing at our little local bookstore on Martha's Vineyard and told him so. He commented that I must have a very high voice. I told him that I once did. As we age, we lose notes off the top. I was so proud of those high notes and my many octaves-range.
High school choir sang somewhat standard fare. Christmas music in the winter; one year we ventured out and sang the entire Schubert Mass in G. Senior year in the spring we sang "pop" music…"Charade", Love theme from "Romeo and Juliet", we ended the concert with "Age of Aquarius/Let the Sun" from Hair, very up-to-the minute. Our conductor, Rick Hartsoe, went on to stage elaborate pop concerts for years to come, giving his musicians a chance to shine and show off their chops. He always ended with that same arrangement from Hair.
I was in two high school musicals: Bye, Bye Birdie and The Music Man. I played Randi, Kim's little "sister" in Birdie and got to sing some great songs; "Telephone Hour", "Kids", "Hymn for a Sunday Evening", "Got a Lot of Living". I was Alma Hicks, one of the old ladies in Music Man, so sang "Pick-a-Little-Talk-a-Little" and other crowd scenes, (Why Professor Hill, we're all agog, simply agog!")  Also a Grecian Urn. Fun, but not as much fun. I should have been the ingenue. I had to wait until college for that success.
I was a Theatre major in college. I gave up choral singing, but continued to enjoy being in musicals, Gilbert and Sullivan and others. Freshman year, I was a chorus member in Ruddigore, sophomore year, I had a lead role of Gianetta in The Gondoliers. Junior year, I was Sarah Brown in the Main Stage production of Guys and Dolls. This was the pinnacle of my career. After that, I student taught, stage managed, married and worked, until my husband retired and I could sing again.
I have sung with the Newton Community Chorus for 15 seasons. We are currently rehearsing the Haydn Mass in B flat and the Schubert Mass #5 in A flat Major. We have sung most of the major choral works in the repertoire, including the Brahms German Requiem, the Mozart Requiem, the Elijah and the Messiah. Perhaps my favorite is an obscure work entitled Dona Nobis Pacem by Ralph Vaugh Williams, written during WWII, but using the poems of Walt Whitman and sermons of an anti-slavery minister, it recalls the battle fields of the Civil War. It is heroic and moving. I found myself weeping as we sang about two soldiers, father and son, being dropped into their graves.
I listen to a local NPR station from Boston University whenever in my car. While driving to the gym on a recent Sunday morning, their church service from Marsh Chapel was beginning with an anthem. It stirred something deep inside me. I knew it…and I was transported back to my days of High School Division at camp. I was instantly in uniform; knickers and light blue knee socks, standing on the risers at a Sunday morning service in the big Kresge concert venue. The organ swelled and I felt tears streaming down my cheeks. I fumbled for the lyrics. It is a short ride to my gym. By the time I finished my half hour bike ride, I had the first verse. I went to my locker, got my phone and googled the lyrics. The anthem was Sine Nomine by Ralph Vaughn Williams. I had sung it dozens of times. I can still sing the descant. The emotions, the sense of time and place brought back to me by that song were so profound and powerful, I couldn't shake it as I went back to finish the rest of my workout. I was 16 years old again; back at my beloved Interlochen with all my friends. That's what hearing some familiar, though long-forgotten music can do.
I feel music in every fibre of my being. Like Elton John's "Your Song", which played non-stop on my turn-table freshman year at Brandeis and I dated a guy who would sing it to me, "My gift is my song and/This one's for you". That song is now at the heart of the best Christmas ad in the UK this season (it is all over the Internet), but again, it brings back a certain place and time for me; a certain blue-eyed troubador.
I find it expressive and it channels something deep inside of me. Words of songs speak to me and I try to convey that as I sing. Though I sing in groups and never as a soloist any longer, I still find that facial expression counts a lot and music can transport one beyond the confines of everyday life, if you only allow the music in.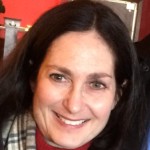 Betsy Pfau
Retired from software sales long ago, two grown children. Theater major in college. Singer still, arts lover, involved in art museums locally (Greater Boston area). Originally from Detroit area.
Tags: different genres, Broadway, folk, classic, solo, choir
Characterizations: been there, moving, well written