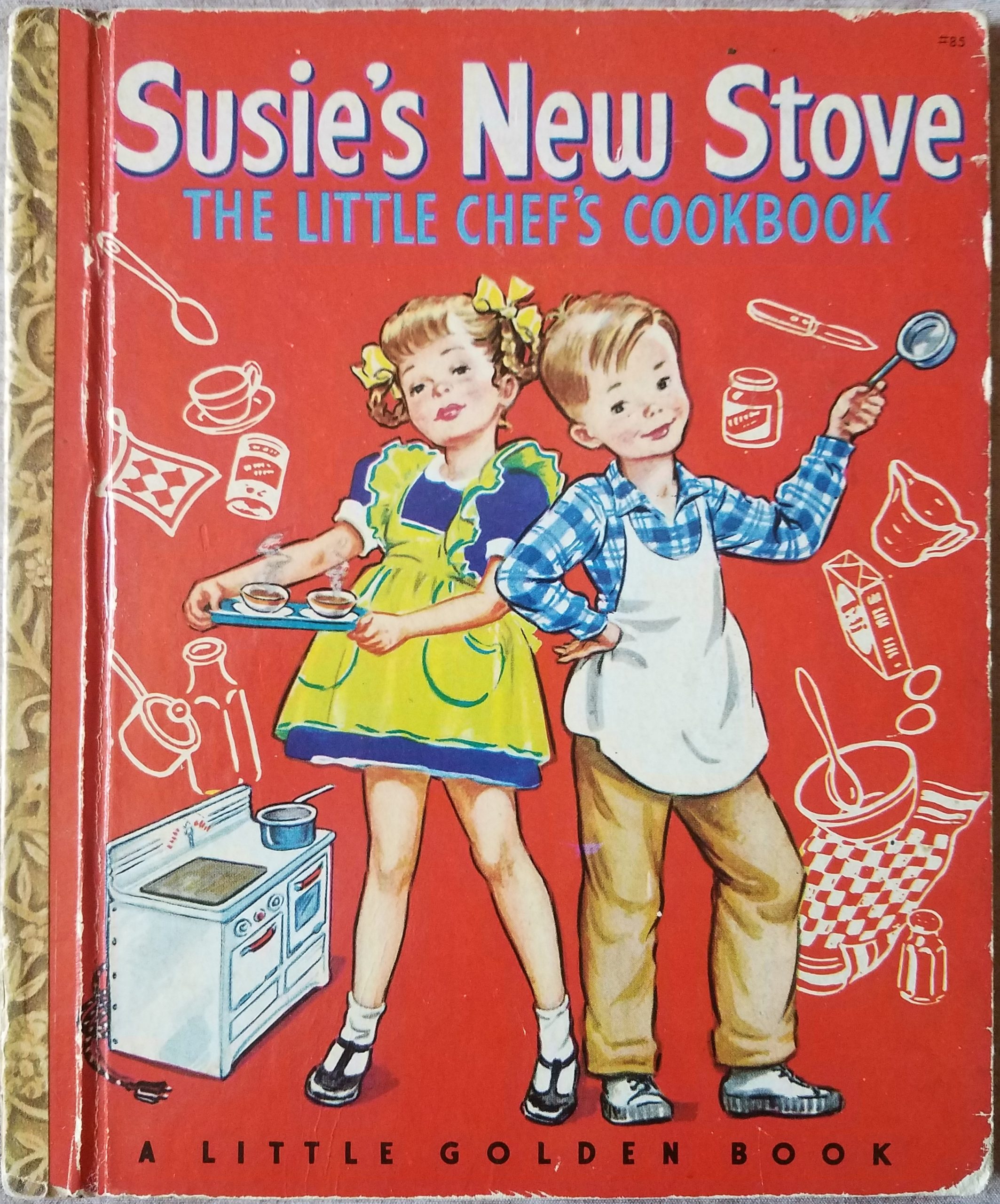 Of course I loved this Little Golden Book, whose main character had my name, the way I spelled it at the time. It was my first cookbook, and may have foreshadowed the fact that I would not be much of a cook. The eleven recipes in here include chocolate pudding (add milk to chocolate pudding mix), frozen vegetables (I kid you not), canned soup ("whatever kind Mother is using that day"), and the slightly disturbing candle salad (half a banana standing up in a ring of sliced pineapple, with a canned cherry on top). I don't remember if I ever made any recipes from the book. On the list in the back, two of the recipes have check-marks, but I don't know if I wrote them or if it was one of my kids, who also read the book. Those two are Pixie's Delights (which are basically s'mores, except cooked in the oven instead of roasting the marshmallows on a campfire), and Peanut Butter and Honey Sandwich.
Of course I loved this Little Golden Book, whose main character had my name, the way I spelled it at the time.
My next two cookbooks, The Joy of Cooking and The I Hate to Cook Book, were given to me by my mother when I got my first job and moved into my first grown-up house after graduating from college. I wrote an entire story about them back in 2016, which I have linked to. I was tempted to take the easy way out and just move that story to this prompt instead of writing a new one, but decided I had more to say. So I will just excerpt a brief part of one recipe, in case you don't go back and read the other story, because it's too good to miss.
My favorite recipe in The I Hate to Cook Book was for Skid Road Stroganoff which I actually made for many years. I stopped when the lactose intolerance of others in the family made the sour cream an issue. Now that there is lactose-free sour cream, it occurs to me that I could start making it again. But back to the recipe. After the first two sentences, involving cooking the noodles and browning the beef, the hilarious third sentence (clearly showing the 1960 viewpoint of the book) was as follows:
"Add the flour, salt, paprika, and mushrooms, stir, and let it cook five minutes while you light a cigarette and stare sullenly at the sink."
My husband is a much better cook than I am – he and I agree on that fact – so he does most of the cooking in our house. However, at some point he insisted that I should be responsible for dinner one night a week. When Molly was at home, I would generally get her to help me pick a recipe and then make the dish. Although we have an entire shelf of cookbooks in our kitchen, she, being a child of the '90s, would always look for recipes online. When she found something that seemed appealing and not too complicated, we would print it out and, if we decided it was worth repeating, put it in a loose-leaf binder of recipes, divided into Soups, Mains, and Desserts. Here is one of our favorite mains, Sun-dried Tomato and Walnut Penne Pasta. It's easy, can be eaten hot or cold, and is transportable. When she went to college, we got in the habit of making it at the end of every vacation, right before she went back, so she could take the leftovers with her in a plastic container and  eat them in the dorm (or sometimes on the plane).
During the twenty months that Sabrina lived with us between leaving England after grad school and moving to Spain for a teaching job, Molly was still in high school, and the two girls and I would all cook together, which was the most fun I have ever had cooking. I fondly remember our assembly line for making fried eggplant, where one of us would dip the eggplant slices in the egg batter, the next one would roll them in breadcrumbs, and the third one would fry them up in the pan. Yum! My husband doesn't like eggplant, so we would make that whenever he wasn't going to be home for dinner.
Sabrina also got several recipes from a site called BBC Good Food, which is popular in England. Their recipes required some translation, since their measurements are all in grams and milliliters (crazy metric system!), and some of their terms are odd, like cornflour for cornstarch, spring onions for green onions, and soya beans for soybeans. She copied out all the recipes by hand, because she didn't have a printer for her computer. At the time I thought that was silly, she could have just connected her computer to our printer wirelessly, but now that she's been away for several years, I kind of like having these recipes in her handwriting. This recipe for Korean-style Prawn and Spring Onion Pancake was one we made many times.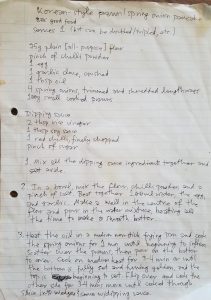 As you may or may not be able to tell from the picture, she wrote the recipes on this strange British notebook paper, which is 14″ long instead of 11 ½" and is punched with two holes instead of three. So they don't fit in our recipe binder, we have to stick them in a pocket in the back. Still, taking them out to look at them for this story made me happy, even though most of them are too complicated to bother with now that we are just two people.
By chance the book my book club chose for this month is Tender at the Bone, by Ruth Reichl, who is an acclaimed chef and food writer of about our age (born in 1948). She was the last editor-in-chief of Gourmet Magazine before it folded in 2009. This is her memoir, subtitled Growing Up at the Table, and in every chapter she has at least one complete recipe for something she talked about in that chapter. In addition to loving the narrative, I am enjoying reading all the recipes, but I don't think it is too likely that I will ever make one of them. However, if you are someone who enjoys cooking, I strongly recommend reading this book and making the recipes. If you are not, then just enjoy the book, which describes an amazing life and how her experiences formed her into the chef she became.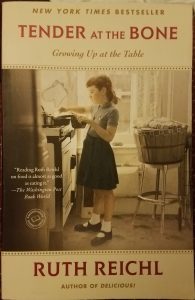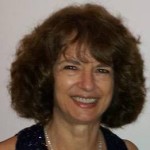 Suzy
Characterizations: right on!, well written