My siblings and I called our father Swearing Sid. He earned this nickname whenever he had to assemble anything that required using tools and following directions. After giving the project a brief attempt, a stream of profanities would be followed by labeling whatever had to be done impossible. It may have helped if he owned more than a screw driver and pliers.
Now, I remember why I hate Ikea.
My husband, on the other hand, is a compulsive direction follower who will tackle any project and patiently persist, and he has a decent collection of tools. We used to order things requiring assembly (translation — cheap) from the Sears Catalogue store. After we schlepped these boxes home to assemble the item, we usually discovered essential parts were missing, usually hardware and screws. To avoid the cycle of packing up, returning, and reordering the item, my husband actually opened the box in the store and counted out all of the pieces mentioned in the directions. Needless to say, this was a bit embarrassing, but nevertheless he persisted.
But this was far from the worst experience we had in DIY assembly. After college, we drove our daughter from Duke to Atlanta, where she had rented an unfurnished apartment near her job as a veterinary technician (in prep to apply for Vet School) and close to her then boyfriend's place. After a trip to Ikea, we returned with many boxes of items to be assembled: a dresser, coffee table, book cases, and the infamous futon. It was the latter that did us in.
My approach to the tasks at hand was to try to be logical about what went where. I hate following directions, but my husband and daughter believed in step-by-step assembly. The futon was impossible. Too many parts, and no matter how careful they were, it kept coming out backwards and had to be redone several times. As they became more frustrated, they became careless and dropped the partially assembled futon on our daughter's big toe, resulting in a painful hematoma under the toenail. Yes, you might ask who assembles heavy furniture wearing flip flops, but the deed was done.
It was now midnight and, in our state of exhaustion, we didn't relish spending the rest of the evening in a strange ER. My husband is a psychiatrist, but he had gone to medical school and knew how to fix the hematoma — drill baby drill. Putting on the very thin bit, he used all of his therapeutic techniques to calm our hysterical daughter while drilling a small hole in her toenail. Actually, that part of fixing the futon mess went pretty well. Eventually (maybe the boyfriend helped?), the futon did come together. Now, I remember why I hate Ikea.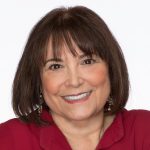 Laurie Levy
Boomer. Educator. Advocate. Eclectic topics: grandkids, special needs, values, aging, loss, & whatever. Author: Terribly Strange and Wonderfully Real.
Characterizations: funny, well written