I have given up on that one.  I will still remark from time to time that Sonny should have said "I have you, babe" but I will not win that one.  Years ago, I would point out to the engineers who worked under me that instead of saying "I've got…whatever" it was more correct to say, "I have…whatever."  Fewer words, as well as more grammatically correct – the past participle should be "gotten" if that is really what they intend to say.  But when those engineers pointed out to me that I was becoming irksome, I gave it up.
In general, I'm happy to be on this side of the grass, to read the paper in the morning and see that my obituary is not printed there.
A few other grammatical peeves: When I hear "I" used when the correct objective form is "me", I do the correction in my mind, but don't correct it out loud.  June and I both yell out "fewer than" when someone on TV uses "less than" in referring to countable items.  I cringe when I hear Rachel Maddow pronounce the second month of the year as "Feb-yoo-ary", but I love everything else she does, so she can be forgiven.
The one grammatical error that I just cannot abide, however, is when students describe something that has happened with the construction "Me and …", as in "Me and Julie went to the mall yesterday."  I stop them as soon as they say it and make them correct it out loud.
And from time to time, I will ask a student if he or she can repeat the statement they just made without using the word "like" incorrectly even once.  They are usually incapable of doing so, to the amusement of their classmates.  "And so he was like… and then she was like…" instead of "He said…and then she said…"  There was a history teacher at Columbus School for Girls, a former Green Beret, who had three daughters in the school.  He would fine them a dollar every time they used the word "like" inappropriately.  They quickly stopped doing that, at least in his presence.
But my biggest pet peeve is not a grammatical one.  I hate being interrupted.  Early in my career, during a month-long management development program, I delivered a short talk while being videotaped.  I was horrified at how many times I punctuated my talk with vocal pauses.  The second time I gave that presentation, I had practiced it without the vocal pauses, and my performance was greatly improved.  Over the years, I became a frequent public speaker.
To this day, I try to think about what I am saying before the words start pouring out of my mouth.  Sometimes, that causes me to hesitate for a second or two as I find a way to avoid a vocal pause, or a "you know" or a similar "place-holding" mannerism.  Far too often, however, that causes the person to whom I am speaking to assume that I need help finishing my sentence, or to believe that I am finished with my thought.  My lovely wife does this often enough that I now just end my remark at the point at which she interrupted.  I just stop talking.  Only when she realizes what she has done and asks me to go on will I continue with my thought.
I'm getting old enough now to recognize that there are more things in life to treasure than there are to get upset about.  In general, I'm happy to be on this side of the grass, to read the paper in the morning and see that my obituary is not printed there.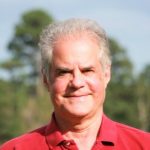 Jeff Gerken
Characterizations: funny, well written