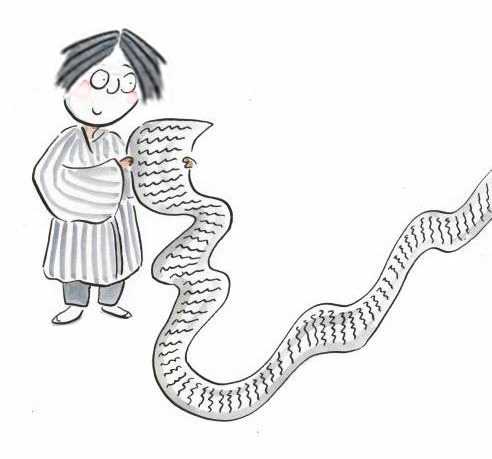 In the operetta The Mikado, Koko, the Lord High Executioner, has a long list of the sorts of people he would consider executing if he had to find a victim: those with flabby handshakes or irritating laughs, politicians, autograph seekers, and on and on. The song ends with an invitation to put anyone you like on the list, for they'd none of them be missed.
Of my long list of pet peeves, I am only going to discuss three. I don't want you to think I am an insufferable grammar snob.
I was brought up with a love of Gilbert and Sullivan, as well as a horror of bad grammar and syntax. My parents were sticklers about proper English usage, and instilled it in my sisters and me. I am proud to say I have in turn instilled it in my own children. Over the years I have developed a long, long list of pet peeves, but I am only going to discuss my top three. Two are grammatical errors which have annoyed me for much of my life (probably a lost cause after so many decades). The other one, which is word choice rather than grammar, is a recent acquisition that has taken the top spot on my list as the most annoying.
My number one pet peeve is people saying that somebody "passed" instead of "died." I know that there are those here on Retrospect who do that, and I'm sorry for offending you, but I just can't stand it. When I hear that someone has "passed," I want to say "passed what? Passed the test? Passed the salt and pepper? Passed a law?" There are lots of meanings for the word pass, but die should not be one of them. And while I know it is sad to talk about someone who has died, I don't see why using a euphemism instead of the word "died" makes it any less sad. I hear this much more now than I used to, and I don't know if it is because at my age I know more people who are dying, or because it has only recently entered common parlance.
My second pet peeve is people who say "between you and I" or "please contact Jane and I" because for some reason they think saying me is always incorrect (probably a result of being told not to say "me and Jane" at the beginning of a sentence). On the "please contact" one, if I can get away with it, I gently try to tell the person to take Jane out of the sentence, and then the correct pronoun will be obvious. Nobody would ever say "please contact I" – it is clear to even the most grammatically challenged person that it should be "please contact me." Yet as soon as there is another person's name in the sentence, they get it wrong. A corollary to this is using the word "myself" when people are not sure whether to say I or me – but by saying myself, they are certain to be wrong, whereas by picking either I or me they have some chance of being right. Since this has been a pet peeve for decades, I don't know why I still have any hope that people will finally get it right.
Musical note: In December 1968 (my freshman year of college), the Doors released a song called "Touch Me," which I loved, except for one lyric. "I'm gonna love you / Till the stars fall from the sky for you and I." The song was played constantly on the radio, and this line made me cringe every time I heard it. Finally I solved the problem by singing along and changing the line to "I'm gonna love you / Till the stars fall to the sea for you and me." I would always sing this line loudly to drown out their bad grammar. And even fifty or more years later, when I hear the song on the radio, I automatically sing it my grammatically correct way.
My third pet peeve is people who don't know the difference between lay and lie. I find this especially annoying when they are people who have to tell others to lie down as part of their job, such as doctors or massage therapists. I just cringe when my doctor tells me to "lay down" on the examining table. I have to bite my tongue to avoid giving her a quick grammar lesson – lay takes an object and lie does not. Here is a funny cartoon that illustrates the distinction from a cat's point of view, which I saw on facebook just as I was writing this story.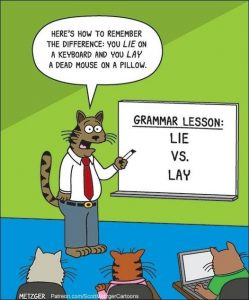 If you can't read what the teacher cat is saying to the student cats, it is "Here's how to remember the difference: you lie on a keyboard and you lay a dead mouse on a pillow." Since my cat was lying on my keyboard as I was attempting to write this story, I found it particularly apt.
Even our dear Vice President (who probably has someone else writing her facebook posts) just made a post that said "No one should have to lay awake wondering if they will have a roof over their head." I love her politics but I hate her grammar! I actually wrote a comment saying "LIE awake, not lay awake!" and despite the 1500 other comments on her post, many other people saw mine and liked it, which gives me a little hope.
Another musical note: Bob Dylan's 1969 song "Lay Lady Lay" annoyed me when I first heard it, because it should have been Lie Lady Lie (lie across my big brass bed). However, I otherwise liked the song, and I didn't revise the lyrics when singing along, because the assonance of the three long A sounds worked better than I-A-I. In fact, singing Lie Lady Lie is a little bit of a tongue-twister. So I gave him poetic license on that one.
All week, as I have contemplated this story, I have seen other grammatical errors that peeve me and have been tempted to add them. But I will stop with these three, so that you don't think I am an insufferable grammar snob.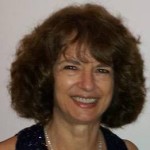 Suzy
Characterizations: funny, well written