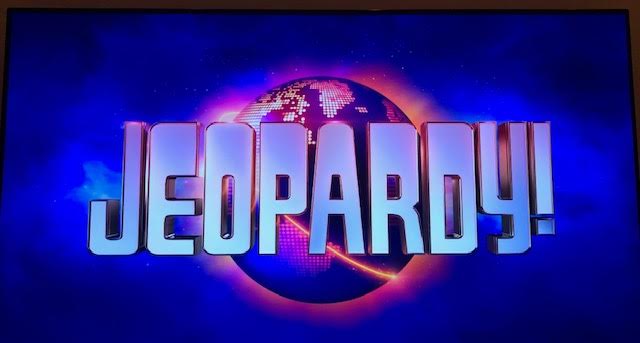 We enjoyed watching gameshows in our household: "What's My Line?", "Truth or Consequences", "Password", and a few others, but none captured my heart like "Jeopardy", the original one with Art Fleming as the host. I'd watch when I was home sick, which wasn't too often. Still, I really enjoyed that show.
My senior year at Brandeis, Dan and I jointly purchased a black and white TV for my dorm room. I would hang upside down, drying my hair with the original "Jeopardy" on, but I didn't have time to see Final Jeopardy. I had to get to class. Bummer.
I could often run entire categories: Broadway musicals, movie roles, Shakespeare, song titles; things like that. I'm terrible at geography, not great at sports. Dan and I compliment each other in our knowledge base. I would watch it if I were home with the kids and watch it sporadically once Dan retired. Now we record it and watch it every night.
Back in the early 2000s, we must have watched it a lot. The show was coming to Boston for auditions (long before one could audition on-line). Dan decided that I should try out and put my name in to do just that.
I was summoned to a room at the Sheridan Hotel at the Prudential Center one day in January, 2004, along with more than 100 other people. I was very nervous. We filled out forms before entering the large conference room. We were asked our personal information and to give three anecdotes that Alex Trebek might ask about if we made it on-air. I said that I had met Daniel Day-Lewis at "The Age of Innocence" premiere, that I used to pose for life drawing classes and that I'd been to the Playboy Mansion. I thought those might inspire some repartee.
We all entered, sat at tables and were given a large questionnaire and a very limited amount of time to answer. Helpers in the room gathered our answers and graded them while the producers talked about the mechanics of the show. Then the top twelve names were called; those who had gotten the most answers correct. I was one of them. We were called to the front of the room and, three at a time, came up and competed in a mock competition, "ringing-in" to a staged show to see how lively we were and how we handled ourselves.
I confess, this was just a few weeks after I recovered from my period of mild depression and months of irritable bowel syndrome. I had been unwell for quite sometime and wasn't my usual vibrant self, so didn't show my best side. That was part of Dan's strategy for entering me. He thought it would be good to get me out, and it probably was, but still a bit overwhelming.
We twelve were told that we were in the pool of possible contestants for the 2004 season, and could be called to compete in Hollywood. I never got the call.
I don't have a photo of myself from that day, but the next month, we visited David at Stanford, and I looked up my childhood next door neighbor, who was the only other person I knew at the time who had gone to Stanford, undergrad, and stayed out in the area. Though seven years older than me, I had always looked up to Lisbeth, so was thrilled that she made the effort to come from Berkeley to Palo Alto to visit me while we were there. I hadn't seen her since I was a child, but we now stay in touch.
So this is what I looked like at the time of my Jeopardy audition. I even wore that same red turtle neck.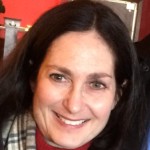 Betsy Pfau
Retired from software sales long ago, two grown children. Theater major in college. Singer still, arts lover, involved in art museums locally (Greater Boston area). Originally from Detroit area.
Characterizations: well written